A Potential Nike SB Dunk High for 4/20 Surfaces
Named the "Dog Walker" colorway.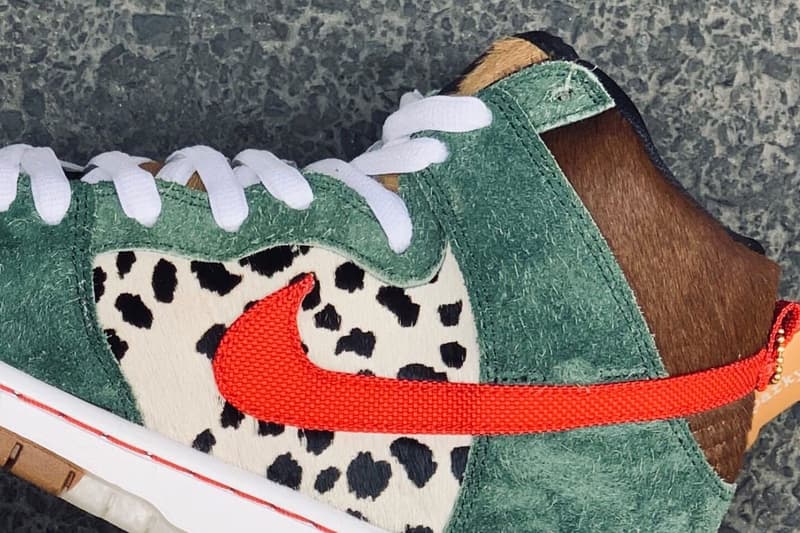 A new image has surfaced online of a potential Nike SB Dunk High release. Allegedly set to release on April 20, or in terms of cannabis culture — the official "Weed Day" celebration, the sneaker sees familiar hairy-green paneled uppers (think back to the 2010 "Skunk" Highs), but also incorporates patches of dalmatian print, brown and golden pony hair construction, and a black toe box.
There "Dog Walkers" allude to a number of cannabis references but also share enough canine-oriented details to balance out the shoe. Funny enough, Dog Walker is also a hybrid strain that is known for its strong skunk/wet dog smell — also coming in a deep green with hints of amber color. The rear bone heel tag also features the name "Sparky," which is a dogs name but can also be a play on words for "sparking" up. Wrapping up the creative take of a shoe are the alternating patches of brown on the bottom of the outsole, a detail meant to represent when one accidentally steps on a dog's freshly-produced pile of doo-doo.
What do you think? If this sneaker does come out for 420, is it a cop, or are the "Skunk" and "Cheech and Chong" SBs the only way to go?
In other footwear news, Zion Williamson wears reinforced Nike Kyrie 4 in Duke's win over Syracuse.