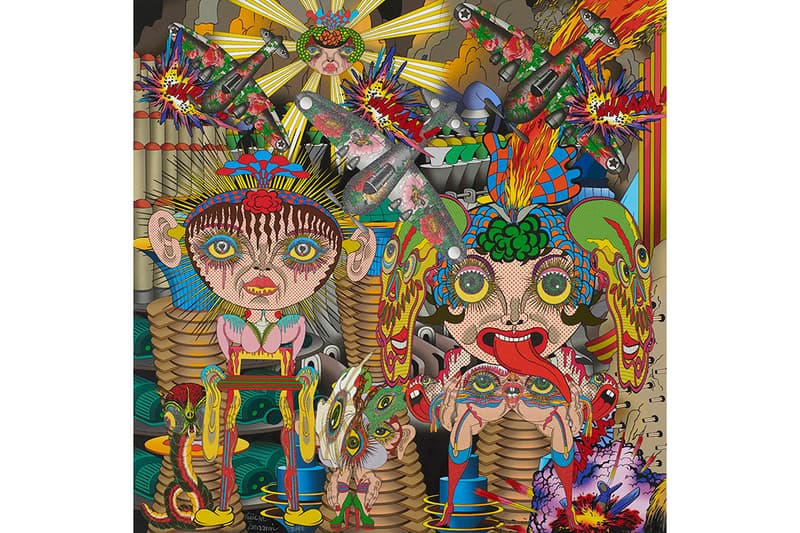 Keiichi Tanaami to Unleash "The Room of Menace" at Upcoming Hong Kong Exhibition
The iconic Japanese artist will showcase new psychedelic Pop Art paintings.
---
Following his Tokyo exhibition with adidas Originals, seminal Japanese artist Keiichi Tanaami announces a dynamic new presentation just in time for Art Basel Hong Kong 2019 this month. Entitled "The Room of Menace," the monthlong presentation set to take place at AISHONANZUKA will spotlight entirely new works by Tanaami. The unseen pieces are packed with the artist's psychedelic Mandala motifs of supernatural demons, bomber planes, and pop culture ephemera with acid-induced twists.
"Tanaami's latest works, while seemingly presenting themselves as uncanny yet pop renditions of supernatural demon illustrations, convey various memories related to Tanaami's real-life experiences," stated AISHONANZUKA. "USA bomber planes referenced from American comics and the personified bombs that shed radiant rays of light, are profoundly related to the memories of war that Tanaami had actually witnessed as a child."
Stay tuned for details on the show. "The Room of Menace" will run through March 27 until April 27. Head over to AISHONANZUKA's website to learn more. For more striking works, check out this NYC exhibition displaying "Xerox" paintings by Jean-Michel Basquiat.
AISHONANZUKA
G/F Mee Lun House
2-3 Mee Lun St, Central
Hong Kong