Art Basel Hong Kong 2019: KAWS "ALONG THE WAY" & More Must-See Exhibitions
Plan your gallery walkthroughs during Hong Kong's largest art festival.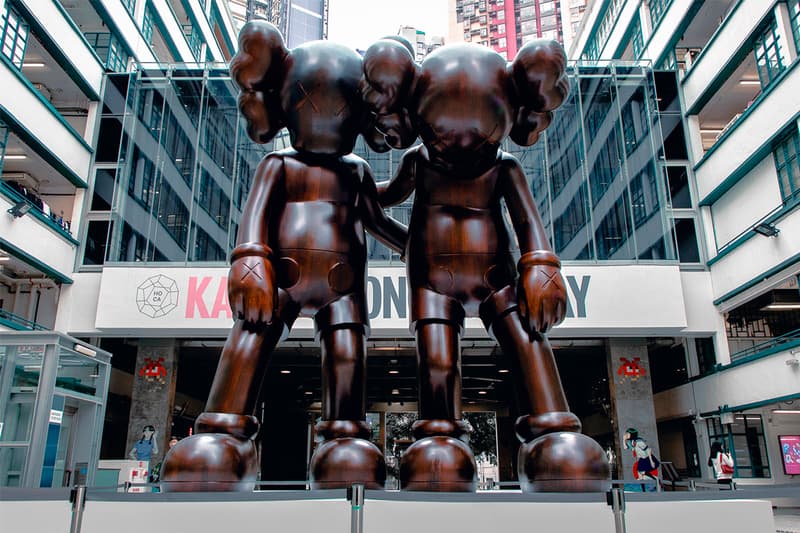 Art Basel Hong Kong is entering its seventh year with the event to run through March 29-31. A plethora of artists represented by international galleries is set to unveil a host of original artworks including paintings, sculptures, large-scale installations, and more.
This year's event will highlight exhibitions and installations such as KAWS' new "ALONG THE WAY" Exhibition, NIGO's "NIGOLDENEYE® Vol. 1" Exhibition and Perrotin's selection of works featuring artists such as Takashi Murakami, Daniel Arsham, MADSAKI, Mr. and more. Other noteworthy must-see exhibitions include Keiichi Tanaami's "The Room of Menace", large-scale installations as part of Art Basel's "Encounters" Exhibition, Julio Le Parc's "LIGHT-MIRROR" installation and Futura's "Abstract Compass" series of works at Danysz Gallery.
The three-day festival will also host a series of conversational dialogues and interviews including Hiroshi Fujiwara, Hans Ulrich Obrist & Kevin Ma teaming up to discuss "Imagination In The Digital Age." In the meantime, we've created a list of the happenings for you to explore at this year's upcoming Art Basel Hong Kong.
Julio Le Parc "LIGHT – MIRROR" Exhibition, March 25-May 11
The "LIGHT – MIRROR" exhibition by Julio Le Parc marks the Argentinian artist's debut exhibition in Asia and is a testament to the way he plays with unique perceptual experiences. Hosting two installations, Le Parc invites viewers to interact with the installations, as a way to observe the aesthetics of visual instability. The second installation, for instance, is a "circular choreography of light beams on the ceiling" which rotate in a mesmerizing fashion.
In addition to these two interactive installations, Le Parc will also exhibit four paintings from his "Alchimie" series as a realization and exploration of self-discovery.
Perrotin
50 Connaught Road Central
Hong Kong
KAWS "ALONG THE WAY" Exhibition at HOCA Foundation, March 26-April 14
From March 22- March 31, KAWS' HOLIDAY public outdoor installation will sail along Victoria Harbor in Hong Kong. Accompanying the massive float, the renowned artist is exhibiting 37 of his most iconic paintings and sculptures via the Hong Kong Contemporary Art (HOCA) Foundation.
The indoor/outdoor exhibition marks over a decade of works from KAWS; "It is very exciting to see so many of my works gathered in one place and representing different phases and facets of my career…I have always wanted my art to connect with people."
PMQ
35 Aberdeen Street
Central, Hong Kong
Shelby and Sandy "hollywood" Exhibition, March 26-31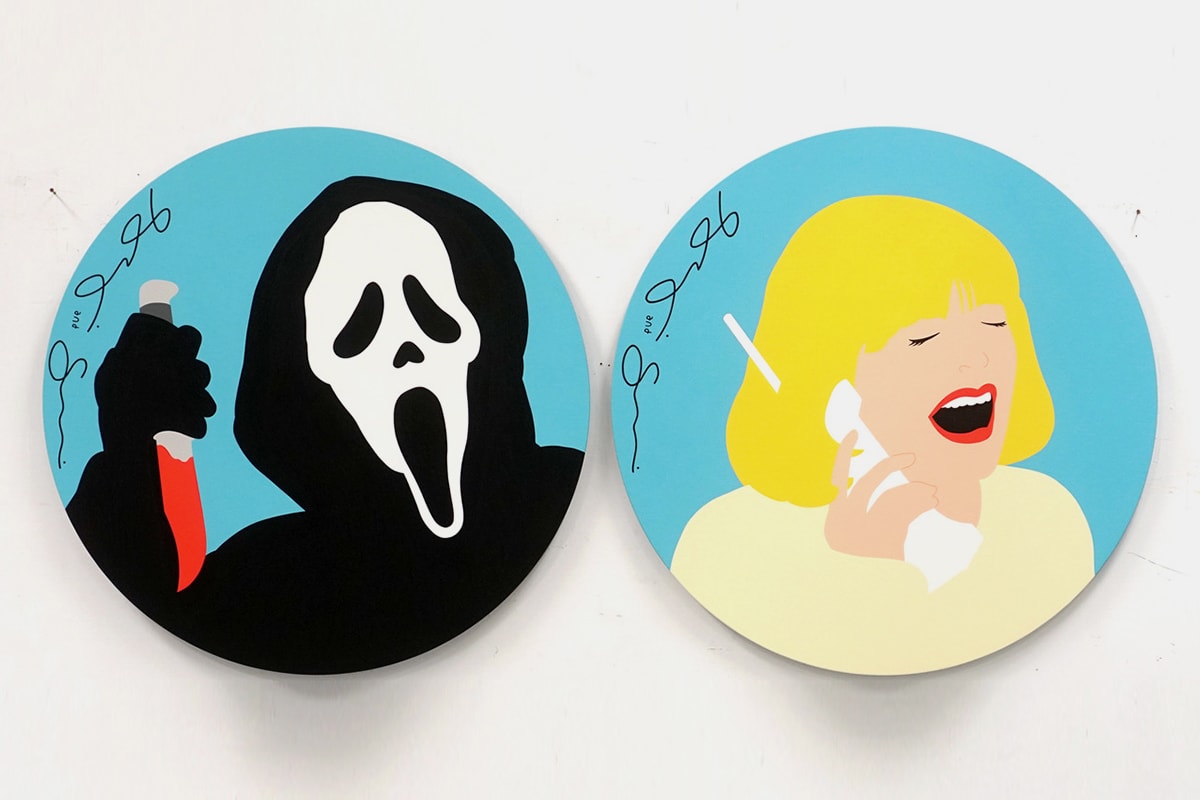 Pop Art duo Shelby and Sandy is landing in Hong Kong for the first time ever to present a momentous exhibition. Aptly titled "hollywood," the presentation boasts more than 20 new paintings. The sizable artworks were inspired by classic superheroes such as Superman and Spider-Man, distinct Disney film characters like Buzz and Woody, and classic scenes from Star Wars and Scary Movie.
"Their vibrantly hued over-sized canvases thrum to the zeitgeist; provocative, thrilling, humorous, playful, and beautifully executed, each work changes the way you view contemporary art," said gallery representative, Avenue des Arts.
"hollywood"
1/F and 2/F, Hilltop Plaza
49 Hollywood Road
Central, Hong Kong
Futura- "Abstract Compass" at Danysz Gallery, March 27-31
New York street artist Futura is back in Hong Kong with a new exhibition, and in partnership with Danysz, is set to showcase his new work at Space 27. Futura is well known for his unique graffiti style and his signature spray-painted atoms, lightning bolts and line work.
Danysz Gallery also gave a statement for Futura's inspiration stating, "The vibrant city (Hong Kong) is a large source of inspiration for the talented artist and his painting are depicting this multifaceted place."
Space 27
10F Block A/B Tung Chong Factory
653-655 King's Road
Quarry Bay, Hong Kong
Keiichi Tanaami "The Room of Menace" Exhibition at AISHONANZUKA, March 27-April 27
Located in the heart of Central, Hong Kong, the AISHONANZUKA gallery will showcase the latest works from Keiichi Tanaami. The "Room of Menace" solo exhibition features unseen works from the Japanese artist which are presented in a unique, colorful and psychedelic style, offering recurring motifs of supernatural demons.
The AISHONANZUKA gallery also gave their insight to the series of works, "Tanaami's latest works, while seemingly presenting themselves as uncanny yet pop renditions of supernatural demon illustrations, convey various memories related to Tanaami's real-life experiences."
AISHONANZUKA
G/F Mee Lun House
2-3 Mee Lun St, Central
Hong Kong
Hiroshi Fujiwara Leads "Imagination In The Digital Age" Discussion, March 28
Three cultural icons, art curator Hiroshi Fujiwara, art critic Hans Ulrich Obrist and HYPEBEAST founder Kevin Ma will gather together to speak on creativity in today's society. With Moncler hosting the "Imagination In The Digital Age" panel discussion, the influential three will share their insight on the ever-evolving digital medium and the relationship with creativity and inspiration.
Loft 22
22/F California Tower
30-32 D'Aguilar St, Central
Hong Kong
NIGO's "NIGOLDENEYE® Vol. 1" Exhibition at Sotheby's Hong Kong, March 29-April 1
Sotheby's Hong Kong is set to host Japanese designer and creative NIGO as he prepares to auction some of his prestigious art collections and pieces. Well known for his impact in fashion, street culture, music and art, the auction will include items such as the much sought after collaborative BAPESTAS, rare KAWS' UNTITLED (ASTRO BOY) figurines, artworks from the KIMPSON SERIES and more.
Other personal goods NIGO will auction off include Futura's Untitled (Pointman) artwork and Stash's FOUR PACK screen print. Sotheby's also released a catalog to document NIGO's career over a period of three decades.
Sotheby's Auction House
88 Queensway, Central
Hong Kong
Perrotin at Art Basel Hong Kong 2019, March 29-31
Leading contemporary art institution Perrotin will present a selection of works for Art Basel Hong Kong including pieces from Daniel Arsham, Takashi Murakami, Mr., JR, Josh Sperling and more.
Notable highlights from the Perrotin showcase include XU ZHEN's Under Heaven oil on canvas painting, Paul Pfeiffer Desiderata digital video loop, Eddie Martinez's canvas work with silkscreen ink and Laurent Grasso's Studies Into The Past oil on wood artwork.
Hong Kong Convention and Exhibition Centre
Galleries Booth #1D23
1 Expo Dr, Wan Chai
Hong Kong
Art Basel Hong Kong 2019 Launches Large-Scale Installations for "Encounters", March 29-31
Art Basel Hong Kong will launch their 2019 Edition of "Encounters", a series of installation projects from international artists. Titled Still We Rise, this year's collection explores the issues of disorientation and uncertainty by comparing the past and the future. 12 international artists will present 13 different works as part of the Still We Rise exhibition with notable large-scale works including a ten-meter long replica of a Zeppelin as part of Lee Bul's Willing To Be Vulnerable-Metalized Balloon as part of a reflection on familiar dystopic narratives.
Hong Kong Convention and Exhibition Centre
1 Expo Dr, Wan Chai
Hong Kong