UPDATE: Supreme Italia x Samsung Collaboration Has Officially Been Cancelled
A statement has been released.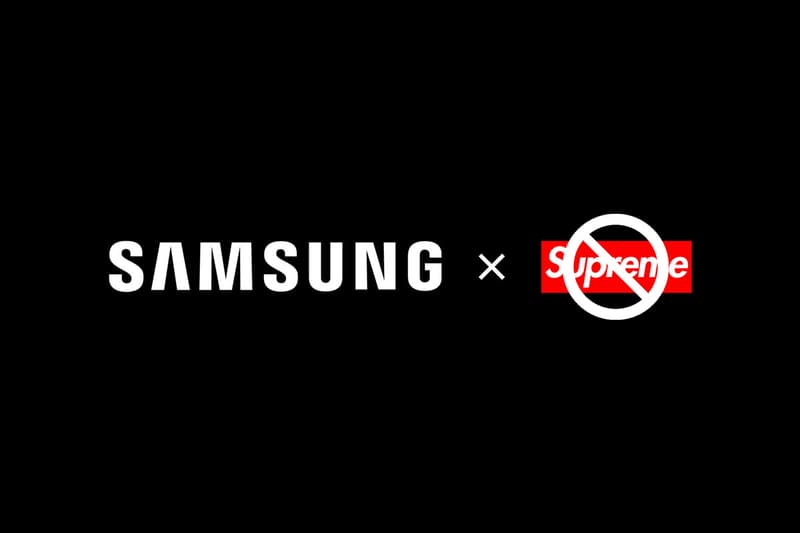 UPDATE: February 4, 2019 10:43 a.m. EST: News is coming from Engadget that the collaboration between Supreme Italia and Samsung has come to an abrupt end — a cancellation to be more specific.
Engadget Chinese provides a translated response found on Weibo:
"Samsung Electronics had previously mentioned a collaboration with Supreme Italia at the Galaxy A8s China launch event on December 10th, Samsung Electronics has now decided to terminate this collaboration."
---
UPDATE: December 14, 2018 02:22 p.m. EST: According to NSS Mag, Supreme Italia's parent company IBF has responded with an official statement confirming the partnership and the Fashion Week information:
The press release was presented at the latest [sic] conference by the South Korean technological giant for the presentation of the Galaxy A8 phone in China during which the forthcoming participation of Supreme at the fashion show at the Mercedes-Benz Cultural Center in Shanghai was confirmed for next year.

We hope that the opportunities presented today will be seen as concrete possibilities for the development and extension of the brand given the desire to continue on this path.

IBF
---
UPDATE: December 11, 2018 03:19 a.m. EST: Samsung China has taken to its Weibo to officially respond to the backlash it has received for its collaboration with Supreme Italia:
Recently, Samsung Electronics announced we will collaborate with Supreme Italia in China at the launch event of Galaxy A8s. We are currently re-evaluating this cooperation, and we deeply regret the inconvenience caused.
UPDATE December 10, 2018 11:55 a.m. EST: Supreme has officially responded with a statement concerning the supposed Samsung collaboration:
Supreme is not working with Samsung, opening a flagship location in Beijing or participating in a Mercedes-Benz runway show. These claims are blatantly false and propagated by a counterfeit organization.
---
UPDATE: After much criticism about the partnership, Leo Lau, Samsung China's digital marketing manager has officially replied to the move. "We are collaborating with Supreme Italia, not Supreme NYC," Lau says via translation. "Supreme NYC has no sales and marketing authorization in China, but Supreme Italia has obtained product sales and market authorizations in the Asia Pacific region (except Japan)." The response appeared on Lau's Weibo account. As most of you may know, Supreme lost a counterfeit case with Supreme Italia this summer which could be the main reason why all of this is happening "legally." Stay tuned as more on the story develops.
---
Shortly after being exposed for using a stock photo to fake its "Portrait Mode" feature, Samsung recently announced a collaboration with a duo in China claiming to be Supreme.
At the South Korean tech giant's latest launch conference for its Galaxy A8s phone in China, Samsung China's Head of Digital Marketing surprisingly announced a joint project with Supreme. After making a big deal about it being the first time Supreme has made its presence in China, the duo who claimed to be the CEOs of Supreme made their way to the stage.
Adding to the ridiculousness of the whole thing, one of the fakers on stage began to talk about how "Supreme" would be entering the Chinese market in 2019 with a seven-story flagship store in Sanlitun, Beijing. Not done yet, he also noted that Supreme would be holding its first runway show at the Mercedes-Benz Cultural Center in Shanghai next year.
No word from Samsung or Supreme just yet, but check out a stream of the announcement conference here (18:18) and stay tuned for more details as the story develops.
In case you missed it, every Supreme skate deck and accessory ever made was recently showcased at a new exhibition.