Drake Wins Best Rap Song, Acceptance Speech Cut for Downplaying GRAMMY Award's Importance
Winning the award for "God's Plan."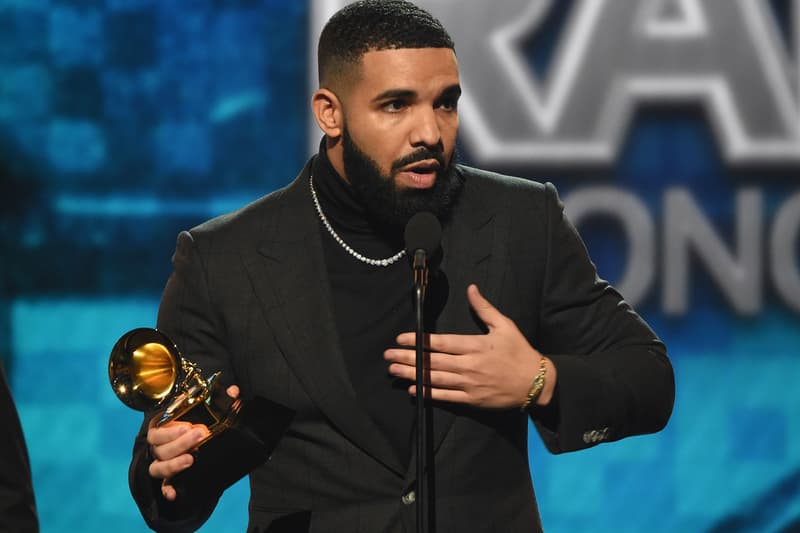 Drake has just won the coveted award for Best Rap Song at the 61st GRAMMY Awards for his track "God's Plan," beating out his collaborative track with Travis Scott, "Sicko Mode," Jay Rock's "King's Dead" and "WIN," and Eminem's "Lucky You."
Drake's acceptance speech was geared towards the up-and-comers, those who make art for self-expression and not for those who base themselves on other's opinions. Drizzy started his impassioned speech by saying "I want to take this opportunity while I'm up here to just talk to all the kids that are watching this that are aspiring to do music, all my peers that made music from their heart, that do things pure and tell the truth… We play in an opinion-based sport, not a factual-based sport."
The 6 God continued on, stating "you've already won if you have people who are singing your songs word for word; if you're a hero in your hometown. Look, if there's people who have regular jobs who are coming out in the rain and snow, spending money to buy tickets to your shows, you don't need this right here, you've already won." Right after the remark, Drake's microphone was cut off, and a commercial break ensued.
The producers reportedly cut Drake's microphone off because they thought he was finished speaking after he paused. They offered him to return to stage to finish his speech but Drizzy declined.
Drake was recently offered a slot to perform at the recent GRAMMYs ceremony but turned the opportunity down.
For more related news, watch the 2019 GRAMMY performances here.
#Drake accepts the #Grammy for Best Rap Song and tells aspiring and professional music artists "you don't need this right here" ?pic.twitter.com/8mQqWrUN4u

— HYPEBEAST (@HYPEBEAST) February 11, 2019
Backstage it was said that producers thought @Drake was finished so they cut the mike. When they realized he wasn't they asked if he wanted to return to stage and finish. He said he was happy with his speech and passed. #Grammys https://t.co/588NQX0c31

— Gerrick D. Kennedy (@GerrickKennedy) February 11, 2019
Drake after his speech was cut short? pic.twitter.com/Qed8B8unKc

— Drizzy Source (@DrizzySource) February 11, 2019