8 Drops You Don't Want to Miss This Week
Featuring Supreme, BAPE, HUMAN MADE, CPFM, Palace and more.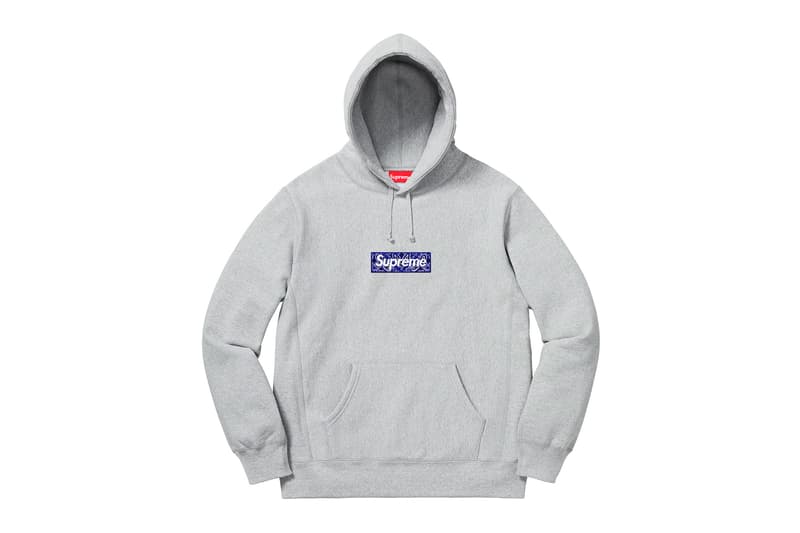 The latest installment of our product drops series is rich with headline-worthy drops, anchored by Supreme's Fall/Winter 2019 Week 16 release.
Taking a break from its collaborations, Supreme is readying the release of its highly-anticipated Bandana Box Logo Hoodie. Aside from the hoodies marked with a paisley bandana print take on the New York skate brand's iconic "bogo" is an accompanying set of New Era beanie similarly marked.
Aside from Supreme's new selection of goods, Drop 3 of Palace's ULTIMO 2019 collection is rolling out, offering an impressive array of special rollouts and collaborations that make up a selection of must-have street staples.
Some more notable collabs this week include the Red Tag partnership between Diesel and A-COLD-WALL*, OALLERY exclusive Futura Laboratories x HUMAN MADE T-shirt capsule and GOD SELECTION XXX x BAPE capsule collection. Notable commemorative releases came in the form of a capsule from NOAH to pay tribute to the British electronic band Depeche Mode's 1990 Violator album and HUF's celebration of the 25th anniversary of Quentin Tarantino's film Pulp Fiction. Rounding up this week's product drops is the latest takes on Cactus Plant Flea Market's striking Sock Hooded Pullover.
A-COLD-WALL* x Diesel Red Tag Collaboration Collection
Following an initial reveal earlier this year, the Red Tag partnership of Diesel and A-COLD-WALL*'s Samuel Ross has now released.
The collection features almost 20 items like a hat, bags, sweaters, jeans and jackets all marked by rich dyes and distressing. Other accenting elements include mixed-material application, patchwork construction, muted vegetable dyes, distinct pocketing and angled zippers. Hooded jackets with a cropped front placket, long coat with contrasting raw-hemmed panels and a deconstructed trousers all standout amongst the collaborative range.
When: Now
Where: A-COLD-WALL*
Cactus Plant Flea Market "Sock Hooded Pullover"
Cynthia Lu's Cactus Plant Flea Market has returned with a new take on its striking Sock Hooded Pullover.
Available in vivid violet and red options, each sweater is marked by a retro cream-colored tube sock sewn over the front. The hoodies feature a boxy fit with a slight drop at the shoulders, complemented by elongated drawstrings and a kangaroo pocket. Additional detailing comes in the form of "CPFM" emblazoned on the rear and shorted ribbed cuffs and hemline.
When: Now
Where: HUMAN MADE
NOAH Depeche Mode Violator Capsule Collection
Continuing to draw inspiration from music, NOAH has prepared a capsule that pays tribute to British electronic band Depeche Mode's 1990 Violator album.
Comprised of 13-pieces, the range features knitwear, hoodies, T-shirts and accessories informed by four of the album's songs, "World in My Eyes," "Personal Jesus," "Enjoy the Silence" and "Policy of Truth." Drawing from Depeche Mode's music "related to — alienation and loneliness; when to tell the truth; the pursuit of bliss," the band's iconic rose motif, imagery and sone titles adorn the selection of streetwear essentials. A standout item found in the collection is a pair of single-buckle shoes that were inspired by Dr. Martens defined by debossed imprints of Depeche Mode's rose and NOAH's "Personal Jesus" cross on each side of the shoe.
When: December 12
Where: NOAH & SSENSE
HUF Pulp Fiction 25th Anniversary Collection
Keeping the collaborative releases coming, HUF has partnered up with Miramax Films to celebrate the 25th anniversary of Quentin Tarantino's film Pulp Fiction.
The graphic-heavy not only comes marked by the film's iconic typography but also references its leading characters: Mia Wallace (played by Uma Thurman), Vincent Vega (played by John Travolta) and Jules Winnfield (played by Samuel L. Jackson). Mia's bob cut and cigarette in-hand post is depicted prominently across T-shirts and kangaroo hoodies. Meanwhile, the duo of Vincent and Jules are spotlighted through some of their iconic, including photographic images as they are driving around, as well as the graphic hamburger scene. Rounding up the collection is a skate deck once again sporting a print of Uma Thurman's character Mia Wallace.
When: December 12
Where: HUF
Supreme Fall 2019 Collection Week 16
Back with Week 16 of its FW19 collection, the latest drop from Supreme takes a break from collaborations and focusses on its previously revealed Bandana Box Logo Hoodie.
Accompanied by a New Era beanie, the biggest release of the week is a set of hoodies marked with a paisley bandana print take on the New York skate brand's iconic "bogo." Lead by the signature grey with a navy, classic black-on-black and navy-on-navy renditions, the release also features bold baby pink, yellow-on-yellow and a brown-on-brown offering.
Other notable wearables found in the accompanying Drop 16 range include the GORE-TEX 700-Fill Down Parka, Brushed Wool Zip-Up Sweater, HQ Waffle Thermal, Piping Warm Up Pullover and Polartec Scarf. Rounding up the release are headwear options like the Shiny Nylon Crusher, 2-Tone Leather Camp Cap, Shadow 6-Panel and Facemask Beanie. Although this week does not feature any of the New York label's boldly-branded accessories, Supreme is expected to release a nutcracker to mark the holiday season.
When: December 12, Japan Release December 14
Where: Supreme Online & Retail Stores in NY, Brooklyn, San Francisco, London, France & Japan
Palace Skateboards ULTIMO 2019 Week 3
Continuing the release of its ULTIMO 2019 collection, Palace has now readied the third release of its fan-favorite range. Leading the Week 3 drop are warmer options like the Polartec Go-Go Jacket, Awaiting Hoodie, Flocka P3 Hoodie and R-Knit Pullover Sweater.
The British skatewear label has also put together an array of graphic offerings which include the PEgypt T-shirt, P-Sprang T-shirt and Tri-Ferg marked Tri Tonk T-shirt. Rounding up the release are accessory options like the P 6-Panel The Final Frontier Cap, Polartec Go-Go P 6-Panel Cap, Fleecey 6-Panel Cap and matching Polartec Go-Go Scarf.
When: December 13, Japanese Release December 14
Where: Palace Online & Retail Stores in London, New York, Los Angeles & Japan
Futura Laboratories x HUMAN MADE OALLERY T-Shirt Capsule Collection
Futura's Futura Laboratories has now teamed up with HUMAN MADE on a T-shirt capsule exclusive to OALLERY.
The upcoming release is the first time the lauded artist has collaborated with Nigo's HUMAN MADE. Available in black and white, the team-up is centered around the polar bear structure found on the Amsterdam retailer's third floor. The front of the shirt features "POLAR BEAR" written in Futura's signature hand style and a back graphic that takes cues from the net model that the structure is scaled from.
When: December 14
Where: OALLERY
GOD SELECTION XXX x BAPE Capsule Collection
GOD SELECTION XXX and BAPE have come together on a capsule that brings together its respective graphic elements.
Comprised of a snowboard jacket, Shark hoodie, T-shirts and a trucker hat, the selection of streetwear items merges BAPE's Ape Head insignia with GOD SELECTION XXX's triple "X" motif. BAPE's Baby Milo also appears in the range, emblazoning the front of a T-shirt while holding a "XXX" logo. The major highlight of the collection is a Shark Hoodie marked with a "XXX" BAPE camo and WGM" terrycloth letters on the right portion of the hood.
When: December 14
Where: BAPE