World's Oldest Figurative Cave Painting Discovered in Indonesia
Portraying a hunting scene that is roughly 44,000 years old.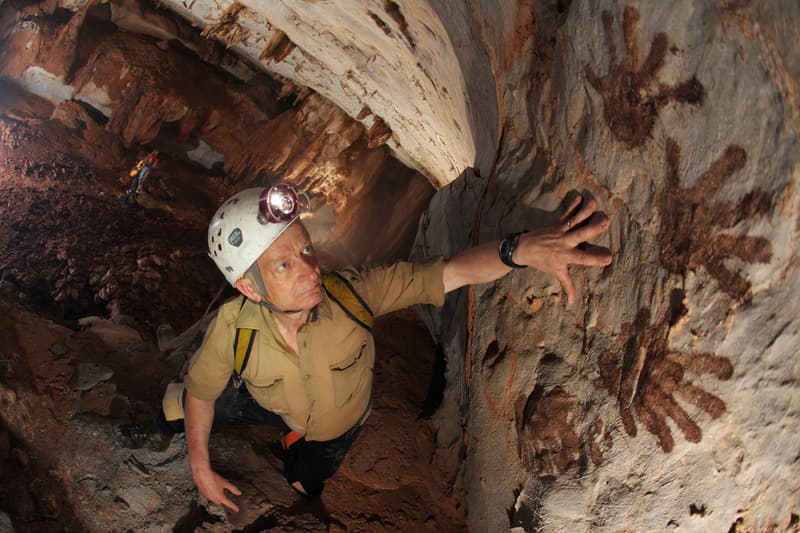 A discovered cave painting portraying a hunting scene is currently making news headlines as it appears to be the oldest example of figurative art made by the hands of man. Roughly 44,000 years old, an Indonesian archaeologist named Pak Hamrullah initially confronted the work back in 2017 inside a Borneo cave in the island of Sulawesi as reported by the BBC. It wasn't until now that Hamrullah's colleague and fellow archaeologist Adam Brumm confirmed with a team of researchers that the ancient piece is likely the oldest-recorded in history of the compositional genre.
The composition seemingly portrays a buffalo being hunted by a crowd of human-hybrids holding spears and ropes. The Indonesian cave painting may not be as dated at this South African sketch on a stone that was discovered last year (reported to be 73,000 years old), but the piece seems to be the most mature form of figurative work under archaeological research.
"The hunting scene is—to our knowledge—currently the oldest pictorial record of storytelling and the earliest figurative artwork in the world," according to a scientific paper published this week in Nature.
Check out the hunting scene below.
A cave-wall depiction of a pig and buffalo hunt discovered on the Indonesian island of Sulawesi is more than 44,000 years old, claim scientists. https://t.co/hDxEc84njw

— Nature News & Comment (@NatureNews) December 12, 2019
Elsewhere, check out the top art moments of 2019.