Migos & Popeyes to Launch a New "Migos Menu"
Exclusively through Uber Eats.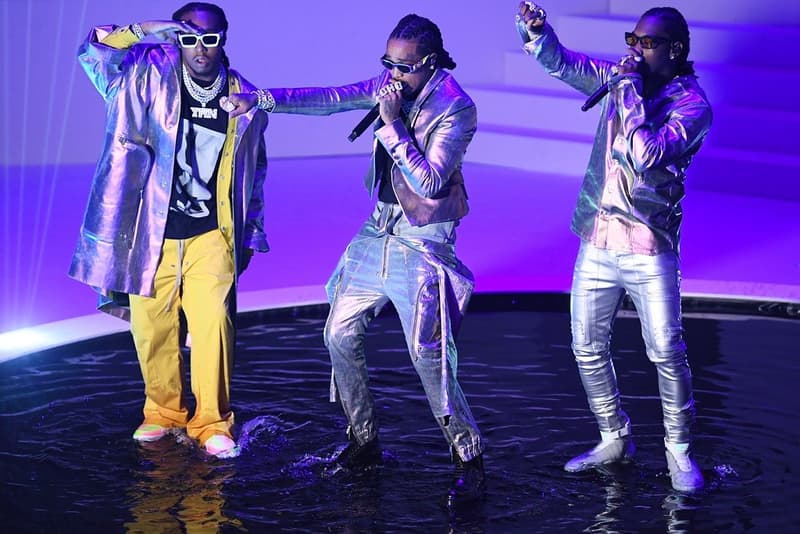 After Quavo tried to flip Popeyes' previously sold-out Chicken Sandwich for $1,000 USD, Migos has now teamed up with the fried chicken purveyor on a new range of menu items.
Exclusive to Uber Eats, the trio has put together the "Migos Menu" centered around their personal orders at Popeyes. Accompanying the personal orders named after each member is a Tour Rider options meant to help feed a group of people. Aside from showing their love for Popeyes' famed chicken options, the Migos options also feature an array of sides, biscuits and apple pies.
The four menu options are as described by Uber Eats below:
Tour Rider (starting at $46.99 USD): 20 tenders, 7 sauces, 1 large mashed potatoes with gravy, 2 large fries, 5 biscuits, 1-gallon lemonade
The Offset ($21.99 USD): 8 pieces BIC chicken meal, 1 large fries, 1 large mashed potatoes with gravy, 4 biscuits
The Quavo (starting at $17.99 USD): 2 chicken sandwiches, 2 regular fries, 1 regular mashed potatoes with gravy, 2 apple pies, 2 small drinks
The Takeoff ($9.99 USD): 5 tenders, 2 sauces, 1 regular mashed potatoes, 2 biscuits, 1 apple pie
The Migos and Popeyes Tour Rider, The Quavo, The Offset and The Takeoff menu items are available now exclusively on Uber Eats nationwide and throughout Canada from December 6-January 2.
For more food news, Action Bronson and Morgenstern's Finest Ice Cream teams up on F*ck, That's Delicious Holiday Package.