Armin van Buuren Has an Unfaltering Love for Trance
The DJ and producer talks 'A State of Trance' and maintaining his love for the genre.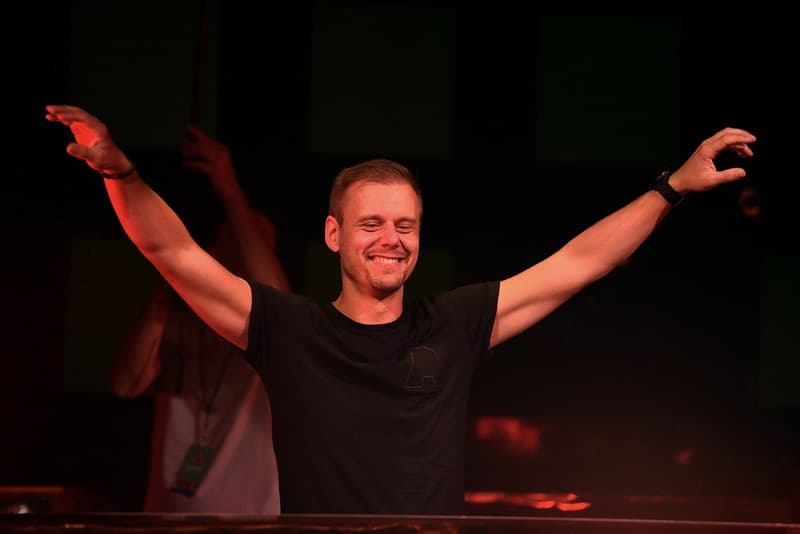 In a few short years, the world of electronic dance music has grown from small underground locales to some of the world's biggest festivals, often commanding audiences of over 400,000 attendees. One of the artists responsible for sculpting the industry's growth is Armin van Buuren. The DJ and producer has transformed the cultural aspect of trance into an crucial facet under the EDM umbrella, catapulting the genre into a global phenomenon.
In 2001, the Dutchman helped introduce the European genre to the world with his now-massive weekly radio show A State of Trance, which will celebrate its 950th episode in early 2020. On top of garnering more than 40 million weekly listeners from 84 different countries, he's also developed seven studio albums — his latest being the sprawling 28-track Balance. Outside of his various producing and DJing pursuits (in that arena he's been voted as the world's best five times), he also runs the annual A State of Trance festival, which garners nearly 40,000 concertgoers, and co-founded the progressive dance music label Armada Music.
Now a family man at 42 years old, Armin's love for trance remains wholly intact. At this phase of his career, it's finding new talent that keeps him going. Armin has been working in the medium since his late teens, but his sense of exploration and drive remain unfaltering.
Recently Armin van Buuren sat down with HYPEBEAST at 2019's JBL Fest to discuss his trance beginnings, A State of Trance, his new album Balance, and more.
How would you relate your success to the rapid expansion of EDM and dance music culture?
I got lucky with meeting the right people at the start of my career and the radio show A State Of Trance — which I still do every week — has been a big part of my success. I've used the radio show as a vehicle. Initially, it was meant to promote trance music but I've also promoted myself a lot on the backend of it, also my label Armada and the artists I feature, for example. A State Of Trance is the same formula as it was in 2001 when I started, it's still a weekly radio show that showcases the latest in trance and progressive and all the social media elements of it, we do it live on YouTube on Twitch on Facebook on everywhere so people can tune in every week.
I use the radio show as the center of everything — whether it's talking about my new album Balance to talking about JBL Fest to talking about artists or music that I like, I share it with my fanbase on the radio, and that's such a direct way of communicating, there's no error or noise you know? The fans tune in, I tell them exactly what they have to listen to and why its cool, it's very simple. That formula [works because] people know that it's every week at the same time and on the back that, I've always had festival gigs, tours, compilations, and merchandise.
Now that you've brought your niche sound to a commercial fan base, what about the trance scene holds your interest?
My father was a big inspiration, looking back at it. I've been doing a lot of thinking about why I actually chose trance, and the music he always listened to was very instrumental, very melodic, heavy chord progressions, very euphoric. He was always playing pre-dance music records, it wasn't called trance, but it was very similar. He was also a big fan of classical music, so he used to play a lot of that in the house which was also very similar to trance. Trance only began emerging around '92-93 in Hamburg, Germany — Belgium a little bit — and then the Dutch took it over at the end of '99, 2000, and that was when it really took off. That's where my inspiration comes from for sure.
The reason I'm still holding onto it, Every week when I go through those promos, there's always that one track that blows me out of the water. [For example] this week there was a track by Corti Organ that we signed to inHarmony music, and there's a Martin de Jong remix to it, and it's just one of those gems, it's a B-side, a remix to an A-side release. That's exactly why I do it, when you're in the studio and everyone's vibing and going, "What is this!" If I keep having that feeling, that'll keep me going for some time.
That delivers on you and your show's reputation as well, which has really been about spotlighting new artists and talent.
Exactly, and that's why I always try to not focus on classics, like we have a compilation called A State Of Trance Classics, but I don't want to focus on it too much. It's very important to focus on the young, the new, the talented. That's what we focus on with Armada as well. We have a young A&R team who actually kick my ass a lot of the time because I always want to sign new tunes and such and they say, "We're not really sure if that's a good track." I like people to be critical of me.
I have the best job in the world, I drive to the office one day a week, I get to work with a lot of really young people who keep me fresh, and that's why I do the radio show too now in a live setting and stream it, because I want to feel the music.
How do you think JBL audio products help in flushing out your ideas?
I mean that's very easy (laughs). You need the best sound. Times are changing, so all the music is streaming now and it's all very mobile. JBL helps in sculpting that experience because they deliver on products that are for on the go. When you're on the train, wherever you want to listen, wherever you want to experience it, JBL delivers on that.
"One of the driving factors for dance music in general is this unrivaled sense of community, it's always the community that's what's driving it."
We've seen trance develop into a variety of sub-genres from uplifting to goa to psytrance and more. Can you speak on the evolution of trance?
Funny, right, because it used to just be trance and now we have all these new subgenres.
It's interesting because it's sort of an industry now.
Exactly, I want my show to continue being a house for all those sounds. Psytrance was introduced in 2005, and now its an integral part of the A State Of Trance experience. When we do the big event every year in Utrecht we have five different rooms and one of them is the psytrance room — it's one of the biggest — and that shows you that A State Of Trance isn't stuck in the past but that we're avidly looking for what listeners want and what the new trends are, even though, let's face it, trance isn't the most popular sound in EDM. I like it that way, it's maintained its underground aspect, but what I like most about it is the #trancefamily, a little cheesy, but the love for that, because you don't have to pay a subscription or you know, if you want to be a part of the trance family, just hashtag it, and you're apart of it. That experience is huge and it's become a global thing, there's #trancefamilychina, #trancefamilybrazil, #trancefamilygermany, there are thousands of people following these. It's like a religious experience for these people, they travel everywhere around the world and visit trance parties, not just my parties, but all DJs out there. It's great, they always bring so much love for the music, so it's wonderful.
That's been one of the driving factors for dance music in general is this unrivaled sense of community, it's always the community that's what's driving it. We're nothing without the fans, they're the ones pushing it, but I've found that unlike other genres in music, For example, I'm a big fan of techno, I still go to techno parties. I love a good drum & bass party, and you have a very exciting following, but you don't have that passionate crowd of people.
You see people crying when you get on stage, following you at the airport, it's not so much me as a person being Armin van Buuren, but because the music itself has really touched these souls, you know? That goes very deep and that's why I get to do what I do.
Your seventh studio album, Balance, as well as ASOT 950 are coming up shortly. Anything to share in regards to these?
ASOT 950 is coming up at the end of January and we'll celebrate that in mid-February because that's when the venue is available. I'm proud to say it's the world's biggest trance event, last year we sold out 35,000 tickets. Five rooms that are nothing but trance, and people love it, people come from all over the world to experience it.
Balance is a completely different thing, right now I'm developing as an artist even more than a DJ. Doing it as 28-tracks as well gives you a little more ability to experiment and I just feel the need to be a little more creative than doing just the trance thing. I love trance, don't get me wrong, but I feel that in order to keep doing the trance thing, I need to step out of the trance thing, because that fuels the love for trance.
I just released a side project under GAIA called Moons of Jupiter together with my good friend Benno de Goeij, which is a complete opposite of what I do with Balance. It's underground, no vocals only instrumentals, and that shows a completely different side of myself. I'm just having fun in the studio — one day I might be in the studio working on a song with Ne-Yo, the next I might be working on a GAIA track. I've reached a point in my life where I can just feel what I feel in the studio and let go — if that means its a hardstyle track, it's a hardstyle track.
I had a vocal with Matluk for quite some time and we just couldn't find a good production base to get behind it, it was one of those things where I loved the vocal track but we couldn't find something to really back it up. I was in the studio with a couple of friends and one asked, "Why don't you do something with 150 [bpm]?" and I thought to myself, "The tempo is the problem." So I thought, "If we do 150? 150? That's hardstyle…why not?" So we threw around some ideas, finished the track, and then I had a hardstyle track. You always have to have a look at the track. Do you like it? Does it connect with your audience? In my recent sets I've played a lot of hardstyle tracks at the end, so I figured, why not?
"I love trance, don't get me wrong, but I feel that in order to keep doing the trance thing, I need to step out of the trance thing, because that fuels the love for trance."
How do you balance your own life, seeing that you're a parent, while still pursuing trance and dance music culture?
When I go touring I have to my laptop and JBL headphones for production. I do everything on laptops nowadays, and these days more and more DJs are moving towards completely mobile setups, so from doing email to preparing my sets to producing. I have to have my USB drives for spinning and I always bring my dongles.
I support legal software, so all my plugins are bought, so I have to have a bag full of dongles (laughs). I have my Nintendo Switch because I'm a big Zelda fan, I'm currently playing The Legend of Zelda: Link's Awakening. I also bring an iPad on my tours for Netflix, Disney+ whatever, keeps a sense of home, so I like to watch news from Holland because I'm Dutch, and then I have my workout stuff, I have a personal trainer who looks out for me very well.
He gave me some different equipment to bring to the gym to keep my muscles in shape and such because you have to work out and stay in shape, so I always have workout clothes. I try to travel light always, doesn't matter if I have a gig for one to two days or three weeks, I always bring the same bag and use laundry service. I try to bring as minimal as I can, everything goes in the overhead bin. That's the only reason I fly business as well because I can bring more carry — on bags, because people forget if the airline forgets your bag and it's lost, I'm already in another location and it's lost forever. Of course, I have to Facetime my wife and kids as well, that's very important for me.