Raf Simons Talks Current State of Fashion in First Appearance Since Calvin Klein Departure
Check out some quotes from the revered designer's 35-minute interview in Antwerp.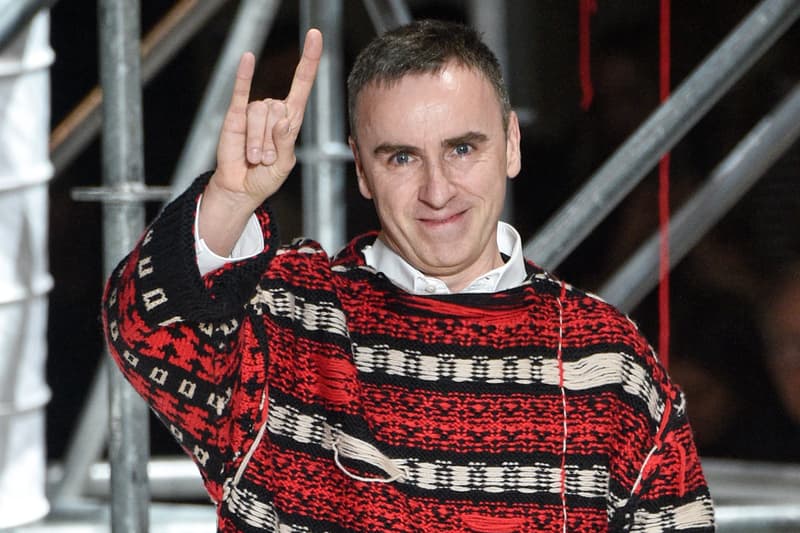 For the first time since departing Calvin Klein, the revered Raf Simons made a public appearance this past week, speaking in front of some 800 paying attendees at the fourth installment of Fashion Talks in Antwerp. The designer spoke with journalist Alexander Fury on a wide range of topics over a 35-minute period; you can check out some highlights below, courtesy of WWD.
Raf on longstanding fashion houses and the staff that surrounds their creative directors…
"These big brands are very much now driven by marketing and growth, and it's rare that a designer is good in both aspects. I am definitely not good at all the aspects. I know for myself. What is more important is that the designer knows who to work with, which is also not your choice, but it's definitely your choice in your [own] company.
"As a creative director, it's more complicated because very much most of these companies have everything in place and then you come in and the focus is in the beginning very much about collections. You bring probably a huge list of creatives in, but I have been in places where I had to be involved to bring people into merchandising or commercial because they hadn't really sorted that out."
Raf on why he often doesn't speak out…
"You get critiqued very quickly and I speak not only for myself. I speak for close designer friends in different positions. We get very scared to give an opinion when I think we have very specific opinions because you get critiqued on so many aspects so quickly and I think it makes a lot of us pull back on things and try to do it with the things we are doing."
Raf on his Belgium upbringing inspiring him to pursue fashion…
"I got it spooned in. I started out with Walter Van Beirendonck and I'm very thankful for him being such a promotor of young people. I came from nowhere and I was welcomed there and he showed me things. It was very inspiring.
"I saw all that independence and for me, it was the only thing that I knew. In the early stages of my brand, I wasn't aware of LVMH brands and all that kind of stuff and creative director positions. I just saw Walter Van Beirendonck, Ann Demeulemeester, Dirk Van Saene, Dries Van Noten and Martin Margiela having their own thing.
"To me, that's what I want. It was a good thing at the end that desire to be, and the family feeling to me also. I remember Dries and Walter were sharing the same building, but they had an independent creative language, and what Walter was doing was completely something else. There was a community of designers being able to relate to each other one way or another. All of them individually, in a way, could see very fast how they had for themselves created something very often with people that they related to. I still think that's the beauty. I see my own company as a family."
Raf on working with press during his time at Dior…
"When I was at Dior, I felt there was an incredible pressure from the outside on me to be with me while I was designing, while I was in the studio. Press wanted to be there, the press wanted to be at the fittings. Then you do all the previews, speak with all the press days before the show. I didn't like that at all. It was mainly because one designer was very much at ease with it. I don't criticize people from doing it, but because other people do something, it should not be a system for everybody."
Raf on financial growth being a measure of success…
"It's horrible. Most of the reviews I read in mainly big establishments, they are always judging it from an economic point of view. I find that very frustrating for everybody now. At the same time I think all the time you learn to really know what is, to kind of find out for yourself, what makes you happy. And, so then you can also push that away but I think it's not the criterion to be judged on when you're a creative person.
"I don't think it has anything to do with the amount of audience that you have, or the number of stores that you are selling to, or how much you are growing your company over the years. I don't think it's wise. Sometimes I also see very sh–ty collections, but then they get praised because the business is doing extremely well.
"It's a network, of course. It's all connected. It took me a while to find out. I think for most designers it's painful. In all honesty, I would also find it even painful if behind my back one would really hate the clothes, hearing me out and then say 'oh, what a good brand because it's doing so well.' But then, on the other hand, I read sometimes the reviews that maybe because they have a big business together, they are advertisers, I guess they have to write something, and if the collection is that sh–ty, you have to write about how good business is."
Raf on finding more inspiration in television than fashion…
"Here and there [there are exciting things], but I don't know if because I'm too deep into it. I wonder why don't I have that with fashion, but I have that with art? Even with movies, I even have that with television series. You can ask my team. Every day I talk about television series. I think there are so many people bringing daring TV shows, controversial topics, incredible new ways of making and building scenarios."
Raf on welcoming a new generation of designers…
"…from those six designers that we all know so well, there was one really scared and mad that I came in, and there was another one who was extremely supporting and promoting that I came in.
"Young people should not be so scared anymore to kickass, and designers should not fear new generations. They should promote new generations because that's what fashion as a global community still is and activates and keeps going. Maybe they're going to make us look very stupid and old, it's a normal thing. I mean, Martin and Dries, they kicked out [Thierry] Mugler and [Jean Paul] Gaultier and everybody."
Raf on the future of his brand…
"I want to stay young in the way of thinking. I don't want to give in with the brands. So many brands gave in. They could start out so interesting, then at the end, commercialized and it becomes a very flat kind of business.
"For my brand, I want to keep on having that typical emotion that I am constantly seeking for and that means that you sometimes have to give things which they won't like or won't be ready for it, but at least it will create a tidal wave because it's going to make them think about what it eventually could be."
---
You can read more about Raf's appearance at Fashion Talks on WWD.