Netflix Saves New York's Paris Theatre From Shutting Down
Paris is one of the oldest single-screen art house theaters in America.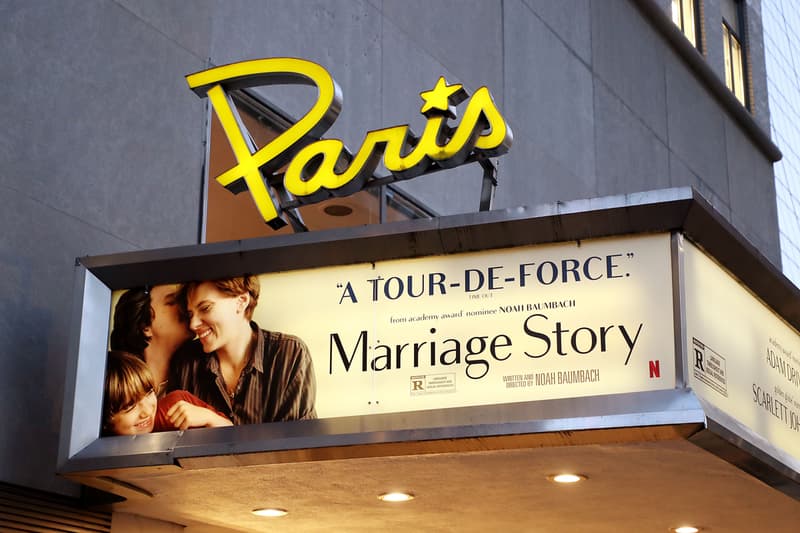 New York City's last single-screen theater has been saved from shutting down by Netflix. The Paris, which serves as one of the oldest art houses in America, closed earlier this year and reopened this month to screen Netflix's newest film Marriage Story, starring Scarlett Johansson and Adam Driver. Netflix yesterday then announced that a lease agreement has been made to keep the theater opened and save it from shutting down completely. The streaming platform now intends to use the iconic space to host special events, screenings, and theatrical releases of its films.
"After 71 years, the Paris Theatre has an enduring legacy, and remains the destination for a one-of-a-kind movie-going experience," said Ted Sarandos, Netflix's Chief Content Officer. "We are incredibly proud to preserve this historic New York institution so it can continue to be a cinematic home for film lovers."
The Paris Theatre originally arrived in 1948, with actress Marlene Dietrich there to cut the ribbon commemorating the grand opening. It began as a location that showed French film while garnering prestige from figures in Hollywood for its specialized screenings.
Tickets for Marriage Story at the Paris Theatre are currently on sale and can be purchased at the box office, or the film's official website.
In other Netflix news, here's everything coming to and leaving the platform in December.
A couple of weeks ago, at the New York premiere of MARRIAGE STORY at the recently shuttered Paris Theater, Ted Sarandos said Netflix was trying to make the deal with Paris a little more permanent. And here it is. NYC's beloved single screen stays open through a Netflix lease. pic.twitter.com/gGU5AyvCAw

— Tomris Laffly (@TomiLaffly) November 25, 2019
We'll Always Have Paris: Netflix Seals Long Term Deal To Keep Gotham's Last Single-Screen Picture Palace Alive https://t.co/pfdUd8QjKn pic.twitter.com/9iAIkNxolL

— Deadline Hollywood (@DEADLINE) November 25, 2019