Medicom Toy Pays Homage to Vienna Philharmonic With Golden BE@RBRICK
A nod to one of the best selling bullion coins.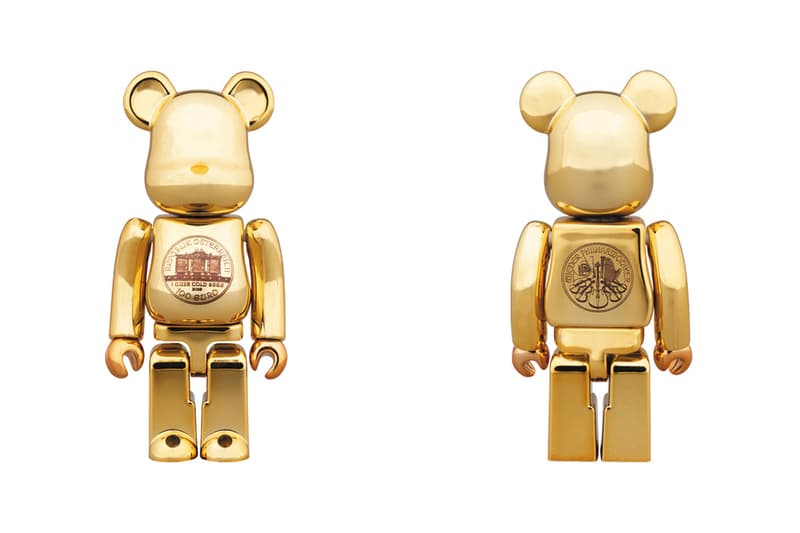 Following its collaboration with Royal Selangor, Medicom Toy has returned with yet another collaboration, this time with the Vienna Philharmonic. The latest BE@RBRICK has been rendered in a shiny gold palette emblazoned with the Wiener Philharmoniker emblem.
The Vienna Philharmonic dates all the way back to 1842 and is considered one of the top orchestras in the world. Based in Musikverein, Vienna, the orchestra has a stringent selection process where an applicant must prove his/her skill level before the board for a minimum of three years before being considered for a position.
As a nod to this, the Vienna Philharmonic, or Wiener Philharmoniker, was created in 1989 and is one of the best selling bullion coins out there. The obverse side of the coin shows the historic pipe organ at the Wiener Musikverein concert hall — "REPUBLIK ӦSTERREICH" is arched above the image. The opposite side of the coin is placed on the back of the BE@RBRICK. It features a Vienna horn, bassoon, harp, cello and four violins, finished off with the words "WIENER PHILHARMONIKER" above them, which translates to Vienna Philharmonic. Apart from the detailed motifs stamped on the BE@RBRICK, the rest of the figure has been kept minimal with a vibrant crisp golden finish.
The Medicom Toy Vienna Philharmonic Gold BE@RBRICK will be available on November 15 at ginzatanaka.co.jp for $459 USD.
Elsewhere, check out Louis Vuitton's League of Legends trophy case which took over 900 hours to make.