A Guide to London's Best Homeware & Design Stores
Serving sofas and shelving units to candles, soft furnishings and more.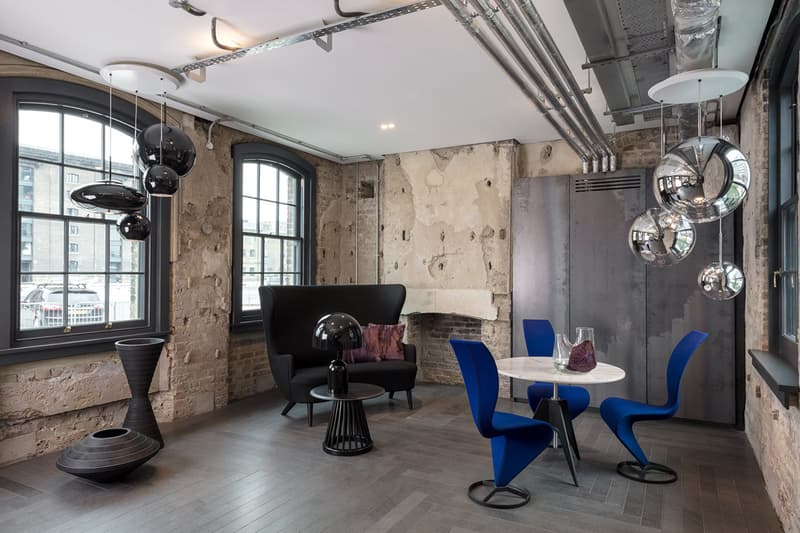 London is a design mecca, known for its unique structures, famous artworks and classic-meets-contemporary architectural atmosphere. But where do you go when you want to bring these elements into your home?
Homeware and design stores dominate the Capital just as much as HYPEBEAST's favorite fashion hotspots, with mainstays such as Goodhood and The Conran Shop offering a wide range of home decor and accessories. For investment pieces, there is an extensive variety of niche boutiques as well as design staples, and for the rare, custom or vintage uniquities, options truly are endless.
To declutter your choices, HYPEBEAST has compiled a guide of London's best homeware and design stores in the four corners of the city, opening up the world of interiors to all budgets and tastes.
Goodhood
Cultural imprint and HYPEBEAST favorite Goodhood opened in 2007 and has since curated an effortless lifestyle for the discerning East London crowd. Its selection of lifestyle goods — which ranges from lamps by Danish design company Menu to characterful ornaments from Studio Arhoj — offers the same excellence found in its varied menswear, cosmetic and womenswear departments. Goodhood is an original one-stop-shop, perfect for when you want to pick up the latest magazines, a Bang & Olufson speaker and functional homeware from Ferm Living.
Address: 151 Curtain Rd, Hackney
Website: goodhood.com
Vitsœ
British furniture manufacturer Vitsœ — which to this day continues to realize the post-modern designs of Dieter Rams — prides itself on its adaptability. Chiefly, Vitsœ and its Rams-designed 606 Universal Shelving System, have stood the test of time since 1960 thanks to its unique forever-expanding and completely interchangeable nature. Vitsœ also provides the 620 Chair Programme, which is another adaptive program that allows you, and your personal planner, to expand one chair into an entire sofa. This service is complete with the 621 Table, which is perfect by itself or as an additional surface area. All of Vitsœ's pieces can be designed and bought in its new Marylebone flagship store.
Address: 21 Marylebone Lane, Marylebone
Website: vitsoe.com
Decorum
Decorum prides itself on its eclectic mix of industrialist, minimalist, modern and Scandinavian designs. Its Crystal Palace outpost offers a wide selection of furniture including tables, seating and shelving, as well as an extensive lighting selection and smaller decorations for the home. Decorum is the ideal spot to deck your living spaces out with quality pieces that will stand the test of time, including a carefully curated offering of mirrors, bathroom homewares, candles and more. For smaller goods, textiles and kitchen essentials, check out its Boxpark unit in Shoreditch.
Address: 67 Westow Hill, Crystal Palace
Website: decorum-shop.co.uk
Monologue
For those wanting pieces that blur the lines between architecture, art and design, look no further than Monologue. Offering a wide range of stunning homeware essentials and swoon-worthy accessories, Monologue prides itself on introducing emerging designers, exclusive items and conceptual designs to its East London hub. The showroom puts up-and-coming talents alongside established designers and has a number of standout items such as its first-ever in-house designed piece, the Solar Table. This one is for the serious interior designer within you.
Address: 93 Redchurch St, Shoreditch
Website: monologuelondon.com
Earl of East
Earl of East is known for its signature in-house poured candles, with scents designed to capture the essence of places founders Paul Firmin & Niko Dafkos have visited. Its selection of candles, which range from the smells of Copenhagen, Greece, Lisbon and more, are joined by the shop's range of ceramics, glassware and soft furnishings created by the founder's favorite independent and like-minded designers. Alongside the variety of homeware accessories is a bath range inspired by Japanese Bathing Culture, as well as a community hub, workshop showcases and a coffee shop at its Coal Drops Yard outpost.
Address: Coal Drops Yard, King's Cross
Website: earlofeast.com
DESIGN & THAT
DESIGN & THAT was founded in 2016 by the interior architect Emma Shone-Sanders, and has since gone on to serve East London as a hub for finding beautiful home decor. Its selection is just as unique as the building it lives within — that being an old pub — as it offers everything from works made by local artists to pieces from established brands such as Ferm Living, Frama CPH, and many more. Everything is hand-picked by Shone-Sanders herself, with the aim that everything available should work together in harmony in your home. Whether you're looking for a standout sectional sofa, a retro-inspired chair, awe-worthy lighting or lifestyle goods, DESIGN & THAT has it all.
Address: 61 Hackney Road, Shoreditch
Website: designandthat.com
Kitchen Provisions
Kitchen Provisions elevates your usual cooking hardware experience with its range of functional equipment. It's Coal Drops Yard-based store offers an incredibly extensive range of casual-to-high-end knives that have been forged in Japan and the UK in carbon and stainless steel, all of which are available to be sharpened by its experts in-store. Cooking necessities, edibles and cheffing garments are also available to purchase — all serving a classic culinary aesthetic.
Address: Unit WY3, Coal Drops Yard, Kings Cross
Website: kitchenprovisions.co.uk
Tom Dixon
Tom Dixon's world consists of ultra-minimalist lighting, interpretive seating, architecturally-indebted tables and, more familiarly, its range of home fragrances. Tom Dixon rose to his prominence in the 1980s after having his welded salvaged furniture spotted, turning from an untrained designer into a British household name. Its UK flagship store offers a wide range of Dixon-designed goods, including a display of its Melt pendant lights, various diffusers and an extensive line of contemporary, industrialism-indebted furniture.
Address: 4-10 Bagley Walk Arches, Coal Drops Yard, King's Cross
Website: tomdixon.net
The Conran Shop
The Conran Design Group was founded in 1956, moving into a physical flagship in 1973, and to its space now in Chelsea in 1987. The Conran Shop's vision has stayed the same ever since, providing contemporary furniture and interior accessories for every room in your home from its curated selection of carefully considered designers. The Conran Shop truly has everything for everyone, and also offers customers with its unique vintage furniture concept, allowing you to add a personal touch to your home with reclaimed and restored gems. Furthermore, you'll be able to pick up an exclusive range of Carl Hansen products if you're fond of heritage Scandinavian designs.
Address: Michelin House, 81 Fulham Road, Chelsea
Website: conranshop.co.uk
SCP
SCP's USP is its customizability. Walk into its Curtain Road flagship store and order a custom-made seating from the likes of architecture-meets-furniture designer Philippe Malouin and early-90s-inspired pieces from Matthew Hilton. The homewares on offer here are eclectic, spanning era after era of design periods for any taste and budget. Making SCP stand out amongst the rest is its line of Classics — a specially curated selection of reproduced designs from the SCP archive.
Address: 135-139 Curtain Road, Hackney
Website: scp.co.uk
Knoll
Knoll's mixture of contemporary and classic homewares and furniture designs is what makes it so special as a hub for well-known, timeless pieces. Expect a full-range of Bauhaus-era designs such as Marcel Breuer's Wassily chair, post-modernist seating from Harry Bertoia and classics from Charles Pollock. Knoll is a one-stop-shop to completely deck out your entire home, with everything maintaining the imprint's ethos — understanding how people interact with their environments, and how their environments impact what they do.
Address: 91 Goswell Road, Clerkenwell
Website: knoll.com
Vitra
Virgil Abloh, G-Star RAW and many more have collaborated with Vitra, but its line of remade Charles & Ray Eames classics is what brings HYPEBEAST to this iconic design hub. Eames are famed for their range of chairs — from fiberglass armchairs to reclining loungers with ottomans — and today, Vitra preserves these iconic designs in their true form. Vitra's revivals expand further than just Eames, with works from Antonio Citterio and Verner Panton also gracing its Clerkenwell shop floor. Rounding out its homeware and design offerings is a selection of storage options, lighting solutions and smaller decorative pieces.
Address: 30 Clerkenwell Rd, Clerkenwell
Website: vitra.com
The Peanut Vendor
Bow-based design dealer The Peanut Vendor specializes in providing one-off early to late 20th-century furniture, art objects, and accessories to those in the know. Its team sources products from the four corners of the world, restocking its incredible library of unique finds on a weekly basis. The Peanut Vendor also rents out its stock for events and shoots, and is able to assist you with whatever you're looking for as it keeps an eclectic mixture of products in storage. Top tip for shopping at The Peanut Vendor: its pieces tend to move through its hands quickly, so act fast if you're in the market for a one-of-a-kind gem.
Address: 6 Gunmakers Lane, Bow
Website: thepeanutvendor.co.uk