A Guide to London's Best Stores
From big names to cult classics.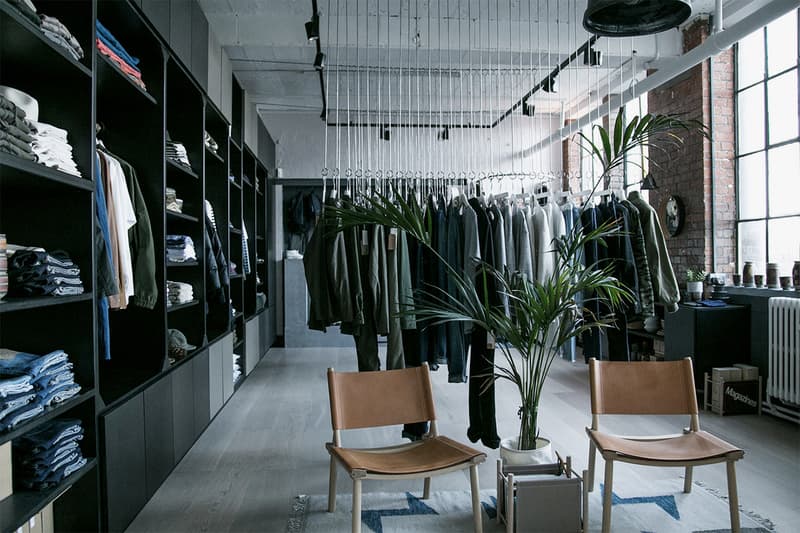 Widely acknowledged as one of Europe's fashion capitals, London boasts a huge variety of important stores. Whether you're looking for high-end pieces, up-and-coming designers or Japanese brands that you'd struggle to find anywhere else in Europe, London has somewhere that offers it. To make it easier to find those stores, we've pulled together a list of the best spots, from big names like Dover Street Market and Selfridges to cult favorites including Goodhood and Machine-A.
Goodhood
Since launching in 2007 — and moving to its current location in 2014 — Goodhood has become an East London staple. The store features a large menswear-focused basement, with womenswear, homeware and magazines sharing the ground floor. As well as its carefully-curated space, Goodhood also has its own Goods by Goodhood line, hosts pop-up events from the likes of Unified Goods and Teejerker, and has collaborated with brands including Vans, Brain Dead and nanamica.
Key brands: Our Legacy, Stüssy, Wacko Maria
Address: Goodhood, 151 Curtain Road, EC2A 3QE
Dover Street Market
London's Dover Street Market left its namesake address back in 2016 to open a huge new four-storey space on Haymarket. The store, known for its huge array of brands and its art gallery aesthetic, begins with streetwear staples including NOAH, Stüssy and Palace in the basement, before covering brands including COMME des GARÇONS, Balenciaga and Raf Simons on the way up to the top floor cafe.
Key brands: COMME des GARCONS, Raf Simons, Balenciaga.
Address: Dover Street Market London, 18-22 Haymarket, SW1Y 4DG
Browns East
With Browns' original location dating all the way back to 1970, the London institution branched out to East London with its Browns East location in 2018. The industrial-style space takes over a disused printing factory, and mixes an incredible brand selection with an art gallery, an ever-changing cafe and an "immersive experience room." The location also boasts a number of features designed to show the store of the future, allowing VIP visitors to view pieces in different locations as well as see recommendations and sync their digital wishlist to the physical space.
Key brands: Gucci, Balenciaga, Prada
Address: Browns East, 21 Club Row, E2 7EY
NEPENTHES
The legendary Japanese brand opened its first European location in early 2019 with a small store near London's Euston station. NEPENTHES London stocks all of the company's most loved brands with NEEDLES and Engineered Garments sitting alongside South2 West8, Filphies and AiE. As well as the core NEPENTHES brands, expect the London outpost to release UK-exclusive products and upcoming collaborations.
Key brands: NEEDLES, Engineered Garments, South2 West 8
Address: NEPENTHES London, 8 Woburn Walk, WC1H 0JL
END.
Originally opened in Newcastle before branching out into Glasgow, END. finally arrived in London with a new megastore in 2018. The huge space in Soho is roughly split into three areas, with brands including Aimé Leon Dore, Our Legacy and Acne Studios dominating the ground floor. The first floor then features a sneaker space and a more high-end area. Despite only opening in October 2018, the store has already become one of London's streetwear standouts.
Key brands: Aimé Leon Dore, Our Legacy, Acne Studios.
Address: END., 59 Broadwick Street, W1F 9QS
Machine-A
Cult Soho store Machine-A has become known as the capital's best location for both high-end labels and up-and-coming designers. The small store opposite Palace's London location boasts an eclectic mix of brands, ranging from 1017 ALYX 9SM, A-COLD-WALL* and Martine Rose to Bianca Saunders, Ludovic de Saint Sernin and Per Götesson.
Key brands: A-COLD-WALL*, 1017 ALYX 9SM, Martine Rose
Address: Machine-A, 13 Brewer Street, W1F 0RH
Alpha Shadows
Located in Peckham's Bussey Building, Alpha Shadows is fairly off the menswear track. Anyone who does venture there, though, will be greeted by a huge range of Japanese brands that are often hard to find at other locations. As well as some of the bigger names — think NEEDLES, Kapital and nanamica — the small store also stocks a range of smaller brands, magazines and homeware.
Key brands: NEEDLES, nanamica, Kapital
Address: Alpha Shadows, 133 Copeland Road, SE15 3SN
UJNG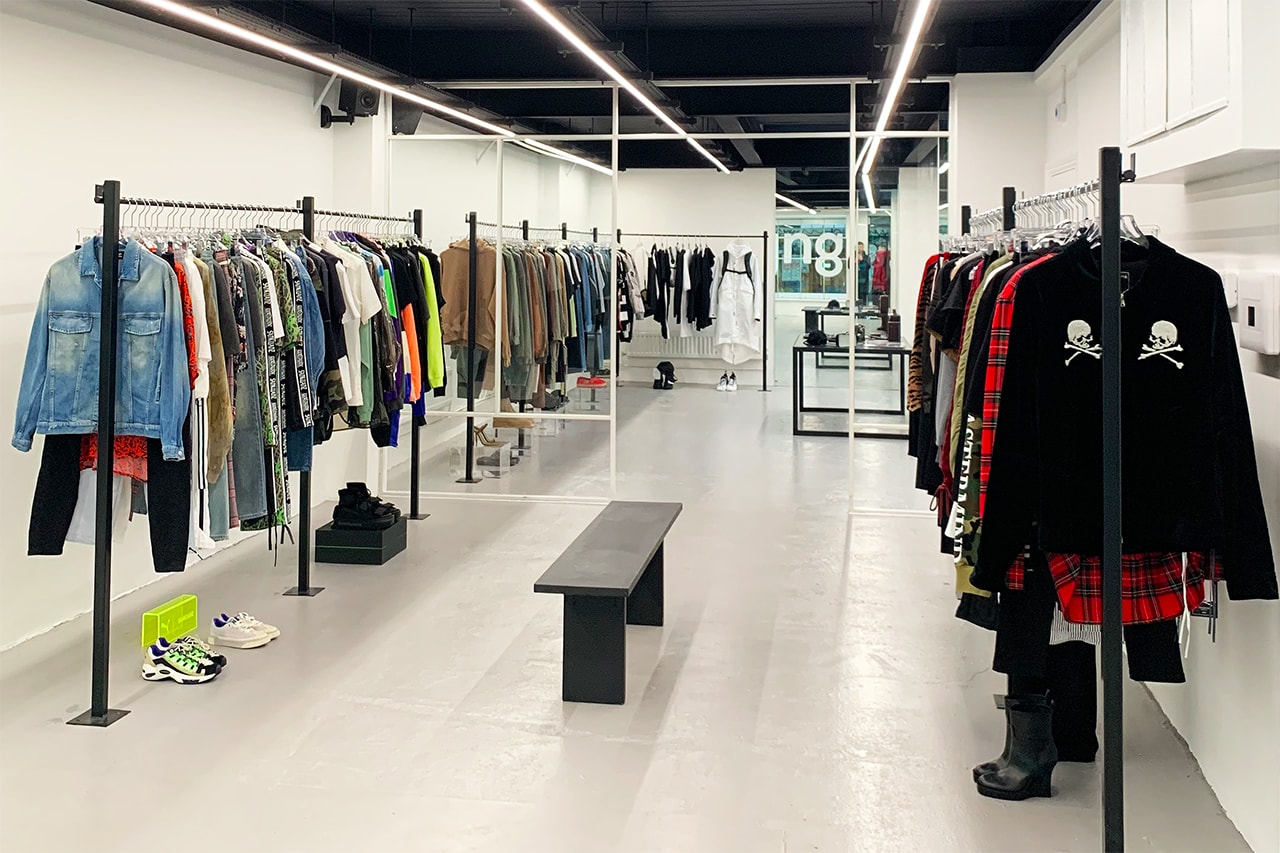 After establishing a reputation as an online store since it was founded in 2016, UJNG made the move to bricks-and-mortar with its new East London space. The store blends established names while also shining a light on some of the newer designers. For Spring/Summer 2019, UJNG is set to stock brands including 1017 ALYX 9SM, Aries and YEEZY, as well as legendary designers such as Ann Demeulemeester and Haider Ackermann.
Key brands: 1017 ALYX 9SM, Aries, YEEZY
Address: UJNG, 77 Redchurch St, E2 7DJ
Selfridges
Iconic London store Selfridges launched its Designer Street Room in late 2018, with an updated brand list and a number of new features. Undoubtedly the stand-out of the legendary space is its fully-enclosed skate bowl, which is designed to create a community of skate fans. Elsewhere, the store also features a specially-built sneaker wall and a customizable Land Rover Defender. Brands available from the revamped space include Gucci, Off-White™, Stone Island and BAPE.
Key brands: Gucci, Off-White™, Stone Island
Address: Selfridges, 400 Oxford Street, W1A 1AB
LN-CC
Dalston's LN-CC — aka the Late Night Chameleon Cafe — can be hard to find, with its front door located on a back-alley in East London and a buzzer needed for entry. Historically, the store was appointment only, although walk-ins are now welcome. Once inside the store, though, visitors are greeted by an unexpected interior constructed by set designer Gary Card. The space features an exhibition area, library, record store and bar. The store itself stocks a range of emerging London designers — think Paria Farzaneh and Story MFG. — alongside established names including Gucci, Burberry and Jil Sander.
Key brands: Gucci, Burberry, Paria Farzaneh
Address: LN-CC 18-24 Shacklewell Lane, E8 2EZ
Liberty
Located in a huge mock Tudor building in central London, Liberty has become a London icon and a British retail institution. Recently, the store's menswear department received a revamp, with high-end — Balenciaga, Maison Margiela and Marni — sitting alongside every day staples from the likes of Wood Wood, YMC and Norse Projects. As well as the wide-ranging menswear floor, Liberty also features an in-store Ruffian's Barbers and a wide range of men's grooming staples from labels including Aesop, Byredo and Kiehl's.
Key brands: Balenciaga, Wood Wood, Marni
Address: Liberty, Regent Street, W1B 5AH