Best New Tracks: Kanye West, Mozzy, Wiki, Lil Baby, The Free Nationals & More
A slew of great new releases.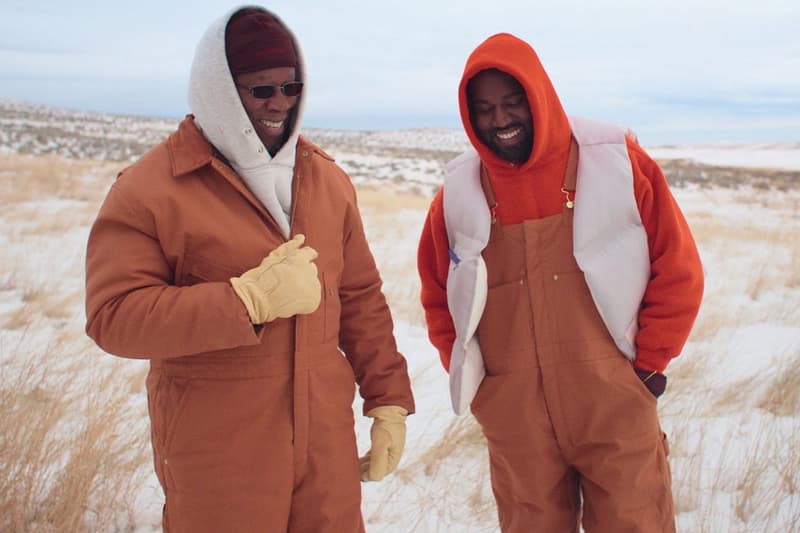 The Free Nationals & Syd – "Shibuya"
In recent months, Anderson .Paak's backing band The Free Nationals have served up several new records. Now, following the mid-October, Chronixx-assisted entry in their expanding singles series, the talented musicians are finally revealing plans for their debut studio album and introducing the project by sharing a fifth single. Made up of 13 songs, The Free Nationals' self-titled LP will deliver new collaborations with Westside Gunn, Anderson .Paak, Kali Uchis, T.I., Callum Connor, Conway the Machine, Shafiq Husayn, Benny Sings and more. For our latest preview of The Free Nationals, the band and The Internet's Syd are coming together for a track titled "Shibuya." The Free National's self-titled debut album will see release on December 13 via EMPIRE.
Yungeen Ace – Step Harder
Towards the beginning of August, Yungeen Ace released Chloe, a "curated collection" of "passionate" and emotional songs that he crafted for his girlfriend. Now, three months after that EP's debut, the fast-rising Jacksonville star is back with a new mixtape known as Step Harder. Comprised of 16 new tracks, Yungeen Ace's Step Harder tape finds him looking to Boosie Badazz, Blac Youngsta, Lil Durk, DeJ Loaf, Stunna 4 Vega and NoCap for creative assistance.
"I've already been through so much in so little time," Yungeen Ace previously shared with us. "At 21, I've experienced more pain than people twice my age – but I know that's what makes me special. God wanted to make sure I was battle tested and war ready, and now I know nothing can stop me. I've already dealt with death, prison, violence, poverty and abuse – what else can the devil do to stop me? Every time I think he has one up on me, God shows me he has a bigger plan."
"There's been a lot of negativity around me this past year. There were attempts on my life, and I lost mud brothers and blood brothers," Yungeen Ace added in an additional exclusive statement. "But now…I feel untouchable and I need everybody to know that I'm prepared to match their same energy … I ain't never stopping, I'm on they neck now."
Nuk – "H. W. K." & "Heart Attack"
The Detroit renaissance continues and it still feels like that region's current movement is still pretty far away from its peak. Adding to his recent onslaught of essential sights and sounds, fast-rising rapper Nuk is back with a pair of new visuals, serving up a Kardiak- and Tremaine Edwards-helmed clip for the Jose The Plug-produced cut "H.W.K." and a No Sleep Entertainment-directed video for another Jose The Plug-produced song, the Lil George-assisted "Heart Attack." At this rate, Nuk will definitely be an "artist to watch" and one of the rap game's strongest young prospects once 2020 begins.
Wiki – OOFIE
Two years after the debut of his previous solo album No Mountains in Manhattan, Wiki is back with his latest full-length release, OOFIE. For the follow-up to his 2017 LP, the former Ratking emcee delivers 14 new tracks, including collaborations with Denzel Curry, Lil Ugly Mane, Your Old Droog, Princess Nokia and more.
Shredgang Strap – "Throw a Fit"
Detroit rapper ShredGang Strap has been on a tear since regaining his freedom, delivering the criminally-slept-on When I Die project in February and continuing to add essential new salvos to his ever-growing, current hot streak. For his latest slice of heat, Strap is teaming up with Lil Rio for the menacing, hard-hitting "Throw A Fit." Notably, the visual component for "Throw A Fit" was brought to life by 97PK.
Bandgang Masoe – "Money"
Bandgang Masoe has been killing it for several years now, and he's showing no signs of slowing down or losing any creative steam anytime soon. Continuing to sharpen his pen-game, the West Detroit emcee is back with "Money."
Lil Baby – "Woah"
Teasing his anticipated sophomore album, Lil Baby unveils that LP's second major single, "Woah." Produced by Quay Global, "Woah" serves as the follow-up to My Turn's lead single and was originally announced in a tweet sent out by Lil Baby at the end of October.
Mozzy – "I'll Never Tell Em Shit"
For Mozzy's latest major single and music video, he's serving up a new track titled "I'll Never Tell Em Shit." The follow-up to last week's collaboration with Tsu Surf, "This Weekend," the reflective "I'll Never Tell Em Shit" is signature Mozzy and its video — which features footage of Mozzy's very first on-camera verses — was put together by director Bryan Berry.
"I ain't going to lie, I feel like I'm the dopest gangsta rapper right now in this present moment," Mozzy told Okayplayer during a 2018 interview. "I don't feel there's one gangsta rapper out there that could f*ck with me, as far as wordplay. I'm not talking about album sales. I'm talking about craft. I'm talking about cook-up."
Bla$ta – Yankee Baby'z 2
More essential new sounds from an up-and-coming, young and exceptionally-talented Bay Area rapper. Serving up 11 gritty new tracks, rising West Coast artist presents his latest full-length studio project, Yankee Baby'z 2. A feature-heavy affair, Bla$ta's new tape also contains contributions from Bthergang Vonnie, Rich Rocka, ZayBang, King Peno, Baglife Juice, WayMoBandzz, Bandlife Birdy and others.
Cash Kidd – "Who Shot You?"
Next Friday, November 15, Cash Kidd plans on releasing the anticipated follow-up to his incredible 2018 album Bebe Kidd 2. For our first taste and preview of Marc My Words, the immensely-talented lyricist is back with a new, Jerry Production-directed visual and single, "Who Shot You?" Cash Kidd is undoubtedly one of the most slept-on rappers in rap right now, and his next project has a good shot at cementing his position at the very top of his region's scene.
Sada Baby – "2K20"
Sada Baby is in the middle of a legendary run right now, and is arguably one of the new school's best new rappers. For his latest potential hit, the Detroit artist serves up a visual for "2K20." Notably, this latest clip from Sada Baby was put together by his close visual collaborators at CT Films.
Westside Gunn, Benny the Butcher & Conway the Machine – "Chef Dreds"
The Griselda crew are unstoppable right now. For the East Coast rap collective's latest collaborative drop, Westside Gunn, Benny the Butcher and Conway the Machine are reconnecting for "Chef Dreds."
Kanye West – "Follow God"
For the very first standalone music video in support of his latest studio album Jesus Is King, Kanye West is serving up a new visual for "Follow God." Notably, this week's clip for "Follow God" follows Kanye and his father, Ray West, as they travel around Ye's Wyoming property in an ATV. Kim Kardashian initially informed fans of this video's arrival earlier this week, taking to social media to share a brief teaser.
"My dad came to visit me at one of our ranches in Cody, Wyoming. He talked about his love for fishing, and how he would like to come here in the summers," reads a statement Kanye West posted to the end of his "Follow God" vignette and shared via Twitter. "It took me 42 years to realize that my dad was my best friend. He asked me, 'How many acres is this?' I told him 4000. He replied with these three words: 'A black man?'"