15 Statement Scarves to Elevate Your Fall Attire
Prepare for the colder months ahead.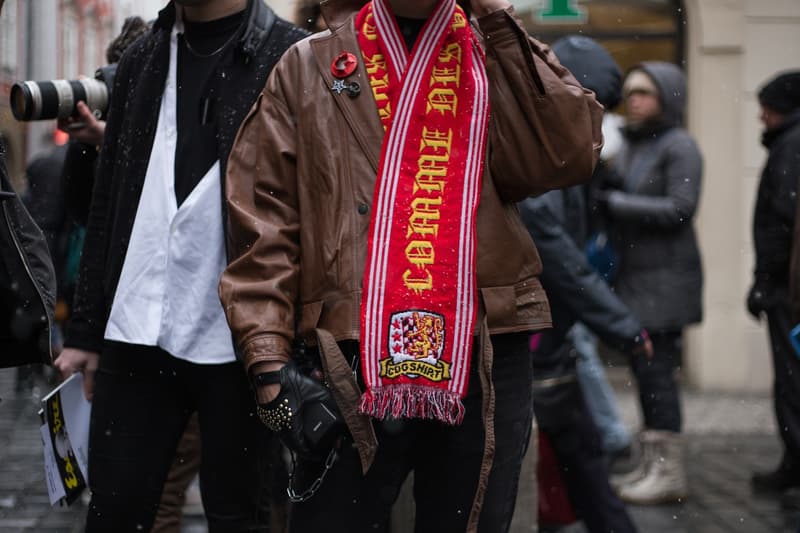 With colder weather offiially creeping in for many parts of the world, it's time to update our fall attire. One essential accessory for builiding an autumnal outfit is the beloved scarf. Fortunately there are a bevy of options from brands ranging from Heron Preston to Prada.
Whether you take your inspiration from an art gallery or football pitch, there's a scarf that will instantly elevate your head-to-toe look, as well as keep you protected against the seasonal wind and rain. The Fall/Winter 2019 season provided a bevy of scarf options especially coming from the more high-end spectrum.
Among our favorites are padded scarves from Givenchy and Burberry to soccer-inspired takes from Heron Preston and Off-White™. Check out the season's most cozy and interesting options from brands like Raf Simons and Rick Owens in the round-up below.
JW Anderson Cream Faux Shearling Scarf
Measurements: 88 x 22 cm
Why You Should Cop: As one of the more unique options on the list, this cream JW Anderson Faux Shearling Scarf features a large collar shape which can be thrown over the shoulders and instantly elevates any outfit. Just be careful not to spill that glass of red wine at your next dinner party.
Rick Owens Padded Shell Scarf
Measurements: 633 x 35.5 cm
Why You Should Cop: Not only will this Rick Owens Padded Shell scarf keep your neck protected from harsher elements, the scarf's extra long length allows it to be wrapped around the body multiple times for added warmth. Perfect for those looking for a more avant-garde look to boost their Fall attire. The luxe option has been filled with both goose down and mallard feathers.
Givenchy Nylon Quilted Scarf
Measurements: 196 x 27.5cm
Why You Should Cop: This cozy black technical-fabric scarf from Givenchy features a large quilted logo which runs across the length for optimum impact. Padded for extra comfort, this scarf is also perfect for those trying to catch some extra Zs on the subway ride to work or that long-haul flight.
Off-White™ Arrows Scarf
Measurements: 165 x 25 cm
Why You Should Cop: Soccer-inspired scarves have been on trend as of late. Off-White™'s Arrows Scarf finds the perfect balance between paying homage to the sport while keeping its streetwear ethos intact. Coming in either a bold "Blue Orange" or "Yellow Orange" colorway, both choices should aid in brighting up those drab fall days. Each also features Off-White™'s industrial-themed graphics and a fringed hem.
Burberry Horseferry Print Silk Puffer Scarf
Measurements: 200 x 60cm
Why You Should Cop: Burberry's unconventional Silk Puffer scarf is a perfect way to stand out this Fall season. Dressed in bold orange with the label's Horseferry in contrasting black, this 100% Mulberry silk scarf will not only keep you warm, but will surely cause heads to turn.
1017 ALYX 9SM Roll-Neck Buckled Ribbed Wool Scarf
Measurements: 38.5 x 24cm
Why You Should Cop: 1017 ALYX 9SM's high-neck scarf adds a bit of a twist to the classic accessory. Shaped like the neckline of a sweater, the knitted 100% merino wool warmer is ideal for lining the neckline of jackets. The dynamic piece is finished off with 1017 ALYX 9SM's rollercoaster buckle fastening on the front, adding the industrial edge that has become the label's signature.
A-COLD-WALL* Grid-Jacquard Wool Cape Scarf
Measurements: 190 x 35cm
Why You Should Cop: A-Cold-Wall* has crafted a 100% merino wool scarf that can be worn like a cape or draped around the shoulders, giving wearers a few variations on how they want to sport the fall must-have. Additionally the item is reversible, featuring bold red on one side and a more demure gray on the other.
Heron Preston Double Scarf
Measurements: 156 x 22cm
Why You Should Cop: Another soccer-inspired scarf makes the list, this time from Heron Preston. Dressed in a two-tone orange and black outfit, the fall accessory has then been detailed with fringed edges and wears the American designer's favorite motifs throughout. Those looking for a more sporty and causal look without comprising style should look no further than this street-ready option.
Moncler Padded Scarf
Measurements: 118 x 20 cm
Why You Should Cop: Known for its superior craftsmanship, Moncler offers up a down and feather Padded Scarf that effortlessly merges function with fashion. The reservable item is also equipped with a slip through fastening, adding an extra dose of versatility.
Gucci Logo-Intarsia Wool-Blend Scarf
Measurements: 180 x 35cm
Why You Should Cop: Gucci's Logo-intarsia 90% wool scarf should resonate well with those looking for a more vintage-inspired option. Gucci's iconic interlocking GG logo, first used by the house in 1970, runs down the entirety of the scarf, while the color scheme and fringed hem help to elevate the overall retro vibe of the piece.
Acne Studios Toronty Logo Scarf
Measurements: 220 x 50cm
Why You Should Cop: Acne Studios once again offers up its championed Toronty Logo Scarf for the forthcoming Fall/Winter 2019 season. Crafted from luxe materials, such as virgin wool, the scarf is then embellished with a large logo intarsia knit detail for those who love their over-sized branding.
Prada Rubberised Logo-Patch Ribbed Virgin-Wool Snood
Measurements: 157.4 x 20.3cm
Why You Should Cop: Prada's Rubberised Logo-Patch Ribbed Virgin-Wool Snood should resonate well with those looking for something a bit different and more discrete than your everyday scarf. The snood is complete with an appliqué rubberised logo patch and tail flap at the back for protection against cold drafts.
Raf Simons Logo-Print Cable-Knit Wool Scarf
Measurements: 203.2 x 39.3cm
Why You Should Cop: This cable-knit 100% wool option from Belgian designer Raf Simons plays heavily on the collegiate vibe. Perfect for those seeking a more dapper neckwear option, or a smart casual look. For his Fall/Winter 2019 collection, Simons referenced Talking Heads' single "Burning Down the House," and the theme can be seen here in the form of lyrics on the scarf in contrasting yellow print.
FILA Urban Padded Nylon Scarf
Measurements: 150 x 25cm
Why You Should Cop: FILA's Urban Padded Nylon Scarf is one of the cheaper options on the list. Coming in either black or blue, each colorway features oversized logos, for those who like to flaunt the brands they wear, and a slip through fastening for a snug fit.
Kenzo Peruvian Knit Scarf
Measurements: 206 x 32.5cm
Why You Should Cop: Kenzo's Peruvian Knit Scarf finds a fine balance between Kenzo Takada's Japanese heritage and the label's Paris branding. Flashes of blue, red, yellow, and black run through the length of the scarf which will help to add a hit of color to your fall outfit. Additionally the scarf's extra wide width aids in the cozy department, making sure you battle the colder season ahead in comfort.