OAMC's Luke Meier Talks us Through His Most Personal Collection Yet
We caught up with the designer during Paris Fashion Week.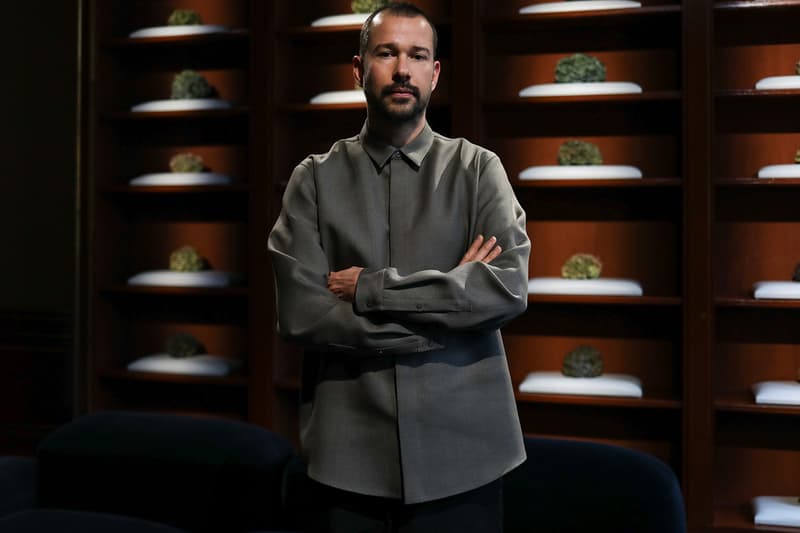 Paris Fashion Week can be busy for anyone, nevermind Luke Meier. As well as presenting the Fall/Winter 2019 collection for his OAMC label, Meier also debuted his fourth collection for Jil Sander, the house where he is co-creative director alongside his wife Lucie. A couple of days after both of his shows had wrapped, we sat down at the OAMC showroom — situated in Coco Chanel's old apartment — to discuss a collection that Meier had previously described as "his most personal yet."
The collection show notes referenced two specific influences, the early '90s Pacific Northwest music scene (Meier moved from Vancouver to Seattle at that time) and the Cremaster Cycle works by Matthew Barney. "I was listening to a lot of early '90s grunge records," explains Meier when asked about his starting point for the collection. "Revisiting some of the music, I remembered a lot." In particular, Meier was reminded of an "interesting style clash" were influences from rock and punk collided with the Pacific Northwest soft spot for "technical garments, nylon jackets, anything functional."
These contrasting aesthetics, as well as an altogether different approach to buying clothes was an important jumping off point for Meier. "You would buy a piece from a ski shop, then you'd go to a vintage store, and then maybe there'd be a cool boutique that had an interesting T-shirt, and you mashed it all together," he explains, "It was nice to think about that moment again, because it feels now like everything is so perfectly packaged." The nods to this in the collection included plaid and graphic knitwear alongside understated shirting and utility-inspired outerwear.
As for the second major influence on the collection — the work of Matthew Barney — this also came from a time when Meier was moving city. He moved to New York in the late 90s, and caught some of Barney's Cremaster Cycle films when they were still in theaters, before a major Barney exhibition opened at the Guggenheim. "I was blown away by the whole process of his filmmaking," he remembers, "but also his use of materials, and how he combined it all into a show of such scale."
"Authentic design of almost any kind comes out of a feeling, an emotion. You're not creating the look first, and then the behavior comes second. There is always a catalyst."
The different influences for the collection seep into the designs in a number of ways, both overtly and more subtly. One particular reference point throughout the collection is the style of music videos shot in the early '90s. "The fabrics and motifs we used, and even the set design, was really built off of the feeling of some of the early, aggressive, fisheye grunge videos on MTV," Meier explains. "Even Barney's Cremaster works, the materials and the colors, and the combinations he created — the unexpectedness and the contrasts — helped guide a bit of what we were working on."
Taking influences from music, art, and real life are an important part of what Meier does. But for him, the role that fashion plays is the secondary form of expression. "Music and art are what happen first, then fashion is a derivative of those things," he explains, before coming back to the theme later on. "I look at fashion as something that follows behind what's happening — how people are feeling, or what music is important, or what perspective is important, or what people want to say — I'm just trying to be a mirror about what's going on. The way you express yourself comes out of something triggering that desire to do so in a certain way. Authentic design of almost any kind comes out of a feeling, an emotion. You're not creating the look first, and then the behavior comes second. There is always a catalyst."
Meier's career so far puts him in an ideal place to talk about the growing convergence between streetwear and luxury fashion. Prior to the launch of OAMC in 2014, and taking the helm of Jil Sander three years later, Meier had an eight year stint as the head designer at Supreme. In many ways, Meier himself sits at the intersection between the two disciplines. "Ever since I've been interested in any kind of design — fashion design or product design – my interests and references have varied widely," he explains. "But even during my experience with Supreme, or when I talk to my wife about the way she would be working at Dior, and even now the way we work together, or what I do here at OAMC, the process is the same. The attention to detail matters and it's always important to look at many different sources of inspiration. To always be open. They're not such different worlds, 'luxury' and 'street'. It's hard to separate them because I guess it always simply comes down to good taste, period."
"Good taste" is something that runs through Meier's work for both OAMC and Jil Sander. "I'm in a position where I feel lucky because I can do things that I am genuinely interested in rather than think about trend," he explains, "it's about what's interesting to me and how I can present it in an unexpected and stimulating way."
"It's about what's interesting to me and how I can present it in an unexpected and stimulating way."
This process of design — picking what you find interesting, regardless of trend — means that Meier sees himself as removed from the season-by-season fashion cycle. "I don't like the idea of designing something that's supposed to be thrown away and irrelevant in four months," he adds, "I think that's an archaic way to think. The idea of consumption of buying to dispose is really wrong."
"I really care that people feel the quality and depth of the product," continues Meier, "it's not something disposable. It's something that's going to last you for a long time. It's not supposed to be thrown away after a season. It's something that can continue. It's for you to buy, wear, and have in your life. It's not just for the Instagram photograph. It's never supposed to be that."
For more from Paris Fashion Week, take a look at the best sneakers seen on this season's runway.