8 Drops You Don't Want to Miss This Week
Featuring IISE, Helmut Lang, Off-White, and Supreme.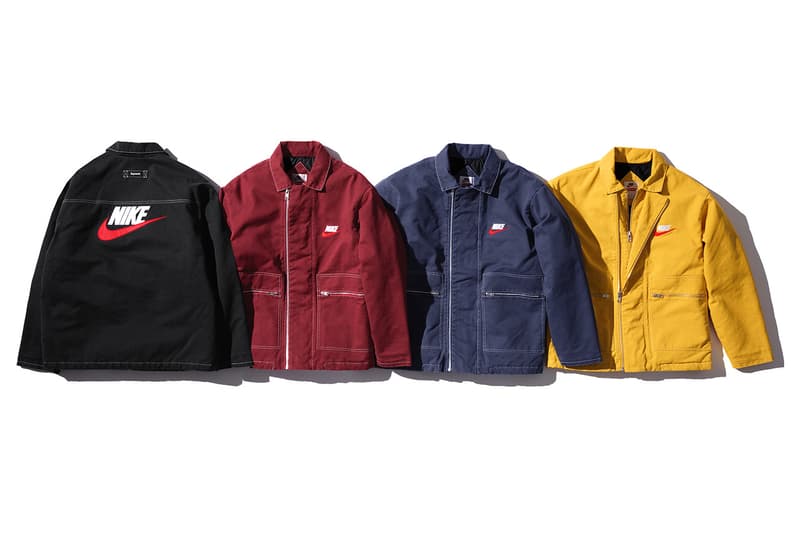 This week's list of weekly product drops sees a rather dark set of offerings, focusing less on color and logos and more on basic outwear. Hate it or love it, the biggest drop this week goes to Supreme's collaboration with Nike. Sherpa-fleece makes an appearance on more than one item as seen in Nike's reversible vest, Supreme's reversible logo jacket, and on IISE's BARE SHERPA Liner. Aimé Leon Dore releases a rather small drop, but where they have cut down on the number of items, they've made up for it in quality — crewneck sweaters, color-blocked long sleeves, and heavy coats solidify the collection. In the accessories department, Off-White drops its MR PORTER-Exclusive tote bag, while Vancouver's Maple releases a slew of silver-crafted jewelry.
Key items this week include Supreme's Virgin Mary Blanket, the Supreme x Nike collection, the Helmut Lang Jeans beige denim jacket, and Aimé Leon Dore's heavy tweed coat.
Aimé Leon Dore Drop 2
ALD epitomizes what the best of sophisticated streetwear has to offer. Always adept at fusing sportswear with wearable classic basics, designer Teddy Santis didn't have to do too much revamping for the current season's drops. Coming up for the latest release are color-blocked fleeces and sweats, tweed coats, plaid trousers and cozy hoodies. The color palette is also a bit of a refresh from some of the usual dark and dreary hues presented by other labels. The newest selection should be on the top of the list of premium streetwear fans.
When: September 28
Where: In-store and online
Brain Dead Fall/Winter 2018 Collection
Brain Dead's new Fall/Winter 2018 delivery offers more boldly-printed streetwear staples and graphic pieces. This season's collection features embellished outerwear such as check-adorned varsity jackets, cow print truckers, a retro yellow rain jacket and French terry pullovers. Classic Brain Dead graphics arrive via printed T-shirts, hoodies and carpenter pants, while the accessories category sees a selection of caps, socks and a waist pack.
When: Now
Where: Brain Dead web store
Off-White x MR PORTER Exclusive Tote Bag
Partnering up with MR PORTER, Off-White™ recently released a new exclusive tote bag centered around its signature diagonal motif. An extra large carrying option, the bag sports a black marble base dressed with blue diagonal stripes and an industrial adjustable shoulder strap. Additional functional features include two top handles and a zipped interior pocket. A dust bag is also included for safe storage when not in use.
When: Now
Where: MR PORTER
MAPLE Fall/Winter 2018 Collection
Continuing its expression of sterling silver accessories, MAPLE put together a new diverse range for the Fall/Winter 2018 season. Looking to bring a wide range of jewelry, the fledgling Vancouver-based label crafted a horseshoe ring with flower engravings and a star ring, not to mention both a bandana and a lightning bangle. Showing its expansive movement, MAPLE also delivered some printed socks, wallets chains and totes.
When: Now
Where: Maple Official Webstore
Supreme Fall/Winter 2018 Drop 6
Supreme's sixth drop is comprised mainly of jackets, coats and headwear. This week's drop sees the sure to sell out reversible fleece jacket, but also sees the "Love or Hate" embroidered hoodie, and heavyweight flannel shirt. A large component of this week's Supreme drop comes from Supreme's collaboration with Nike, as the collection offers something for everyone.
When: September 27 and September 29
Where: Supreme online and retail Stores in NY, Brooklyn, London, France, and Japan
Helmut Lang Jeans Collection Launch
Helmut Lang and its new Editor-in-Residence Alix Browne have launched the label's inaugural denim line collection, dubbed "Under Construction." The unisex Helmut Lang Jeans range features straight, bootcut and drainpipe cuts, as well as trucker jackets in Italian denim, custom Japanese selvage and vachetta tan leather options. The release also sees "In Lange We Trust" hoodies and T-shirts made in collaboration with artist/designer Brian Roettinger.
IISE Fall/Winter 2018 Collection
Moving into the Fall/Winter 2018 season, IISE delivered a new collection of uniquely technical Korean military-inspired garments. Notable looks include a tiger-stripe camo, patchwork fleece and liner-inspired outerwear alongside a selection of casual hoodies. Other standout pieces include waffle-knit style jumpers and patchwork trousers, all of which carry a clear military influence.
When: Now
Where: IISE official web store
Midnight Studios Fall/Winter 2018 Collection
Shane Gonzales's Midnight Studios drops an Anti-Establishment-themed collection for Fall 2018. This season's graphic offering sees an embroidered cap, hoodies and T-shirts featuring a print of a crying child and angsty slogans such as "Personality Crisis," "IS IT A CRIME, IS IT AN OBSCENITY, IS IT MADNESS?." The zip-up hoodie and flat-brim cap are emblazoned with contrast print white stars and "MIDNIGHT ROCK 'N' ROLL STAR" wording.
When: Now
Where: Midnight Studios web store