Here's What Fashion Insiders Think About Versace's Sale to Michael Kors
Industry experts share their opinions on the recent acquisition.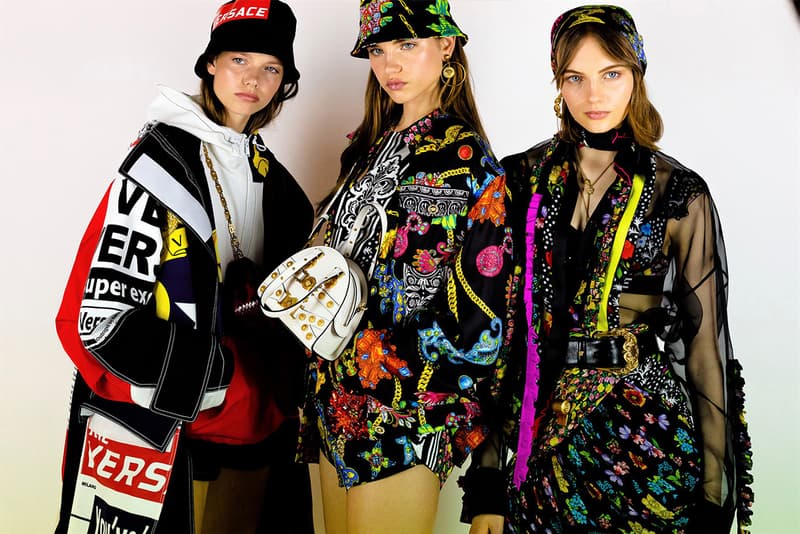 Versace's sale to Michael Kors has caused ripples throughout the world of fashion. First announced on Monday September 24 via newspaper reports, it was confirmed the following day alongside news that the Kors business had changed its name to Capri Holdings.
The deal was the first big eye opener, with Kors paying $2.12 billion USD for the company that was seen as being somewhat in flux after closing 42 stores in 2017 and planning a new retail strategy. For Kors, the move was clearly part of a strategic move on their part, having last bought Jimmy Choo in 2017 for $1.2 billion USD. So, to make more sense of this move, we asked some fashion insiders about this acquisition and how it'd affect Versace and Kors going forward.
Does This Sale Make Sense for Versace?
Rachel Seville Tashjian, Garage
I doubt this will have an effect on how consumers view Versace. Michael Kors bought Jimmy Choo last summer, and that hasn't shifted public opinion on the shoe brand. Keep in mind that Michael Kors is a holding company (in fact, they've changed the name to Capri Holdings–very tight), so it isn't, as some of the fashion Twitterazzi seem to believe, that Michael himself will be making design decisions.
If anything, this marks the beginning of Michael Kors' transformation into a luxury group of the kind we traditionally see in Europe, such as Kering and LVMH. And very few Gucci acolytes, for example, are aware that its parent company Kering also owns Balenciaga and Saint Laurent.
Johnson Gold, Pause Magazine
No, it doesn't make sense for Versace. A brand that has owned its identity for so many years. Personally I don't think it's a good match and if Gianni Versace was still alive today, he wouldn't allow this.
Do You Think This Would Affect How Versace Is Viewed by Consumers?
Jacob W Gallagher, Wall Street Journal
In the short term, yes. There's little doubt that Versace is presently positioned as a global luxury brand, while Michael Kors (though it has touches of runway cache, particularly a runway show and celebrity clients) is a "mall brand".
Now, of course, this is largely a question about how we, the fashion press and those that gawk at deals such as this feel about Versace this week. Will the average shopper have a change of heart about the brand? That is to be seen and largely has to do with if/how Versace maintains its luxury position.
So long as the aesthetic/quality/attitude of the brand does not change, I can't see how consumers, removed from the fashion horserace, will really change their opinion of the brand.
Johnson Gold, Pause Mag
Possibly, I think Versace may turn into a more commercial brand like and with the support of Michael Kors. The consumers may actually change but we will have to wait and see when this goes into effect.
Was Versace Worth the Price?
Michelle Du-Prat, Household
The price tag paid for Versace gives Michael Kors entry to a luxury club/status that has become increasingly elusive as the business has grown over the past few years. If the gamble works, the value to both Michael Kors in terms of renewed luxury positioning and perception, and Versace in terms of scale, presence, backing and infrastructure can only be a win-win.
"The price tag paid for Versace gives Michael Kors entry to a luxury club/status that has become increasingly elusive."
For Versace the deal is more pragmatic – scale more quickly, bolster additional footprint with more shops, strengthen a bigger digital presence, grow its e-commerce platform and help streamline its supply chain. Offering access to Michael Kors' scale and infrastructure could help the much-loved and iconic fashion brand Versace fresh opportunities to grow and flex.
What Does Michael Kors Gain From This Acquisition?
Jacob W Gallagher, Wall Street Journal
That is to be seen, but at least in how I see it, today purchasing Versace is an attempt to bring a luxury fashion house under their umbrella. How, if at all, that translates into their own product line or brand reputation is to be seen.
Michelle Du-Prat, Household
A common criticism of the Michael Kors brand is that it's "not cool anymore" and it's fallen so-to-speak 'out of fashion'. Michael Kors is no doubt perceived on the lower end of the luxury market, positioning itself as "affordable luxury."
Michael Kors will be hoping to elevate its brand through association with the Versace group, and grow its brand equity in the Versace brand slip-stream. But it's vital the two brands do not converge and maintain their distinctiveness and individual paths.
Is This the Beginning of Donatella Handing Over the Reins of the Company?
Johnson Gold, Pause Mag
I believe so! She's been holding down the brand for her brother for a long time and dedicated her whole life to Versace. So I believe she needs a break. The last SS19 womenswear collection wasn't the usual Versace, so we can see things have already changed. Personally, I wish Versace just got a new Creative Director to shake things up, I think this would have done the trick for the business.
Do You Think That the Versace Acquisition Will Significantly Help Michael Kors Rival the Bigger Conglomerates?
Michelle Du-Prat, Household
If Michael Kors copycats piecemeal or wholemeal its larger conglomerate competitors, it'll fail to distinguish itself in a competitive and fluxing fashion market. Taking on the bigger conglomerates largely depends on how Michael Kors is able to redefine luxury retail and provide solutions to issues unmet.
It'll be essential that both the Michael Kors and Versace brands carve out fresh tracks that goes beyond immediate customer concerns and needs. After all, high-end retail demands more from brands other than meeting day-to-day needs – brands need to think about sustainability and ethics across their supply chain as much as in-house.
"It isn't like Michael Kors himself will be making design decisions."
There is also an opportunity to play into individuality in a way that brands didn't or don't do.
It'll be important the two brands are allowed to develop and grow independently – keeping Donatella Versace on board will reassure on this point. And that should help put customers at ease.
Do You See Michael Kors Eventually Expanding Into Purchasing US Brands?
Johnson Gold, Pause Mag
I guess this is a new business angle a lot of brands are going towards now to maintain their longevity within the industry. Money can buy many things, even power.
Jacob W Gallagher, Wall Street Journal
Based on everything I have read, yes. It's worth noting that this is not their first acquisition. They bought Jimmy Choo for $1.2 billion last year. As far as I understand (and I am not the authority on this) based on what I have read, they are looking to become an American luxury house in the same manner that Tapestry (Coach Brands) is attempting to do.
Michelle Du-Prat, Household
One of Michael Kors' stated goals was to diversify its geographic portfolio to decrease reliance on US markets and to double its presence in Asia where there is rapid consumer spend growth.
It remains to be seen whether 'brand Americana' or a fresh brand approach will serve Michael Kors' global diversification the best. But buying American brands will be of use to solidifying its market position in the US.