Tyler, The Creator Talks CELINE & Staying Sober in 'Fantastic Man'
The rapper is the focus of an in-depth cover story.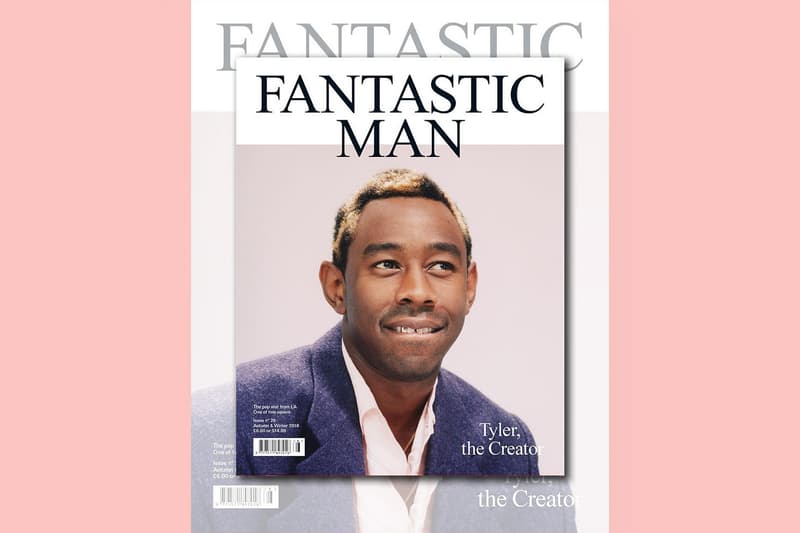 Fantastic Man has tapped Tyler, The Creator to cover its 28th issue, dedicated to Fall/Winter 2018. The Grinch contributor appears in a duo of photographs showcasing a wool John Lawrence Sullivan blazer and his signature bleached hair, becoming the subject of a career-spanning feature from Paul Flynn inside the magazine.
Flynn takes readers through a few days of Tyler's summer in France, which includes making music with A$AP Rocky and hunting down a rare COMME des GARÇONS book. Though Tyler can't find the book, he's content to spend $700 USD on other titles that cover artists like Raymond Pettibon, later ruminating on Hedi Slimane's takeover of CELINE. "I wonder what he's going to bring," says Tyler. "It's been nine, ten years and I guess she wants to leave, but I just don't want the beautiful marble and the plants and the colour palettes to turn into all black, skinny, heroin-looking white boys."
Tyler talks juvenile humor — "I always tell people to send dick-pics when I hang up, because it's so awkward. Like, what the fuck did you say?" — and his decision to stay drug-free with equal zest. "I know that I don't want to be that drunk guy, but I do know I want to hit a jump on a dirt-bike," Tyler notes. "I can look at that and say: 'I want to do that.' I've never seen anyone drunk, like, 'Damn, I want to be that.'" He only vaguely discusses his sexuality — "I don't know. There are some things that are just unexplainable."– but when pressed about his taste for graphic design admits that "I don't really like the way the city looks. I like flowers. I didn't like weapons. I didn't like a bunch of girls dancing in the video, I liked… the colour pink and skateboarding."
Read the cover story on Fantastic Man's website
Recently, Eminem acknowledged that his Tyler, The Creator diss went too far.