Ethics Trump Reseller Clout for New Footwear Brand OBRA
OBRA's founders tell us about their brand's commitment to artistry and utility.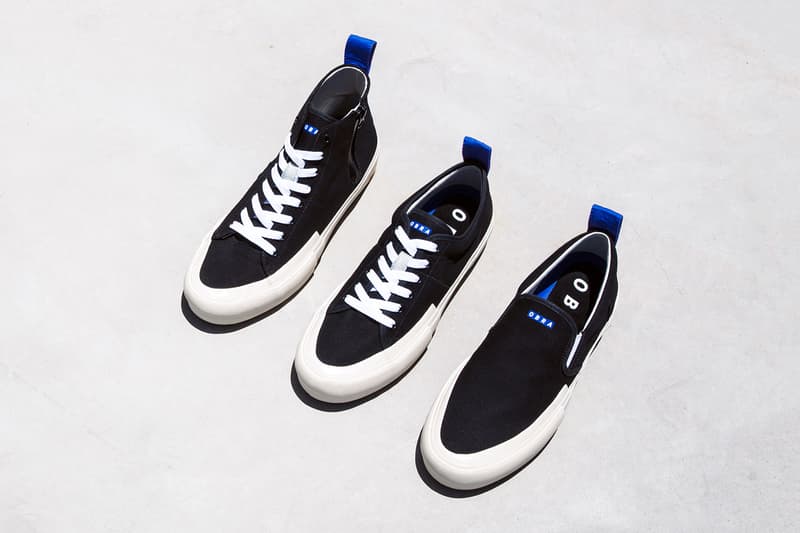 Late last month, OBRA announced its entry into the highly-competitive footwear market. Translating to "a worker's labor" or "the work of an artist" in Portuguese, ALIFE's founder, Arnaud Delecolle, and former director of product for Converse, Dave Cory, blended their veteran expertise to launch a footwear line that focuses on comfort, versatility and ethical manufacturing. OBRA aims to deliver a range through a minimalistic aesthetic capable of complementing a number of occasions and personal styles, all the while working beside charitable organizations that promote education, arts and civil liberties for the youth in cities around the globe.
In a conversation with Arnaud and Dave, we discussed the challenges of starting a footwear line in today's climate of hype, how they hope the younger generations will perceive their brand, the importance of community relations and more.
How did you two come together to launch OBRA?
AD: The motivation on a business side came after leaving Alife almost eight years ago. I did a bunch of shoe things and it just came to a point where I was looking into what I was going to do next. I wanted to do something that arched back to what I know how to do, what I love and also what would serve as a platform to give back and promote ideas that I admired. By that I mean culture and all different things. So that was the basis of why I started this new business. If that makes sense.
DC: Arnaud was in Brazil developing some samples and I was part of his advisory team, I guess, just a board of directors of acquaintances or friends. We trusted each other. We were talking about his business plan, and I had just left Converse, and we just kept talking deeper and deeper and then decided to launch this together because we have skill sets that are slightly different, but we have the same mindset. So we linked up about six, seven months ago.
We want to feel good about what we're doing, do it in a proud way, and own that as opposed to answer to a board of directors, shareholders or other senior managers and leaders who want to drive revenue.
What made you two focus on ethical business practices in an industry that has long ignored them?
DC: We've been around the block for quite a while. We've worked with a lot of companies. I have relationships with everyone from outside of the sneaker world, like Burton Snowboards, to Timberland and Converse. All of these relationships and years of working for others have been great learning experiences, but we kind of went through the last couple of decades to get to this point to say, "hey, what is really meaningful to us, individually, as a person?" [It included] ethics, morals, sustainability, just doing the right thing. We want to feel good about what we're doing, do it in a proud way, and own that as opposed to answer to a board of directors, shareholders or other senior managers and leaders who want to drive revenue.
It's really cool to be able to say we can effect other people with what we're doing day in and day out, and build beautiful, functional footwear out of what we know and what we have a passion for, but we can do it with the right foot forward.
AD: With something new, there's the opportunity to do things right by the employees or right by the culture that we support. So whatever we can do, in a way that we're not losing money to work towards these ideals, then this is what we set out to do. I mean, we're not out to save the world, but we're also not negligent, so to speak, about the condition.
Despite your combined experiences, how has this launch differed from your past projects?
DC: I've driven businesses under other companies, but this is the first time doing this. And it's incredibly exciting because we can make those important decisions ourselves. The other thing that I'm just not doing is putting a lot of pressure on us, like, "oh my God, this is gonna be a new brand." We're doing what we believe is right for the marketplace. We're doing it with integrity and we're doing it out of what we believe is the right cadence for sustainability and longevity, and by not putting too much pressure on our heads in the sense of it being all or nothing.
You two have mentioned a commitment to the co-existence of artistry and utility. How exactly is OBRA engaging with the art world?
AD: Well the name OBRA, in Portuguese, means "artwork" or "work of art" or "construction site" or "construction." So that's the duality of the word adopted by our brand. Utility is addressed in the different specifications of the product and their features.
The artwork side of things is addressed as you see the product, not so much literally in the design element of the styles but more in the commitment that we are making as a company to support emerging art and new art ideas, and the bridging of art and commerce. By that I mean producing projects with artists who are outstanding in their vision or by developing collaborative work in the form of additions in the fuller line. That's when you'll see a literal translation from the concept of us supporting art, to actually art transmitting into the shoe.
Going back to what you were asking, the straight answer will come in the next few weeks. We'll be announcing our first collaboration with a new media artist that does exciting stuff. So that'll be like a little translation of our commitment to art and products. That's not something we can speak on in detail right now, but I'll just mention it anyway. Soon enough, all of it will be linked to a Downtown cultural institution that'll put us right in the center of the contemporary art scene in New York City.
The footwear industry is often unkind to new brands; so what would you like to say to those that are quick to shun OBRA or even those that are on the fence?
DC: That's a good question. New brands are always gonna be something people will have to warm up to. We see it all the time. Throughout the last couple of decades and through all the hype that we've seen, I feel that today's marketplace for the young kid coming up is so polarizing with the access to footwear. It's almost become so saturated, but there's almost a lack of originality and uniqueness.
AD: I'll also add to that. I think we're speaking through product, we're not pretending it should be YEEZY or anything along those lines, you know. For us, it's not our profile, even as far as our products, we're more on a value type of product. We're hoping to capitalize on the value that we're offering through the quality of the product, and through the branding we choose and what it stands for. So hopefully that counts for something.
Finally, what can we expect from OBRA?
AD: For us, the future is right now because we're just launching. We have a couple of important announcements and milestones that are coming up this year, including our first artist addition product. Also, the other announcement that I mentioned where we're gonna be part of this super exciting community in New York City. So those are important. We're talking to some really interesting partners that have approached us for branded product collaboration. We're going to stay quiet on that.
---
Be sure to visit oobbrraa.com to learn more about the brand and to shop its range of products.