Meet Mew, the Danish Band That Came Before the Pokémon
We talk about 'Visuals,' their legacy, old-school hip-hop and their Nintendo counterpart.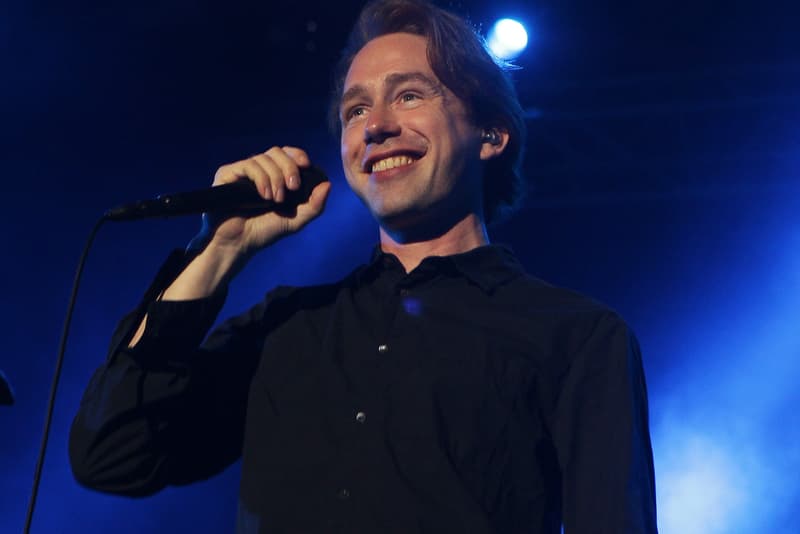 Upon hearing the word "Mew," most think of the Psychic-type Mythical Pokémon introduced in the '90s most prominently featured in Pokémon: The First Movie. For millions of music fans across the world, however, "Mew" has nothing to do with the Nintendo character. It refers to the Danish alternative rock band of the same name, which currently consists of singer and visual artist Jonas Bjerre, bassist Johan Wohlert and drummer Silas Utke Graae Jørgensen. Mew (the band) was conceived back in 1995, a few months before the Pokémon franchise came to be later the same year.
After the release of their third album Frengers in 2003 and And the Glass Handed Kites in 2005, Mew managed to break out of the Danish indie scene and garner a substantial and cult-like fanbase around the world. The band carved their unique identity with their progressive approach to alternative rock, often combining unconventional polyrhythms and instrumentation with fluttery yet catchy vocals. "I usually say we are 'indie stadium,'" former member and guitarist Bo Madsen described their sound in an interview with The Star in 2013. "A mix between 'feelings' and 'thinking' is usually good."
The outfit currently has seven studio albums under their belt. Visuals, which dropped back in April, was recorded and released in under a year — unusual as their previous albums have taken much longer (often several years) to complete. Their previous album, +-, was released in April 2015.
We linked up with bassist Johan Wohlert to talk about the album, Mew's unique sound and legacy, Pokémon, fashion and rap music.
Visuals is very different from Mew's previous releases. How was the reception to the album?
It's been generally really positive. I think we probably surprised many people by releasing a record soon after the last one, +-. But it's a positive thing. The main difference musically are that the songs are a little shorter, more concise, and have a bigger emphasis on groove and pop sensibilities. Overall, it's a little bit more of a pop record I would say.
Why did you decide to go more pop with your new record? Is it harder to release something as unconventional as your first two albums, Frengers and And the Glass Handed Kites in today's setting?
No, I don't think it's any harder; a good record will always be a good record. We always try to provide the alternative to the mainstream, if you will. We're not trying to compete with Taylor Swift or Kanye West. It's always been about providing the alternative and those records are definitely great alternative records. I think if a band was to release And the Glass Handed Kites today, it would probably be loved as much as it was back then.
A good record will always be a good record.
Without a doubt. Speaking of Kanye West, are you a fan of rap music?
I prefer older hip-hop, like '90s hip-hop. Modern-day hip-hop is pretty boring to me. I miss the attitude of the '90s rappers. Whenever I hear a new rap song and it's got the auto-tune vocals and some other gimmick, I don't care much for it.
How did you guys come up with your unique style and sound? You've developed somewhat of a cult fanbase because of it.
It was everybody's suggestion and something that happened organically. We've been playing together around 22 years now and over time you will develop a unique style, especially if you have good instrumentalists in the band. I would assume that it is the goal for all bands, to sound unique. I think we all liked music that was slightly less "of the center"; we were fascinated by bands who did things differently. We naturally just gravitated more towards bands who tried to challenge the norm because that seems to be what was most interesting for us as musicians and as artists. There are so many bands that play the same way, why would we want to do that? We wanted to do something that made us stick out.
There are so many bands that play the same way, why would we want to do that?
A few bassists in different bands have gone solo to do their own production thing. Have you thought of doing something like that?
No, I don't plan on going solo. However, I did do three records outside of Mew. I went on a break from Mew for seven years, from 2006 to 2013. In that period I had a band called The Storm, which had more of a hard rock sound. I'm not a singer so I would never do solo records per se. It was definitely a good challenge to be the main songwriter of another band. I think I've always been the "rock guy" in Mew so it was fun to live out that side of my musical phase a little more and work with a band with a hard rock sound.
When most people hear "Mew," they think of the Pokémon character. Have you ever faced any issues with Nintendo regarding your band name?
We were around before Nintendo and the Pokémon thing so they've never tried to sue us or anything like that. It is a pretty easy process to prove that we were here first so they would probably lose that case.
Have you ever watched or played Pokémon?
No. (Laughs)