Serena Williams' Nike Black Catsuit Is Banned From the French Open
"It will no longer be accepted. One must respect the game and the place."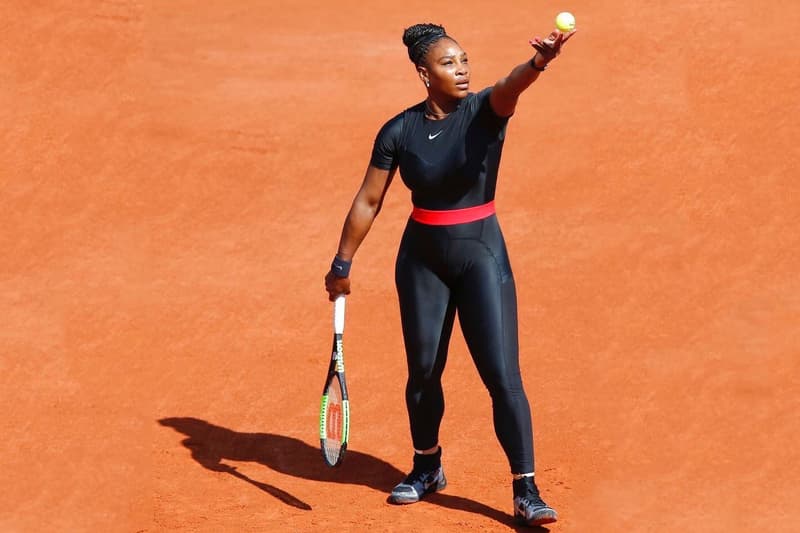 Tennis superstar Serena Williams has been banned from wearing her Nike black catsuit at next year's French Open.
According to ESPN, French Tennis Federation president, Bernard Giudicelli, says the tournament will be introducing a dress code because, "I think that sometimes we've gone too far." The comment is sourced in an interview for Tennis Magazine's 500th edition. He continued, referring to Williams' black catsuit, "It will no longer be accepted. One must respect the game and the place."
Giudicelli continued by stating they will be looking at players' uniforms ahead of the tournament to ensure they are in line with the new rules, however they won't be as strict as Wimbledon, which requires players to wear all-white. Head over to ESPN for the full story.
Williams first donned the Nike bodysuit back in May following the birth of her daughter. On that outfit Williams stated, "I feel like a warrior in it, like a warrior princess kind of, [a] queen from Wakanda. I'm always living in a fantasy world. I always wanted to be a superhero, and it's kind of my way of being a superhero. I feel like a superhero when I wear it."
The French Open is scheduled to take place between May 26, 2019 to June 9, 2019. In the meantime, take a look at Internet reactions below.
In related sports news, Nike displays large Cristiano Ronaldo ad ahead of his Juventus home debut.
Serena Williams, who wore an outfit specifically designed to help prevent blood clots because she almost *died* after giving birth, won't be able to wear her catsuit again at the French Open because the tournament chief…doesn't like it.

That's literally the only reason. https://t.co/TiLo8JcSJj

— Rafi (@RafiDAngelo) August 24, 2018
The French Open has banned Serena Williams' black suit, saying that, "I think that sometimes we've gone too far…One must respect the game and the place"

I *really* want to know how the outfit on the left is less "respectful" of the game of tennis than the outfit on the right pic.twitter.com/3iNUrkDd8y

— Mangy Jay (@magi_jay) August 24, 2018
Just ridiculous. Serena has done nothing BUT respect the game. Serena Williams is almost always singled out in tennis. This comes down to what they feel is "acceptable" on a tennis court. It's not her job to make you feel comfortable.
Also, the suit helps her combat blood clots. https://t.co/gR2XqJLi3j

— Taylor Rooks (@TaylorRooks) August 24, 2018
This article should read, "@serenawilliams could show up in pajamas with her kid strapped to her back and we'd still be lucky to have her." What a loser. https://t.co/PPOBaUYXPH

— Stephen Amell (@StephenAmell) August 24, 2018
Men aren't afraid of Serena Williams' cat-suit or the 'conservatism' of her dress. They're afraid of her POWER and refusal to scant around in tiny tennis skirts for their pleasant viewing.

— Olivia Bridge ? (@LivBridge94) August 24, 2018
What exactly about @serenawilliams' outfit is disrespectful? That she's not wearing a damn #tennis skirt? Why is a body suit not acceptable for the greatest female athlete of our generation? Like what even?!?! #FrenchOpen https://t.co/l2gjzhFcPK

— Ioana Hr. (@ioanahr) August 24, 2018
.@bgiudicelli explain to the world how .@serenawilliams' catsuit doesn't "respect the game." We'll wait.

— HeCalledMeGreenhorn (@WhatsAGreenhorn) August 24, 2018
Join Our Discussions on Discord
The HYPEBEAST Discord Server is a community where conversations on cultural topics can be taken further.