Houston Texans Receiver DeAndre Hopkins Talks Sport, Style and Sacrifices
"Nuk" speaks on life on and off the field.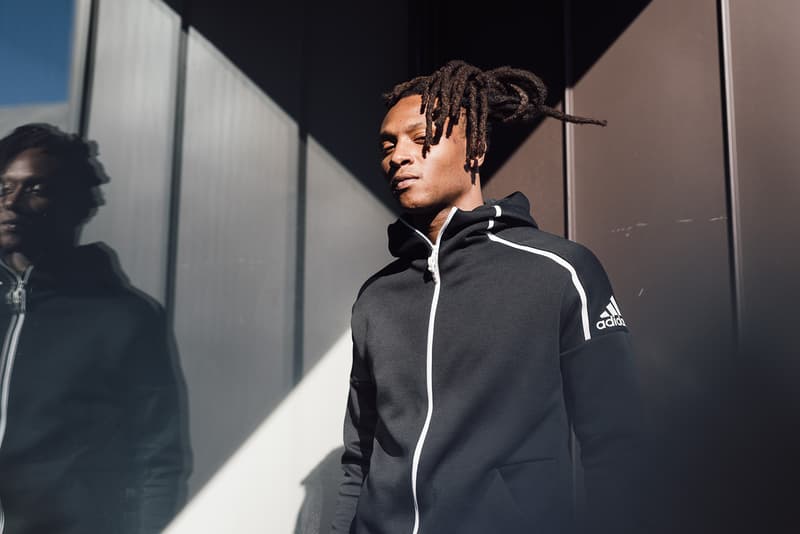 When he's not running plays as a wide receiver for the Houston Texans DeAndre Hopkins has made a name for himself for his keen fashion sense and individual style. In the adidas Z.N.E. Hoodie Fast Release, he's able to straddle both his athletic life and his life off the field.
HYPEBEAST sat down with the sports star during an adidas Athletics shoot to talk about how he maintains this balance, his favorite streetwear brands and how he feels football can influence fashion.
Where does the love for sports come from?
The love and dedication for sports comes from my whole family playing sports when I was young, so I kind of grew up in it. Being around people that love sports all the time, you have no choice but to love sports. Everyone watches the same game. Everyone's talking about the same college team, the same NFL team.
I was the youngest sibling at the time, until my youngest sister was born, so when my older siblings were playing sports they would always rough me up. It became a challenge to me when I was playing basketball to become better than them. They were both older than me and would always bully me on the court so every day I would always just stay out late playing basketball trying to become better than them. So the love of sports came from me having older siblings and growing up where I grew up and that's all there really was to do – play sports.
Can you talk a little bit about all the work you put in off field that people might not see?
Man… 98% of work is really put in outside of the field, where people aren't seeing you. Like even right now, you're always training your body. You have to think about what you're eating constantly. Being an athlete, especially at the level I'm at, it's a high demand. Your body is your temple so a lot of athletes take care of their body, but I would say even more so in football because we get fined if we're missing a certain weight. We put a lot of work in outside of just the catches that you see or the runs that you see. There is no real off-season.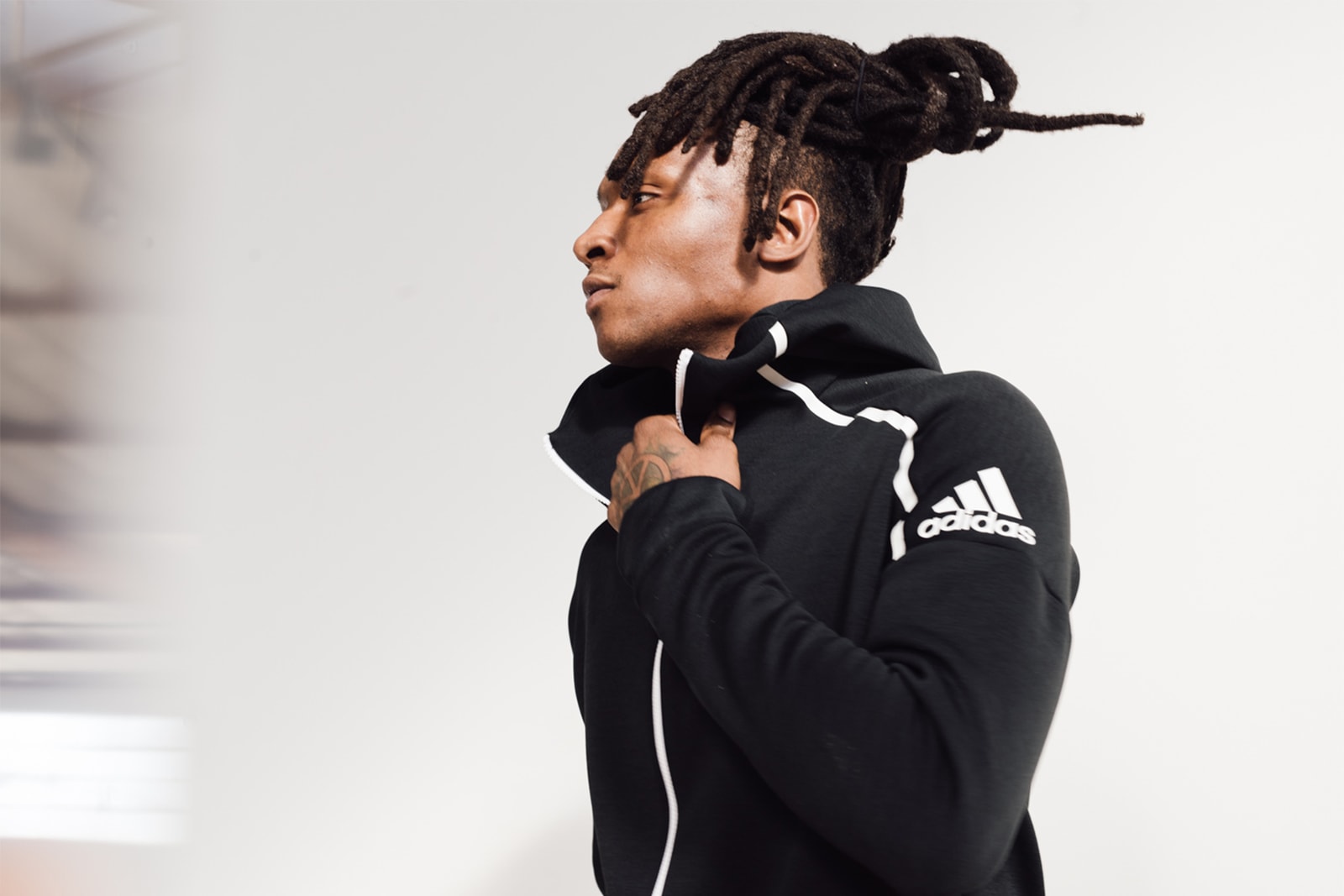 What kind of sacrifices have you had to make to reach the level you're at?
From an early age I had to make sacrifices, because I didn't grow up in the best part of town so a lot of my friends were doing things that I was raised not to do. You know, little things like staying out after curfew. I was making sure I came home because my mom was always telling me there's nothing good going on late at night. So a lot of my friends that did go out late when I had a curfew are in jail or not here with us. I'm thankful just to have a mom, for me to be able to have that conscience and for me to sacrifice those things and to put in the work that I need to put in for what I want. So I always did stuff like that.
I would go into the recreational gym when I was young. Instead of going out and hanging out with friends, I would just go play basketball. I wasn't really thinking about it then as a sacrifice, because I was in that moment and that's what I loved to do. As I got older in college, just being a college athlete, sacrificing going out downtown or to a frat party. It's something that some of my teammates did, but I never did because it's just that mindset when I was younger that my mom instilled in me – to be able to sacrifice for what you want. It always stuck with me even when I was in college.
The NFL lifestyle can sometimes get a little crazy. Can you talk a little bit about how you've managed to stay grounded off the field?
Where I grew up at, in South Carolina, there were no fancy cars… I would say it really goes back to where I'm from and how I grew up – growing up humble. Helping my uncles grow fruit, grow vegetables for the family, you know stuff like that. And my mom, always having her around to talk to me when she thought I was getting out of hand or when I was doing something she thought I shouldn't be doing. So my mom, but I would also where I grew up at and the people that I grew up around.
Expanding off of the idea of this active lifestyle, what do you look for in your everyday clothing?
For me it's wearing something that's comfortable and adidas does a great job at that; whether it's for the weather or the climate, or just your size and how you're built. It seems like all of their clothes are fitted just for me. I know I'm an athlete and I work out, but my friends who aren't athletes wear it and they say the same thing. It's about the clothes. adidas does a great job making different cuts and making everyone feel like this clothing out here is for them.
Any functions or features that stand out?
My favorite function of the adidas Z.N.E. hoodie is the zipper, how you can just detach it so easily. Without having to pull it down you can open it up with one hand, almost a pinky [laughs]. It's pretty cool. I've never seen a sweater like that so that attribute is something new.
Where do you think your interest in style comes from?
I don't know man… being in South Carolina, my friends that I grew up around always dressed nice. I couldn't necessarily go buy the clothes that they were dressing in. You'd hear them say they're going to the store to buy this… for me I always say it was a dream to be able to wear nice clothes and to be able to have good things. So I was always into it, but I couldn't go to the store and buy this hundred dollar shirt.
I feel like a lot of the time athletes just try to stay at that level and wear what everyone else is wearing. For me it's about just being me, like I've always been; not wearing what anybody else wears.
Yeah, you can only be so into it if you can't actually buy it.
Right, but I always had an eye for it. My mom would tell me when I was young, I don't even remember this, but every Christmas she would give us a budget, and you know I had four siblings and everybody would go buy toys and a bunch of other stuff, but I would only go buy one clothing item with my budget. She always told me I always had an eye for clothing and fashion and I just wanted nice stuff so I would say it started when I was young.
Who have been some of the biggest style influences in your life?
I would say growing up and going to Charleston, South Carolina. I don't know if a lot of people have been there, but it's like a fashion forward city. A lot of people don't know that because it's South Carolina, but it's a place if you go to that you're definitely going to remember how people dress and everything about that city. We used to always go there when I was young, just to hang out and I would see people and how they dress, going to clubs and just walking around every day. So it kind of caught my eye; that city right there is a city that influenced me.
People's personal style tends to evolve over time. How does your current style reflect who you are today?
In every way. Your style is who you are. A lot of people are going to judge you by your style – right or wrong. I would say my style represents me because I'm a professional athlete, but also I'm a down to earth person and if you didn't know me you probably wouldn't know I was a professional athlete. I would say I try to keep that balance of wearing clothes that I could wear to a business meeting, but you know after that meeting I can still go hang out with my friends. I wouldn't say I wear Supreme everyday and I wouldn't say I wear a Michael Kors shirt everyday, but you know it's a balance.
adidas as a brand has come to the forefront of global culture with ambassadors like Kanye and Pharrell. What's it been like to be part of the adidas family?
For me it's a blessing to be a part of this brand and what they're doing, not just sports but also outside of sports. You know everything in general that they're doing for the culture. It's a blessing for me and also my family, for them to wear adidas and to be aware of what they're doing and how [adidas] is changing things. I'm appreciative, for sure right now it's a focus on the times that we're in and to have brands like this that cater to the culture, that caters to people… adidas does a great job at that.
Do you have other creative interests you'd like to pursue outside of sports?
Yeah I'm opening up a store in Houston, that's in the makes right now – a clothing store. I don't want to get into too much detail, but you know fashion and clothes is definitely an interest of mine. So I got this opportunity to open up a store in Houston and I'm going to make that happen outside of football.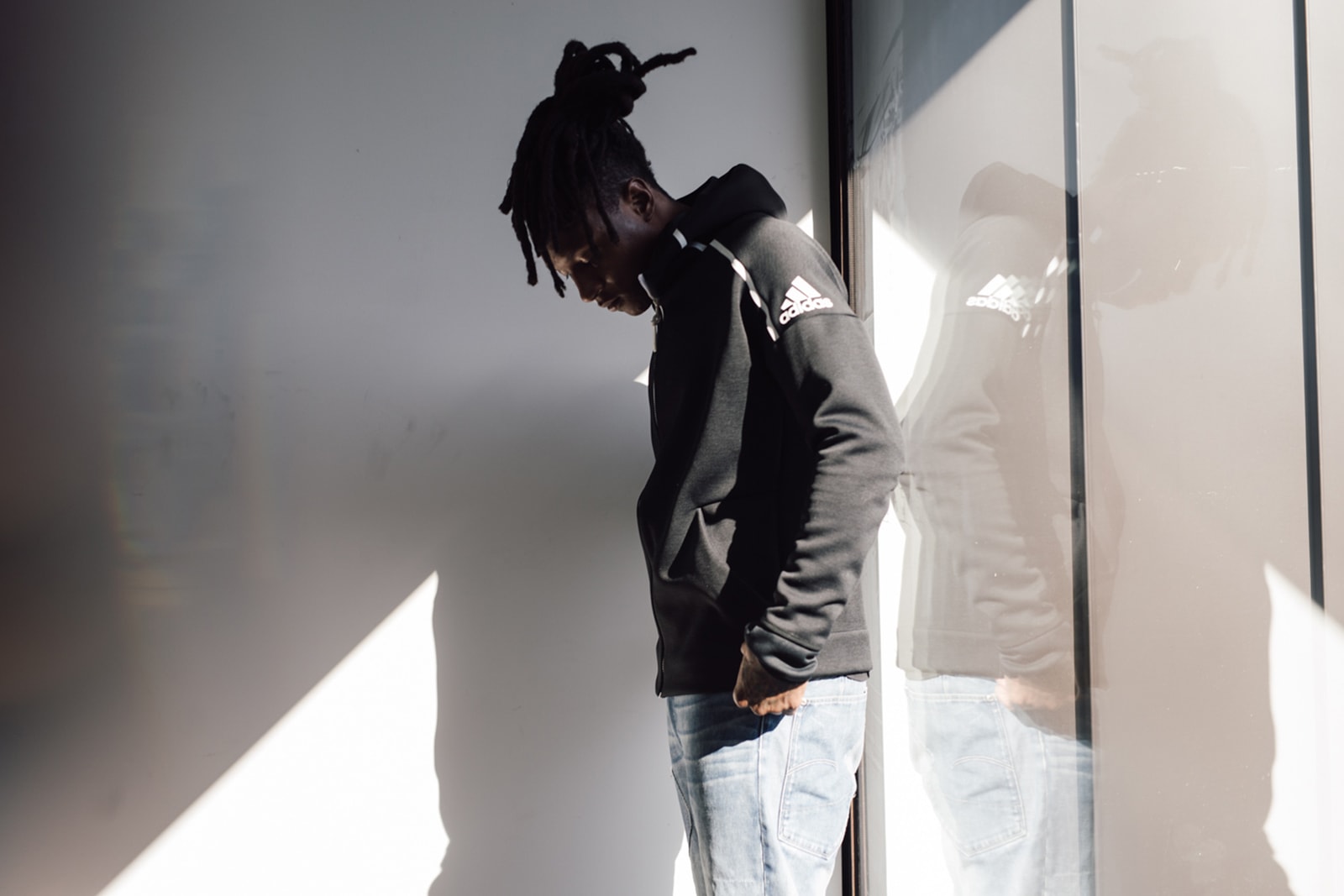 How do you think your style differs from other guys in the league?
I don't follow the trend. I don't wear what other guys wear and I never will. I try to be as weird as I can, honestly. I feel like a lot of the time athletes just try to stay at that level and wear what everyone else is wearing. For me it's about just being me, like I've always been; not wearing what anybody else wears.
Yeah, I was checking out your Instagram and you might be wearing a Thom Browne jacket here and then some Pleasures sweats there. There's definitely a range.
Yeah, I don't like being in just the bubble of "an athlete."
The lines dividing culture, sport, music and fashion are becoming increasingly blurred. Historically NBA players have had a lot of influence on fashion, but now we're seeing NFL players like yourself get more involved in fashion and streetwear. In the future do you see football having as much of an impact as music and basketball?
Of course… I feel like it's past due for football players to have a platform in the fashion world. I don't know if the past football players didn't just have as much style… I don't know what it is, but we're America's number one sport. With that being said, everything else [will fall into place] with the platform that we have and how everyone's watching us.
---
Following the US launch today, the adidas Z.N.E. Hoodie Fast Release will launch globally on August 23rd online and August 30th in stores.