Best Art Drops: MADSAKI x Takashi Murakami Print, DAIN Paintings & More
Including sculptural pots by The Earth Powder.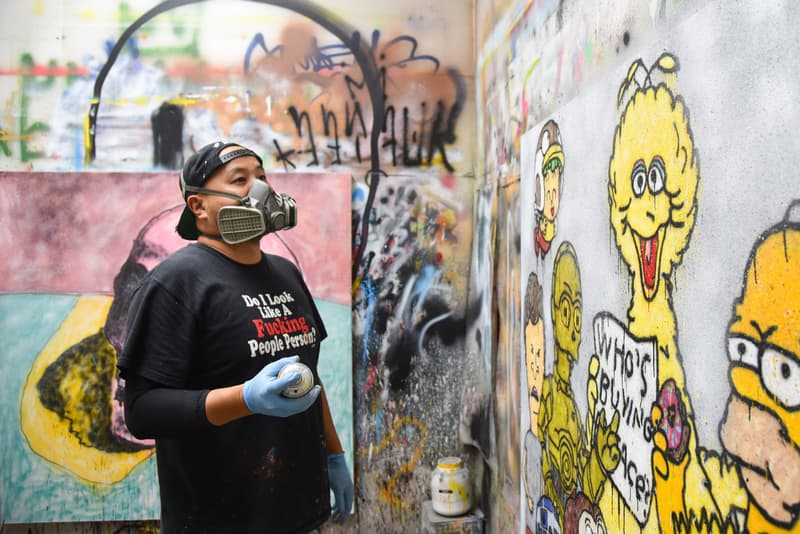 Graffiti as we know it today first emerged in 1960's Philadelphia when writers Cornbread and Cool Earl went bombing around the city, garnering local media attention. Later, throughout the 1970's, the once underground art form became a prolific subculture infiltrating New York City's five boroughs. Legendary artists such as LEE, SKEME, Futura 2000, the TATS CRU, and FAB5FREDDY spearheaded this movement with their unique writing styles and techniques, eventually making its way across the pond to Europe.
Today, graffiti is largely part of mainstream culture, especially in the contemporary art realm. Many former graffiti writers have matured and turned into fine art painters, such as KAWS, REVOK, and Felipe Pantone to name a few. Two of the more recent examples include Japanese artist MADSAKI and Brooklyn-born artist DAIN, as the pair continues to invoke their graffiti motifs into gallery-exhibited works.
Read on to learn more about the latest pieces by MADSAKI and DAIN alongside other noteworthy art drops releasing this week.
KUMI Contemporary Releases Limited Edition Madsaki x Takashi Murakami Print
Release Date: Available now
Release Price: $2,555 USD
KUMI Contemporary just launched a limited edition print of MADSAKI and Takashi Murakami's highly sought-after Flowers silkscreen print. MADSAKI's graffiti-influenced approach collides with Murakami's ubiquitous Flowers motif to create a unique composition. The print is now available in an edition of 100 at KUMI Contemporary's website.
Jey Perie & Gogy Esparza Drop Exclusive "Beirut Youth" Merchandise
Release Date: Available now at the Aïshti Foundation
Release Price: Contact museum for price
Ecuadorian-American artist Gogy Esparza and Kinfolk creative director Jey Perie recently launched their long-exhibited "Beirut Youth" project at the Aïshti Foundation. Using 35mm film and Super 8 clips, Esparza offered a raw look into the lives of the city's youth — from the impoverished, to the wealthy. The project has seen physical extensions such as a photography book with previous exhibition images alongside a T-shirt capsule that pays homage to the history and culture of the Lebanese capital. Half of the proceeds from ongoing sales will be donated directly to Shatila Refugee Camp's CYC Youth Center in Southern Beirut. A GoFundMe page has also been set up for direct contributions.
Avant Gallery Unveils Latest Paintings by DAIN
Release Date: Available now at Avant Gallery's website
Release Price: Contact gallery for price
New York City-born artist DAIN is widely-recognized for his collage paintings that draw inspiration from graffiti and 1950's Hollywood glamor. The artist specializes in creating pieces using acrylic and spray paint alongside silk screening and wheat pasting techniques. His signature "circle and drop" motif around the eye of his subjects are ubiquitously observed in a pink shade. Avant Gallery recently released a batch of new paintings from DAIN with his Monroe, New York piece shown above.
The Earth Powder Crafts Latest Face Pot Sculpture
Release Date: Available now at The Earth Powder's online shop
Release Price: $70 USD
Brooklyn-based artist The Earth Powder recently released a new sculptural pot entitled Face. Measuring roughly 3 inches (diameter) by 2.75 inches (height), the porcelain artwork is handmade with slight variations in size and shape for each limited edition. All glazes are non-toxic and food safe. Each pot will set you back $70 USD each.
George Townley Teases My Neighbor Totoro Print for Spoke Art
Release Date: August 17
Release Price: Contact gallery for price
Spoke Art is paying homage to legendary Japanese animator and director Hayao Miyazaki in a new Los Angeles tribute show. Entitled "Miyazaki in Los Angeles," the presentation features diverse artworks by international artists. One of the participants is British illustrator and designer George Townley, who created a print inspired by one of Miyazaki's most iconic Studio Ghibli films, My Neighbor Totoro. Visit Spoke Art's website to learn more and expect the show to commence on August 17.
Bergamot – Building Bridges Art Exchange
2525 Michigan Ave, Unit F2
Santa Monica, CA 90404