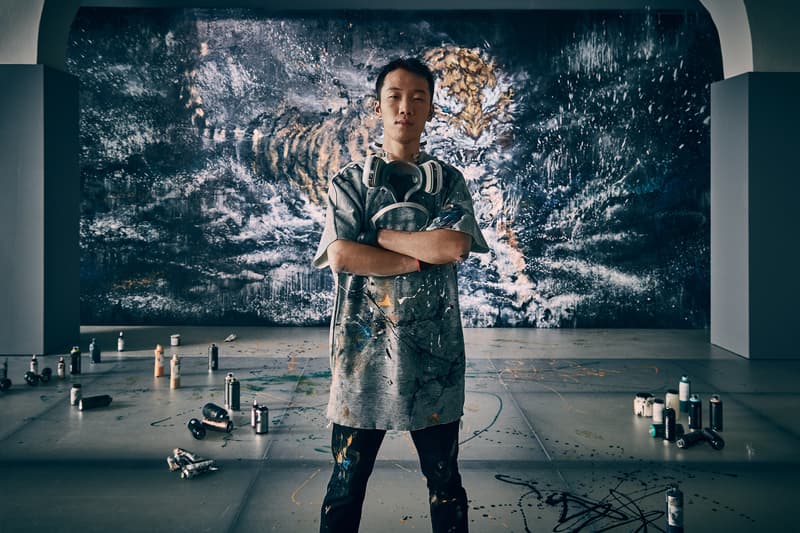 Uncaged Hero Spotlight: Hua Tunan Bridges the East and West Through Painting
"I counter the inconsistency with consistency."
---
Tiger Beer, through its Uncaged Hero initiative, has been curating a group of creatives whose imaginative approach to their artistry has such a powerful reach that it incites positive change within their respective communities. Similar to his peers, Chinese-born street artist, Hua Tunan, through chaos and beauty, blends the cultural paradigms of the East and West to create works that not only embody his passionate spirit but also elicit strong emotional responses. In a conversation, Hua, through his philosophical approach, expressed how he developed his craft as an artist alongside his altruistic work with Tiger Beer.
How did you start your creative path?
I started painting when I was six. My father taught me about traditional Chinese painting, and from my first introduction to the watercolor style, I developed my strong dedication to the art. During 2011, when I was studying abroad in Singapore, and then Europe and US, I started to notice street art more. From there, I began to explore how I could merge Eastern watercolor and Western street art. Though these two cultures are totally different from each other, we can feel the impact of the chaos if we see them as graffiti.
Why did you call yourself "Painting Man"?
This was in the past, but it meant a very simple, pure, creation of art. Now I use my true name, Chen Yingjie, instead. I think my real name can speak for my work better.
You use ink splashing for your large-scale art pieces — exhibiting the power of life in each stroke. How did you develop this style?
Starting in 2011, through my understanding of Chinese ink wash painting, I combined it into large-scale street art creations as a  direct expression of my emotions and inner-self.
The pressure when I hold my pen, the angle and the distance, all the variables focus in one single point and release on the canvas. This is the closest way to express myself, my conscious and respect for life.
The formation of this style is not just the transformation of a technique, it is also inspired by Mr. Bruce Lee. He claimed water was his master and that water is the softest material, but we can use water to break stone or even metal when the pressure is high. Yet we cannot hold or control it easily, we can't even hit or damage it. I just wanted to apply this concept to paintings.
You paint walls, houses and even cars, but which is the most challenging for you?
Through the transformation of the creative medium, those irregular shapes and sizes make them more time consuming, but it doesn't hinder creation.
My creation is like the flow of water, it can be adapted to different environments and forms. I counter the inconsistency with consistency.
1 of 3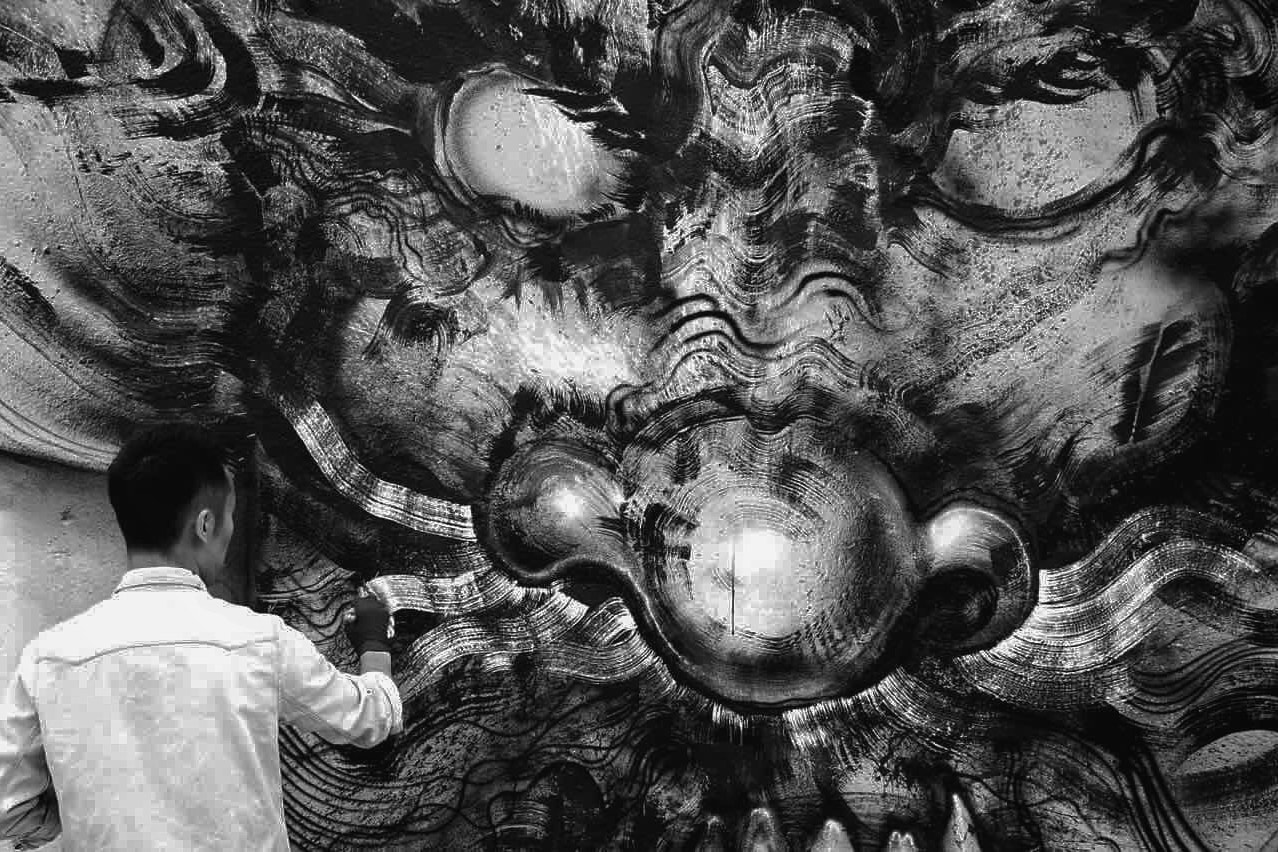 2 of 3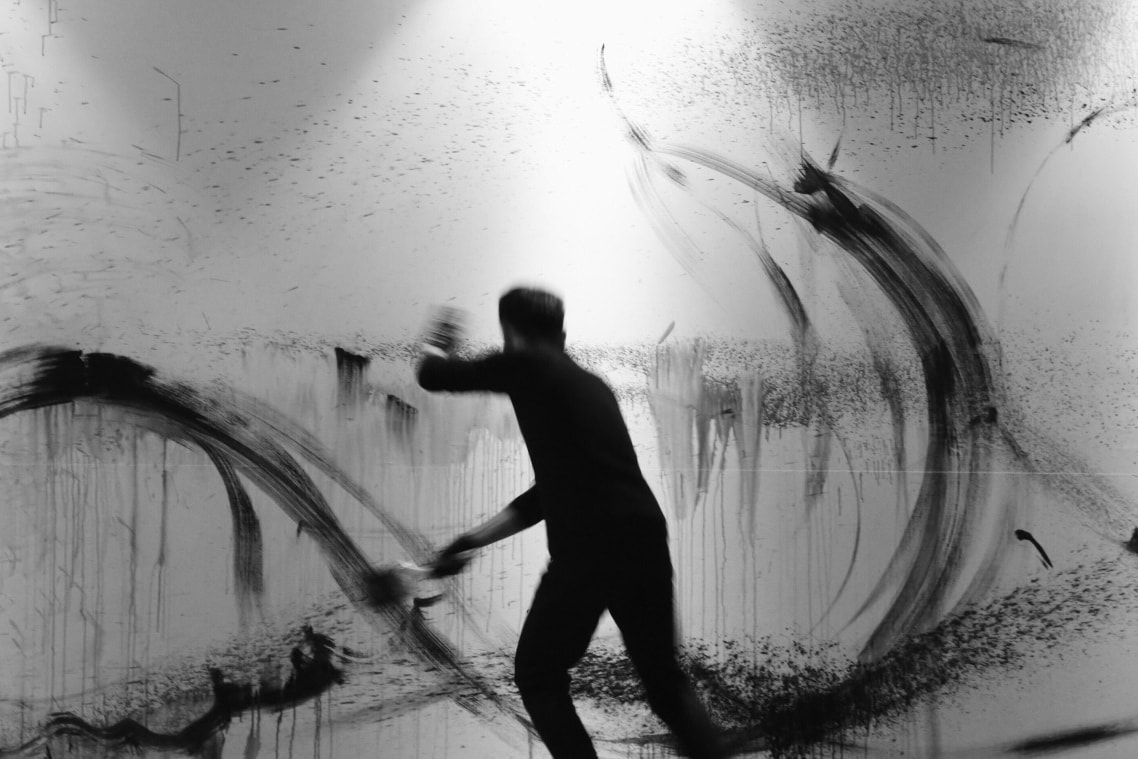 3 of 3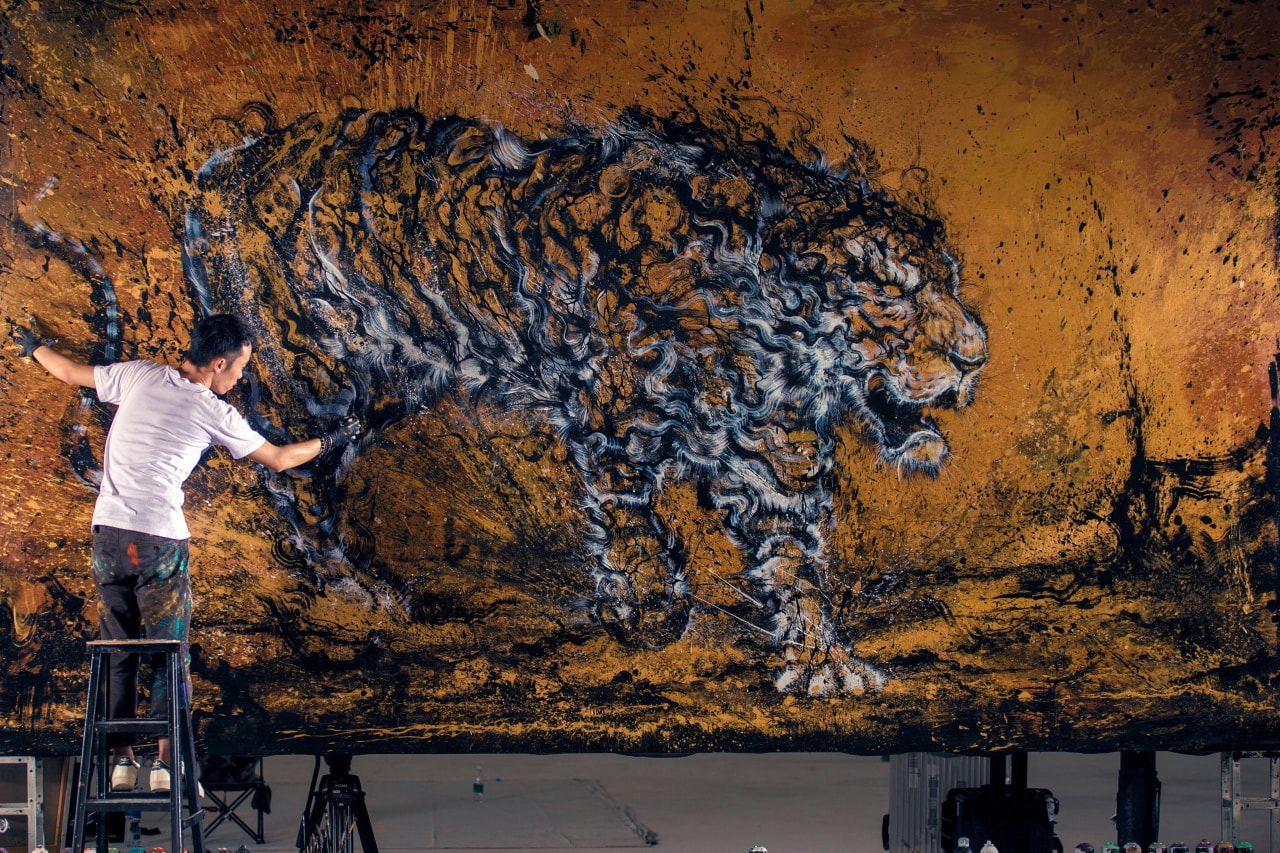 Your work exudes energy and a sense of free will, what inspires that?
I traveled a lot to different countries in recent years, I tend to put all the hustle and struggle inside my work.
How does Chinese history/culture influence your work?
I pull from "Tai-Chi" the most, it gives me a lot of inspiration. The merge of yin and yang — the black and white. The unsettling chaos of yin and yang is like a transition state, similar to the path I sought out when merging Eastern and Western culture. I went down this path through my perspective on ink wash painting and Western street graffiti. In this process, I transformed myself into a water or liquid form, or even gaseous, so I can capture all the detail. This state is like the balance in "Tai-Chi."
Traditional ink wash painting talks about "Chi." However, my work consists of an invisible "chi," you can sense it breathing or it's natural energy, the oppositional force between two lives, also the unbalance of the current state of humanity and nature.
Why did you focus on animal portraits?
I focus on different subjects for periods of time, it expresses my inner-self. For the animal — predator — portraits, you can sense the focus of the pray, and the explosive power of life.
Recently in Shanghai, I held a solo exhibition of a new series of works exploring figurative animal creation to abstract natural landscapes and self-awareness.
Do tigers have a special meaning to you?
Tigers possess a mysterious, but elegant, natural power. Every time I paint a tiger stripe, I feel an infinite energy coming from it. Tigers became a subject to express my inner-self.
Can you share the most satisfying improvisation/live performance experience?
In 2012, I headed to Zurich for my very first live performance where I improvised for seven consecutive hours and finished with a five-meter by seven-meter mural. This was the first time I showed a foreign audience my live graffiti skills with my Chinese painting technique.
What was the most unforgettable experience during the collaboration of Tiger Beer and WWF?
We really went deep into Cambodian nature reserves, learned about the work of the wildlife rangers and sought tigers together alongside destroying the traps used for illegal hunting. Those experiences gave me a lot of desire to create tigers.
What has Tiger Beer's Platform provided for you?
Starting from the first Thailand collaboration in 2015 to the Czech one in 2017, Tiger Beer respects my thoughts on creation. Based on this trust, it gives me the freedoms to unleash all the inspiration on the canvas. I enjoyed this mutual respect on collaboration.
What have you learned from the other  Uncaged Heros?
Bravery, wisdom and the unyielding spirit to live.
For more information on Hua, head over to his website. For more information on the Asian lager, head to Tiger Beer's website.
Must be 21-years-old or older to visit the website.