These Are the 10 Best Album Releases of the Week
Featuring projects from Tyler, the Creator, Lana Del Rey, Nav & Metro Boomin and more.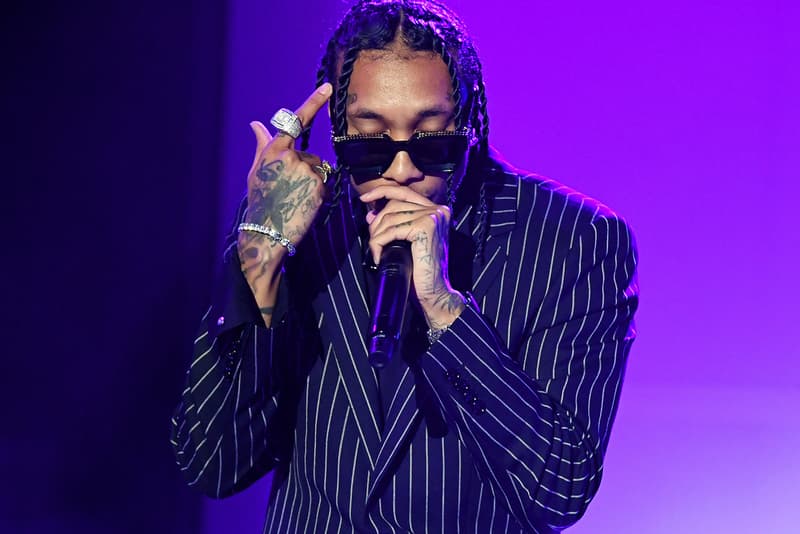 The third week of July may go down as one of the most album-heavy weeks of the year, following highly-sought after releases from Tyler the Creator, Lana Del Rey, Nav, Metro Boomin, and many more. With that said, we've compiled a list of this week's top-tier album drops, centralizing your hunt for fresh new music projects to vibe out to this weekend. Below, our selection of the top ten album releases of the week.
Mura Masa – Mura Masa LP
Mura Masa's long awaited debut album finally arrived this week, following the buzz surrounding his collaborations with A$AP Rocky, Desiigner and long-time collaborators Bonzai and Nao. The British producer told Julie Adenuga on Beats 1 that the album was "a collection of cultural moments, bringing together a lot of unlikely collaborators." Stream Mura Masa's eclectic new album below.
Wizkid – Sounds From the Other Side
The Nigerian-born afrobeat star was able to team up with some major names after signing to RCA records earlier this year. That said, he certainly made sure to link up with some of music's biggest names like Major Lazer, Ty Dolla $ign and Drake for his new album. Stream below.
Lana Del Rey – Lust for Life
After facing several pushbacks, Lana Del Rey officially released her long-awaited fifth studio album this week—the follow-up to 2015's acclaimed Honeymoon LP. Now two years since the beloved songstress has been talking about this album, Del Rey has come out wit's a roster of superstars like The Weeknd, A$AP Rocky, Stevie Nicks, Sean Ono Lennon and others for Lust For Life. Stream below.
French Montana – Jungle Rules
French Montana's sophomore album release, Jungle Rules, may very well be the most star-studded album of the year. The guest-lineup on the project is nothing less than staggering: Future, Travis Scott, Pharrell, Young Thug and many more. Stream below.
Trae Tha Truth – Tha Truth Pt. 3
Texas rap legend Trae Tha Truth is showing the rap world he's still got it with the arrival of his unexpected ninth studio album. He connected with young rap contemporaries Post Malone and Young Thug for his first two lead singles and managed to snag Future, Rick Ross, J. Cole, and even Wiz Khalifa for the lafter half of the album. Stream Trae Tha Truth's new album Tha Truth Pt. 3 below.
Tyler, the Creator – Flower Boy'
Following weeks of buzz spurred by an online leak, this album might be Tyler, the Creator's most ambitious project to date, with notable features from A$AP Rocky, Frank Ocean, Jaden Smith, Roy Ayers, Lil Wayne, and more. Stream below.
Nav & Metro Boomin – Perfect Timing
Bringing together Nav's musical style and Boomin's production prowess, Perfect Timing is just the latest in Nav's meteoric rise following his feature on Travis Scott's track "Beibs in the Trap." The 15-track project features guest appearances from rap's biggest artists: Lil Uzi Vert, Playboi Carti, 21 Savage, Gucci Mane and Offset. Stream below.
Tyga – B*tch I'm the Sh*t 2
The 16-track sequel to his 2011 classic #B*tchImTheSh*t features guest collaborations from his A-list rapper compadres: Kanye West, Quavo Young Thug, Vince Staples, Chief Keef and more. Say what you want, but Tyga's got a proven track record for massive summer hits and he doesn't appear to be stopping now. Listen below.
Meek Mill – Wins and Losses
Meek Mill is back to shed light on his recent troubles and triumphs following a rocky 2016. Although many of the songs off the album were featured in different parts of his three-part Wins and Losses mini-film, this project could shape up to be some of Mill's best work. Check it out below.
Vic Mensa – The Autobiography
Although Vic Mensa's debut album is set to release next Friday on July 28, The Autobiography LP was officially available for stream courtesy of NPR's First Listen this week. The project is shaping up to be Mensa's most ambitious project to date as the Chicago rapper looks to tackle social and political issues through his music. In addition, the album was produced largely in part by No I.D. who just produced JAY-Z's entire 4:44 project.
Stream Vic Mensa's The Autobiography album here.
Also be sure to check out our previous music roundups for the best drops of weeks past.