HYPETRAK Lab: FKi 1st Breaks Down His Production on "White Iverson"
The mastermind behind "White Iverson" breaks it down.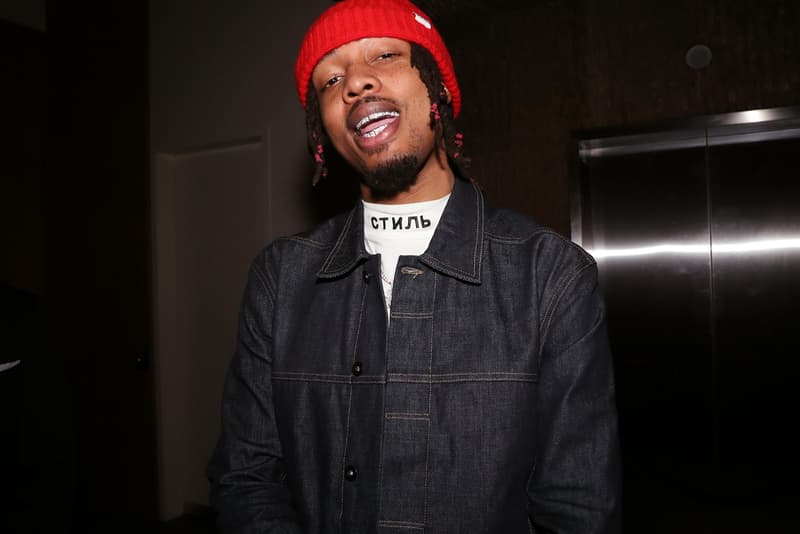 FKi 1st may be one of the biggest producers in hip-hop that you need to get familiar with. In fact, you probably already are familiar with his work if you've been keeping up with some of the game's biggest hits. As one half of the production team FKI, the Atlanta beatsmith has carved out a catalog of hits for Travi$ Scott, Justin Bieber, Kanye West, Diplo, and 2 Chainz. He even played a pivotal role in Post Malone's stardom, having aided in the "Go Flex" artist's discovery. That move eventually led to quite possibly the biggest hit of 2015, the FKi-produced "White Iverson."
We recently caught up with the sound maestro and got behind the boards to dissect "White Iverson" piece by piece or as he explains it "It was simple. He had gotten his hair braided and he was like – shit I feel like the "White Iverson." We were like that's the hardest song title ever. Lets do it. I actually think some random girl braided his hair that day. He wasn't even planning on it. So shout out to that girl. Maybe we owe her (laughs)."
What were some your first memories with music?
The first song I ever remember was "Flashlight" by George Clinton & Parliament. The first album I ever listened to front to back was Dr. Dre's The Chronic.
How did producing come into your life?
From Mr. Collipark and Mr. Hanky at Collipark Music on the Southside of Atlanta. Those were the only people who let me come to their studio and work on their songs when I was still just mixing and engineering for people. I just knew I had to be in the studio to make it, any way possible. Then came Travis Porter's management Tek & Charlie. They started to put me on everything.
What's your current set up at home / on the road?
On the road I have a mobile studio. My MacBook, my Duet and my mini-speakers. Then there's my AKAI Mini and UA Apollo Twin Interface. These are all I need I use to make music on the road. When I'm home I like to have a couple of full AKAI midi keyboards to make beats and work out melodies. I also use the Apogee One. This is all my favorite shit.
What's the most crucial element for you when start brainstorming for a beat?
When I'm alone it's more about testing out the weirdest sounds that no one has ever heard before. But when there's a lot of people in the room, I treat making beats like as if I'm DJing to see if it's working. I make sure everybody gets to witness the drops like if they were in the club so I build up the track piece by piece.
Do you recall the time when you realized you could do this music thing for a living?
When I was in 9th grade my brain was completely clear of everything but music. It was just music, fuck everything else. At that point I knew I wanted to be the best at it.
Tell us how you and Post Malone get involved?
I met him almost three years ago in LA. He randomly walked in the room wearing a yellow Yankees jersey. He said he made beats and rapped and I said okay I gotta see this (laughs). Sure enough first beat he played was dope. Then next thing you know, he said he would move out of his room and sleep in the closet if I would move my studio to LA, so that's what I did.
When the "White Iverson" production and chorus started taking shape, did you think it would become a hit?
Absolutely, Post had already started making parts of it, he woke me up and we finished it.
So let's backtrack to that night you were sleeping and Post woke you up to work on "White Iverson," how did it go down?
We had known each other for almost six months by the time we made "Iverson," just working and finding what would be his sound. So we had been "Saucin" for a minute (laughs). We made sure to add that piece into the song too, "I'm saucin I'm saucin on you…"
How did the hook come together and just explain overall notion of what "White Iverson" meant at the time.
It was actually pretty simple. He had gotten his hair braided and he was like "shit I feel like the White Iverson." When he said that, we were both like "yo that's the hardest song title ever. Lets do this." I actually think some random girl braided his hair that day and he wasn't even planning on it. So shout out to that girl, maybe we owe her (laughs).
Eminem publicly said he found his own song annoying when he released "The Real Slim Shady." What was your initial reaction to "White Iverson" and what your feelings towards it now?
The song is smooth, but goes hard as fuck. I feel no different than the first time. It's a song you can keep on repeat.
What are you working on now?
Just helped out with an Ariana Grande record, ("Let Me Love You" featuring Lil Wayne), and of course 2 Chainz, Post Malone's album, Larry June, Zuse, Key!, Roy Woods and my own album, 1st Time For Everything.
What advice would you tell up-and-coming producers?
Just stay surrounded by other talented people, but protect your own magic. Also, you cannot ever stop. Right when it seems like nothing is going to work out, that's when everything works out. But remember, you cannot ever stop. If you do, then some person with less talent will take your spot and you'll be confused. Ultimately, that will just be because you slowed down.
Final words?
Thank you HYPETRAK. Shout out to Mad Decent and all my buddies who I made this new First Time for Everything project with. Be prepared there could be a sequel.
Stream & Download FKi 1st's First Time for Everything here.
Video by: @modernfilth