Here's How the Internet Reacted to Germany's Group Stage Exit
The defending champions get knocked out by South Korea.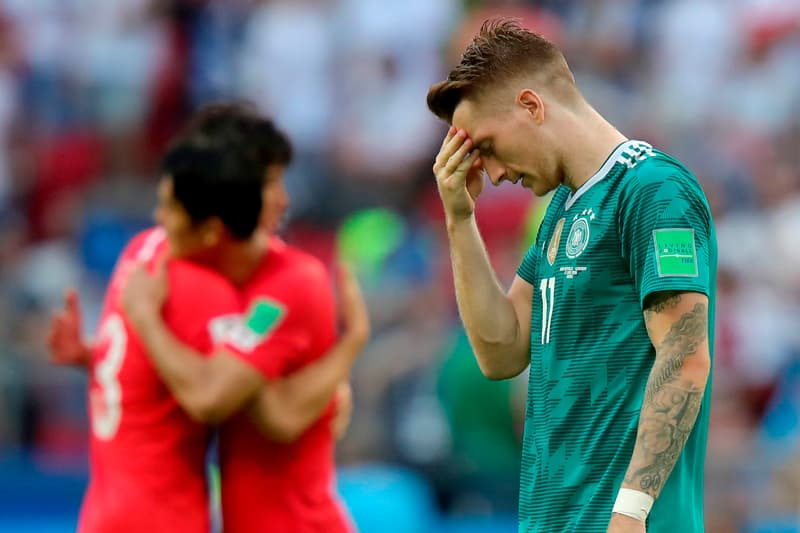 Already filled with surprise advancements and upsets, the 2018 FIFA World Cup continues to shock fans from all over the world, this time with elimination of defending World Cup champions Germany from the group stage by South Korea. Entering into the third and final match of the group stage round, Germany sat in second place with South Korea sitting at fourth.
Underdogs South Korea went on to defeat the Germans 2-0 in final stoppage time, sending the holders crashing out at the group stage for the first time since 1938; and as an added insult, Die Mannschaft finished at the bottom of their group. Germany won the 2014 World Cup after defeating Brazil 7-1 in the semifinals and 1-0 against Messi and the Argentinians in the final. As favorites to win in Russia, Germany's premature knockout caused a frenzy on the Internet with memes popping up galore on various social media accounts. Mexican fans also celebrated South Korea's achievement, as a Germany win would have knocked El Tri out. Sweden and Mexico both advance to the Round of 16 from group F. Check out some of the reactions by celebrities, athletes and fans below.
Be sure to keep up with our 2018 FIFA World Cup coverage here and tune in to our Destined series featuring the likes of Dele, Suárez, Chicharito and Gabriel Jesus.
Speechless. Ima need some time….

— Dirk Nowitzki (@swish41) June 27, 2018
The World Cup is incredible.

— JJ Watt (@JJWatt) June 27, 2018
Best. World. Cup. Yet. Heartbreaking for Germany but excited to see Mexico moving. Every 3rd game has been insanity. My Stress levels ⬆️⬆️⬆️

— Alex Morgan (@alexmorgan13) June 27, 2018
AHAHAHAHAHAHHAHAHAHAHAHAHAHAHAHAHAAHAHAHAHAHAHHAHAHAHAHAHAHAHAHAHAHAAHAHAHAHAHAHHAHAHAHAHAHAHAHAHAHAHAAHAHAHAHAHAHHAHAHAHAHAHAHAHAHAHAHAAHAHAHAHAHAHHAHAHAHAHAHAHAHAHAHAHAAHAHAHAHAHAHHAHAHAHAHAHAHAHAHAHAHAAHAHAHAHAHAHHAHAHAHAHAHAHAHAHAHAHAAHAHAHAHAHAHHAHAHAHAHAHAHAHAHAHAHA

— FOX Sports Brasil (@FoxSportsBrasil) June 27, 2018
Mexico fans when South Korea knocked Germany out of the #WorldCup ?? pic.twitter.com/b1hWaGwRxS

— Football Daily (@footballdailyuk) June 27, 2018
korea letting mexico stay in the world cup #MEXSWE pic.twitter.com/CD7o4equAR

— . (@journalsxoxo) June 27, 2018
Mexico's new flag. #WorldCup pic.twitter.com/aZfcbly3ip

— World Cup (@FlFAWC2018) June 27, 2018
Germany : We will win World Cup 2018

Korea : pic.twitter.com/hgOnPisL4H

— One Romone (@OneRomone) June 27, 2018
The holders #GER, are out. #KOR join them heading home, despite big win. pic.twitter.com/Vyyzl7EcHq

— FIFA World Cup ? (@FIFAWorldCup) June 27, 2018
Ima Let You Finish, But South Korea Beat Germany 2-0 pic.twitter.com/CSlynkg1wb

— Anthony?? (@asap_anthony2) June 27, 2018
Feliz ????18! https://t.co/TxhI07N27v

— LANCE! (@lancenet) June 27, 2018
Football is a simple game. Twenty-two men chase a ball for 90 minutes and at the end, the Germans no longer always win. Previous version is confined to history.

— Gary Lineker (@GaryLineker) June 27, 2018
They think it's all over, it is now! Sorry Germany ??? #KORGER #MEXSWE pic.twitter.com/XF1AUZeauY

— ABB Formula E (@FIAFormulaE) June 27, 2018
You can always go out early with a bad team, but not with a team like this one!! @DFB_Team
Honest assessment must start !!!

Leadership?
Personality?
Mentality?#DieMannschaft⁠ ⁠ #ZSMMN #WM2018⁠ ⁠ #WorldCup #worldcup2018 #Germany #Löw #DFB

— Michael Ballack (@Ballack) June 27, 2018
The South Korea goalkeeper – "also known as the Mexican Saviour or the one true god" pic.twitter.com/wK7ZAPaVoJ

— Paul Campbell (@campbellwpaul) June 27, 2018
It keeps changing yall lmao #KORGER pic.twitter.com/qjGBaGtl9K

— 백?| STAN BTS YALL (@roseblanc_PJM) June 27, 2018
Kane…. Carrying England

Messi…. Carrying Argentina

Ronaldo…. Carrying Portugal

Lufthansa…. Carrying Germany#AufWiedersehen ✈ ? pic.twitter.com/tnSoaHPY0D

— Stavros Kebabadopolus (@HFCStavros) June 27, 2018
Manuel Neuer: "We lacked commitment. Even if we would've gone through, in the next round or the round afterwards we would've been knocked out. We deserved to be eliminated. We didn't convince in any game. This was not the #GER we all know. It was pathetic." #KORGER pic.twitter.com/qyfVJfB0R3

— Home Bayern (@HomeBayern___) June 27, 2018
?? 1998: France WIN World Cup
?? 2002: OUT in Group Stage

?? 2006: Italy WIN World Cup
?? 2010: OUT in Group Stage

?? 2010: Spain WIN World Cup
?? 2014: OUT in Group Stage

?? 2014: Germany WIN World Cup
?? 2018: OUT in Group Stage#KOR v #GER #WorldCup pic.twitter.com/CCUvkJ4SJo

— CYBERsazio 2077 ✏️⚽️??️ (@sazio1984) June 27, 2018
— кιиg ∂ανι∂®️ ??????????? (@JA_KingDaViD) June 27, 2018
SOUTH KOREA (AND MEXICO!) MOOD pic.twitter.com/4s2cvnQIsz

— CBS Sports (@CBSSports) June 27, 2018
This is the first time Germany has been eliminated from the First Round of a World Cup since 1938. pic.twitter.com/bW2zRhyNwp

— CBS Sports (@CBSSports) June 27, 2018
As much as it hurts to bow out this early, congratulations to #SWE and #MEX. We wish you good luck in the knockouts ? pic.twitter.com/6gbNpePRTm

— Germany (@DFB_Team_EN) June 27, 2018
THERES A KOREAN OUT HERE AND MEXICANS MADE A MF PARADE FOR HIM SKFMSKEK #MexicovsSuecia #GERKOR pic.twitter.com/T5ByA2nPMd

— cassy ?? (@AHNSYUJlN) June 27, 2018
The Mexicans found a South Korean outside the stadium ? pic.twitter.com/9gG7V9wtOd

— Siavoush Fallahi (@SiavoushF) June 27, 2018
That's the Korean consul general to Mexico, Byoung-Jin Han, celebrating with grateful Mexican fans outside the Korea embassy here. One fan said he took a shot of tequila with them earlier. pic.twitter.com/NGWEmRADUW

— James Wagner (@ByJamesWagner) June 27, 2018
Mexico fans and South Korea fans unite in Munich after knocking Germany out of the World Cup! ?

? – @Dugout pic.twitter.com/CDcC5LWICg

— World Cup 2018 (@WCGoalz) June 27, 2018
¡Te amamos Corea! Nuestros vuelos de México a Corea tienen 20% de descuento. #VolamosConTodo #GraciasCorea https://t.co/vCVAlmJ3Hl pic.twitter.com/i8WJWJV8wE

— Aeroméxico (@Aeromexico) June 27, 2018
Join Our Discussions on Discord
The HYPEBEAST Discord Server is a community where conversations on cultural topics can be taken further.