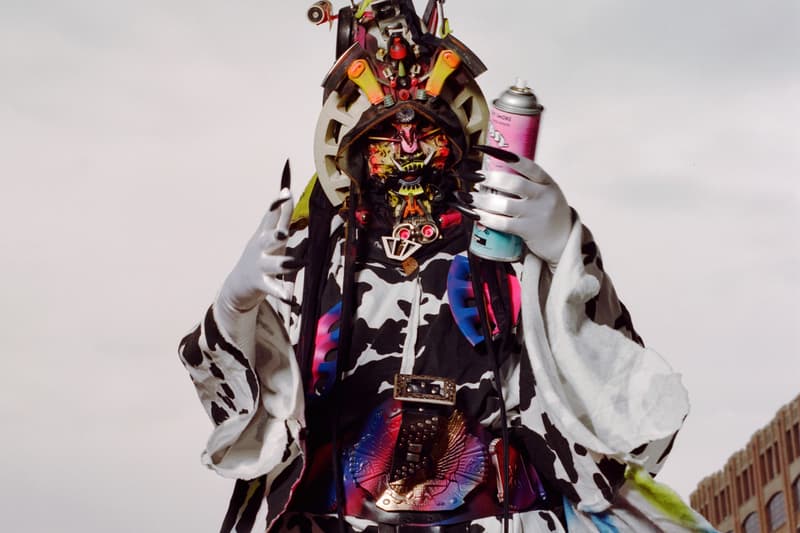 Curator Max Wolf on Why RAMMΣLLZΣΣ Is So Influential to Graffiti & Hip-Hop
In the midst of the legendary NYC artist's "Racing for Thunder" exhibition at Red Bull Arts NY.
---
The late RAMMΣLLZΣΣ is a touchstone of graffiti and hip-hop culture. The New York City-born artist first gained prominence in the late 1970s for tagging the A train and other MTA subway lines in his native borough of Queens. His illegal street art became so popular that Charlie Ahearn included the artist in his most iconic film, Wild Style. Moreover, he was close friends with legendary painter Jean-Michel Basquiat who both collaborated with rapper K-Rob to produce the classic 12-inch single "Beat Bop" back in 1983. Collectively, RAMMΣLLZΣΣ made it his mission to create sculptures, paintings and mixed-media works, such as cosmic samurai ensembles, to propel his Gothic Futurism belief – a deconstruction of the modern English alphabet.
RAMMΣLLZΣΣ is currently the subject of a major retrospective at Red Bull Arts NY, entitled "Racing for Thunder," curated by Max Wolf and cultural critic Carlo McCormick. The extensive showcase puts on a grand display of the artist's post-graffiti pieces, sculptures, costumes and mixed-media works. One of the highlights of the exhibition is a hall dedicated to spotlighting the artist's achievements in a timeline. One marker expressed that he was the first artist to collaborate with Supreme back in 1994.
We sat down with Wolf to discuss RAMMΣLLZΣΣ's influence on graffiti and hip-hop culture, as well as his curation process. Read on for key insights and visit Red Bull Arts NY's official website to learn more. "Racing for Thunder" is currently open to the public until August 26.
"Ramm was a juggernaut of style and individuality."
The work of RAMMΣLLZΣΣ is incredibly profound and diverse, how did you decide on the artworks you wanted for the show? What sort of challenges did you face during the process?
His artwork alone spans an array of mediums, materials and disciplines, all of which uniquely evolved over time, so it was important to strike a balance that could properly convey the breadth of RAMMΣLLZΣΣ's contributions to art, music and culture in general. There were a couple great works that we couldn't manage to show, as to be expected, but the biggest challenge was having to omit so many great works from the show due to lack of space.
The '80s hip-hop scene spawned cultural innovators such as Fab5Freddy, Basquiat and Futura 2000. What about RAMMΣLLZΣΣ makes him such an enigma among his legendary peers?
He was the quintessential artist's artist. He was who our great minds looked to. From George Clinton, to William Burroughs, to Valentino – Ramm was a juggernaut of style and individuality. He predates a lot of the cultural zeitgeist we see today – from weirdo experimental rap, to afro-futurism and identity politics.
"He was always evangelizing his ideology of Gothic Futurism."
Any interesting stories you've learned during your research?
He went to Clara Barton to study dentistry in the '70s. That was a surprise.
Whether it's tagging on white gallery walls, crafting cosmic samurai-like outfits or relaying messages of quantum physics, RAMMΣLLZΣΣ went beyond the traditional canvas to fully explore his creative vision. What do you think made him want to relentlessly break convention?
He was always evangelizing his ideology of Gothic Futurism. He had a profound distrust of the powers that be and their manipulation of information through language throughout history. It's a pretty resounding sentiment these days.
What major takeaways do you hope those who've never heard about the artist carry with them after leaving the exhibit? 
To be yourself. Shamelessly and passionately. Even if you identify as a legion of two dozen warring cosmic superheroes on a quest to liberate the alphabet.
Red Bull Arts New York
220 W. 18th St.
New York, NY 10011
In related news, adidas Skateboarding teamed up with BEYOND THE STREETS on site-specific installations.