10 Drops You Don't Want To Miss This Week
Supreme's "Don't Ask Me 4 Sh*t" stamp.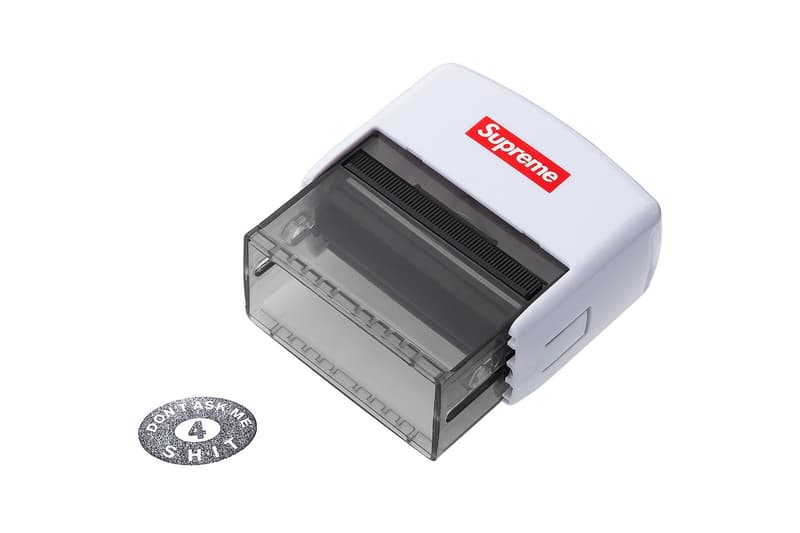 It will be difficult taking the spotlight away from the Supreme x The North Face Spring 2018 Metallic collection for this week's drops roundup. Inevitably, we'll be seeing a lot of the shiny new renditions of the Mountain Parka in gold, silver and rose gold hues, as well as the more understated logo hoodies and metallic bags. While resell profits are likely to focus on the aforementioned collab pieces, Supreme's Spring/Summer 2018 main collection sustains some hype with a few solid (and more wearable) garments like the lobster hook nylon jackets, the woven Batik jackets and the shadow stripe long-sleeve. However, this week's star Supreme product might end up being the "Don't Ask Me 4 Shit" rubber stamp, which will be a cheeky addition to any 'Preme collection.
Admittedly, the rest of this week's releases simmers on medium-low heat. Palace leads the pack with more clean streetwear staples — notable mentions include the plush polo "crew-lours," the Pipeline hooded track jackets and the "Plow Mans" sandwich graphic tees; Parra delivers some colorful, art-infused essential wear that's perfect for the transition season; Tyler, The Creator re-releases his Flower Boy tour merch; ALYX launches pre-orders for its Kanye-approved tactical chest rigs; Tim Lehi x WACKO MARIA presents some beautiful investment garments; and Jil Sanders delivers some upgraded wardrobe essentials.
Parra Spring/Summer 2018 Drop Two
Dutch artist and designer Parra has released the second installment of his Spring/Summer 2018 collection, offering more graphic-heavy pieces that are ideal for the transition season. The latest release features Parra's signature soft-hued color palette and minimalist compositions on silhouettes such a color-blocked anorak, logo-printed crewneck sweater, striped polo shirt, graphic tees, embroidered caps and a hand-knotted carpet featuring the artist's Take Your Time artwork. Some of the pieces such as the green crew neck sweater were previously sold out but just recently restocked online, so act fast to pick up a piece of wearable art.
When: Available now
Where: Parra online shop
Tyler, The Creator Flower Boy Merchandise
With popular demand, Tyler, The Creator is re-releasing his Flower Boy merchandise that was originally available as tour stop exclusives last year. The collection features hoodies, a quilted bomber, graphic T-shirts, embroidered caps and a range of accessories. Signature bee and Flower Boy motifs are seen throughout the capsule, as well as GOLF branding and colors. The clothing drop is available both online and in-store at GOLF's Los Angeles flagship location. If you haven't yet, watch the music video for Tyler, The Creator's surprise single "OKRA."
When: Available now
Where: GOLF web store
ALYX Spring/Summer 2018 Chest Rigs Pre-Order
ALYX is bringing back its well-loved tactical chest rig, which has been a favorite accessory among cult techwear fans and even Kanye West. The functional yet fashion-forward product is offered in black, navy, beige and white colorways, all of which are constructed of tectical nylon, adjustable Cordura straps and a mash back panel. Other details include a large front zipper pocket that's adorned with a signature ALYX lightercap detailing at the bottom corner. The chest rigs are available online for pre-order until April 6 with shipments starting on June 29.
When: Pre-order available now until April 6
Where: ALYX web store
Tim Lehi x WACKO MARIA Collection
WACKO MARIA enlisted acclaimed tattoo artist Tim Lehi for a deluxe capsule of limited edition garments embellished with traditional Japanese motifs. The collection includes a printed silk gown coat, jacquard ska jackets, military jackets, rugged fatigues, button-down short-sleeve shirts and graphic tees, all of which features Lehi's intricate tattoo designs comprised of skulls, tigers, grim reapers and ukiyo-e-inspired wave designs. In addition to the statement all-over prints are staple black, white and khaki options, as well as bolder hues such as yellow and purple.
When: Available now
Where: WACKO MARIA web store
Jil Sander Spring/Summer 2018 Collection Pieces
Lucie and Luke Meier's Jil Sander Spring/Summer 2018 collection pieces have released, offering premium smart casual options for those looking to upgrade their wardrobe essentials. Presented by Union Los Angeles, the release features sophisticated and simple garments such as jersey and wool knit shirts, striped striped sweaters and cropped trousers. All pieces come in a understated but versatile black and navy color palette with modern proportions and cuts.
When: Available now
Where: Union LA
Stone Island Spring/Summer 2018 "Marina" Capsule
Stone Island has released its Spring/Summer 2018 collection "Marina" pieces, which are seen in action via the the above video lookbook and an accompanying process visual that displays the Italian label's iconic garment production. The collection features staple performance-centric pieces in a pastel color palette and bearing white stripe motifs inspired by archival Stone Island garments. "Marina" pieces are created in two different ways: a "Folded" process that entails dying, folding and printing to give each piece a unique graphic motif; and an "All Over" process, which is marked with an embroidered red star.
When: Available now
Where: Stone Island web store
Supreme Spring/Summer 2018 Drop 7
We've already seen the Supreme x The North Face Metallic collection — whose highlight pieces include the new renditions of The North Face Mountain Parka in gold, silver and rose gold hues as well as a dual-branded metallic-style graphic hoodie — but Supreme's main Spring/Summer 2018 collection also offers some solid releases this week. Drop 7 notable clothing mentions include the lobster hook nylon jacket, the woven striped Batik jacket, shadow stripe long-sleeve shirt and soccer polo, whereas the accessories side pulls out the "Don't Ask Me 4 Shit" stamp.
When: April 5 — 11:00 am GMT (for London), 11:00 am EST (for NYC)
Where: Supreme NYC, LA, European locations and online at Supreme's web store
Browns "Just a T-Shirt" Spring/Summer 2018 Collection
London-based retailer Browns has unveiled the second installment to its "Just a T-Shirt" project. For the Spring/Summer 2018 collection, the store teamed up with six photographers and artists to create a series of graphic tees curated by the Browns buying team. This season offering features work from legendary photographer Mark Lebon — whose T-shirts feature collage photography prints — and Joshua Gordon — whose tees boast slogans such as "stop the world I wanna get off" and "eat me, drink me, tell me that you love me." Other artists in the collaboration include Brad Feuerhelm, Kieron Livingstone, Gareth McConnell and Ryan Gander.
When: April 6
Where: Browns East at 21 Club Row, London E2 7EY, UK.
Palace Spring/Summer 2018 Release
Palace returns for this week's Spring/Summer 2018 collection drop with more understated but ultra-clean gear that arguably gives Supreme a run for its money. Palace pieces may clock in at a lower resell value than Supreme's, but the more important consideration is that they're garments you actually want to wear an significantly less difficult to purchase. Highlight pieces from this week's drop include the Pipeline hooded track jacket, the plush polo crew-lour, the "Plow Mans" sandwich graphic print tees and the cozy palace hoodies in various hues.
When: April 6 (London 11:00 a.m. GMT; New York 11:00 a.m. EST)
Where: In-store and online at Palace's web store
Sasquatchfabrix. x ASICSTIGER Capsule Collection
Tokyo-based label Sasquatchfabrix. teamed up with ASICSTIGER on a capsule collection inspired by "Oriental-ism." The apparel and footwear collaboration features a tonal khaki suede GEL-PTG MT sneaker, a graphic tee and a matching tracksuit in beige with contrast yellow logo stripes. The track jacket features a zip-up closure and a seamless shoulder that's signature to traditional Asian garments, while the tearaway track pants sport snap button detailing and elastic hems. Ahead of its general release on April 7, the Sasquatchfabrix. x ASICSTIGER collection will have a pre-launch sale exclusively at Dover Street Market Ginza's 4th floor on April 6.
When: April 7
Where: In-store and online at Sasquatchfabrix. web store