The Future of Chunky Sneakers Envisioned by Concept Designers
New waves for the dad shoe trend.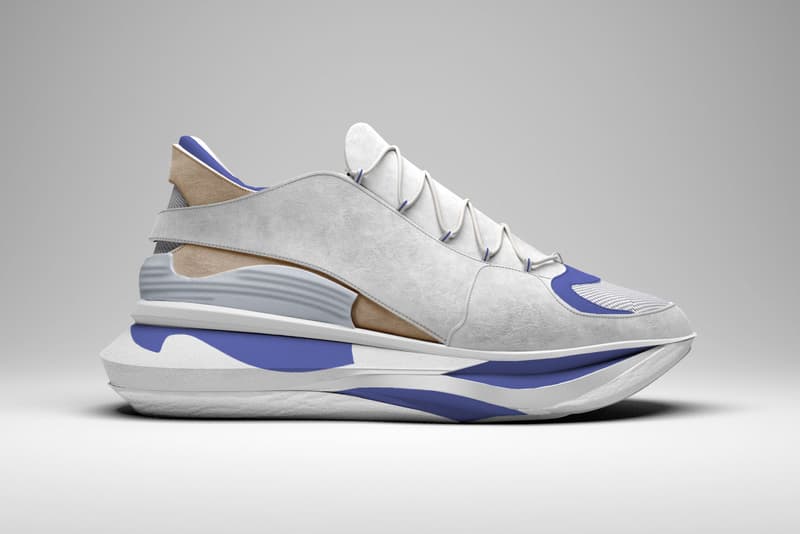 The chunky sneaker, also known to many as the dad shoe, has been one of the most polarizing accessories to hit the fashion industry. Some see the shoes as an abomination in footwear design, while others praise them for their bold, statement-making looks. From Balenciaga's Triple S kicks to Kanye West's YEEZY 700s and Nike's Air Monarchs, there's no denying that dad shoes have crossover appeal — they're frequently worn by editors and buyers at global fashion weeks or by kids waiting in line for the next Supreme or BAPE drop. Even notable athletes and celebrities are riding the wave as they've also been seen on James Harden, Jaden Smith, Bella Hadid and more.
Almost every brand from famed luxury houses to global athletic labels are creating their own iterations and while critical response has been mixed, demand for bulky crepes is on the rise. This is evident in boutiques and luxury department stores carrying them in a variety of styles, often selling out just as quickly as they're stocked.
While the chunky sneakers' lasting power is still too early to tell, it's, however, still worth envisioning a future for them as a casual mainstay because of their tremendous popularity today. Simple models like the Common Projects Achilles and adidas Stan Smiths are often considered footwear essentials but the tides are swiftly changing. More adventurous silhouettes like the dad shoe have surprisingly become the everyday norm and could easily replace the more understated styles most fashion fans have gotten used to.
To help translate different visions of the chunky sneaker's future, HYPEBEAST enlisted the help of four concept sneaker designers: Chris Frangoulis of @maroonnyc fame, Cherif Khaldi aka @cappiekaldi, Romain who heads @thegoldenshape and Cam Stewart, better known as @argo_concepts. You might have seen some of their work on Instagram with creations ranging from imaginative mash-ups to head-turning original designs inspired by sneakers and streetwear. Besides showcasing their own digital dad shoe concepts, the designers also explain the thought process behind them and give us some of their thoughts on the chunky shoe phenomena.
The one thing you'll notice about Romain aka @thegoldenshape's work is his clever use of colors. Some of his concepts lean towards a more fun direction as seen with his Dragonball Z and Minions designs. To add to his accomplishments, one of Romain's creations — an imagined Nike More Uptempo x Off-White™ shoe — became so popular that a sneaker manufacturer in China decided to make them. They were obviously fake Nikes come to life, but the fact that the company had to steal his design was evidence of @thegoldenshape's ability to create effective mash-ups.
Romain is, simply put, not a fan of the dad shoe trend. "I think it's all or nothing with this trend and to me, it's nothing." But if there is a small bit of compliment to the craze is that Romain does see the new YEEZY sneakers in a different light. "If I had to choose the ones I hate the least, I would say the Yeezy Desert Rat 500 because the shape makes me think of it more as a basketball shoe rather than a chunky sneaker," Romain says.
@thegoldenshape was very meticulous with his design, keeping in mind a section-by-section approach to the concept. He first worked on the sole since its what fully represents the vibe of the dad shoe. The iconic Buffalo platform — a super exaggerated boot/sneaker model — was his basis of inspiration. He then imagined the uppers to have a more earthy-toned leather, borrowing the material from the Vachetta Tan of the popular Riccardo Tisci x Nike Air Force 1. A simple gold Golden Shape logo finished the shoe for a more refined finish.
Cam Stewart has fully dedicated himself to becoming an elite sneaker designer, so-much-so that one of the world's biggest athletic brands recently hired him to its footwear design team. Also known as @argoconcepts on IG, Cam's design style puts heavy focus on details, especially with the different materials and colors that inspire him. He's reimagined some of today's popular kicks with transparent leather and luxurious patterns, including an imagined Palace x adidas Hu NMD, Vetements x DHL x Nike Vapormax and a high-top version of the Tom Sachs x Nike Mars Yard that was also bootlegged by a Chinese fake sneaker manufacturer.
Cam feels the dad shoe's popularity harkens back to the styles that emerged a few decades back. "I would say it's to do with the inspiration we are seeing from the '90's to the '00's and it seems to be very on-trend to revive styles and brands of that era," he says. The industry, without question, thrives on recycling trends from the past. Take for example the recent resurgence of puffy jackets, choker necklaces and even wide-leg jeans. Labels like Vetements, Gosha Rubchinskiy and even Off-White™ have released their own takes on these popular '90s rave and hip-hop fashion staples. "It makes sense that we are now seeing those styles ('90s and '00s designs) revived in the sneaker world," Cam continues.
As for longevity, Stewart sees the end for the chunky footwear wave to be near. "To be honest I think the trend is coming to a close," he says. If it were to continue, however, he feels there needs to be an overhaul. "I would love to see the next trend be grounded in sustainability and innovation. The potential for additive manufacturing is huge and is just a matter of time before it becomes a common process," he adds.
For his mock-up, @argoconcepts really wanted to emphasize the '90s aspect of the dad shoe. Integrating multiple panels and materials was key to the design as this was important in giving it a more modern and sleek look as well. He went for a busy presentation and concentrated on how the different textures contrast with the varying sole panels for an aesthetically agreeable final product. Furthermore, to Cam, white, navy and tan really screamed dad shoe colors.
If you've ever wondered what a Reebok x Off-White™ or Supreme x Louis Vuitton x Nike footwear collab might look like, then it's worth taking a peek at @cappiekaldi's Instagram account where Cherif Khaldi has produced these viral worthy "what-if" concepts. Khaldi is constantly inspired by some of today's most coveted brands and products, recreating them with a genuine appreciation for the originals. Additionally, he's even started his own clothing line under the name UNSLVD which currently purveys cozy tops and bottoms.
As for some of his favorite chunky designs out right now, Khaldi says "the Louis Vuitton Archlight is the best reckless design I've ever seen." "I also appreciate what Nike is doing with the Monarch and Concepts," he continues. @cappiekaldi predicts the chunky shoe phase staying. "I'm sure we'll be surfin' the dad shoe trend for some more time," he says. "But I'd like to see more "Tech" sneakers — something comfortable, with a very technical army look," he concludes in relation to an actual future look for the silhouette.
In his concept, Khaldi went with a simple suede and nubuck combo upper. He envisioned the shape to have a layered look for "more density but with a pretty simple chunky sole." Cherif also wanted to create something he'd wear himself, putting "comfort, material and a passive aggressive design" as its most important traits.
Chris Frangoulis, who also goes by @maroonnyc on Instagram, is not only a talented concept designer but also an enthusiastic sneaker customizer. Recently, he released pairs of adidas Ultraboost Premium and Nike Air Max 1 customs that made the community turn their heads to his abilities. He's also a strong proponent of sneaker and streetwear culture in both the digital and physical space — he's already brought to life a pop-up event showcasing both kicks and clothing. With that said, Frangoulis is looking to up his game as his own takes of original silhouettes are getting bolder as seen on his IG account. He also has a few custom releases in the pipeline fans will be able to purchase in the near future.
When it comes to the dad shoe trend, however, Frangoulis points that its current appeal stems from "them being so far off from what we got used to as consumers." The transition and shift are definitely more evident in recent years too. "I feel like footwear design went through a minimalistic phase from 2015-2017 — some of the most popular shoes over that time were very sleek and monotone," he states. As for labels seeing success from the hype, Frangoulis says, "Luxury brands have found success in them because they were willing to take the risk and release something bold and innovative."
With his design, Chris went for a mix of bold and refined — the chunky sole and paneled uppers look to be the perfect blend of luxury and mid-priced casual. Front pull tabs are added for functionality while thicker outsoles create an extremely sturdy look and feel.