Will Craig Green Become the Biggest Designer in London?
Pitti's new guest star talks Kendrick, denim and LFW:M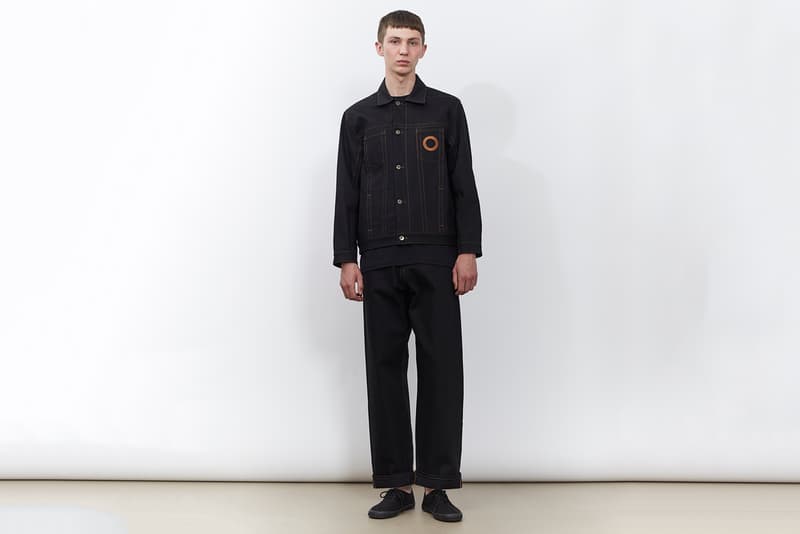 One thing that immediately comes across when talking to Craig Green is how little he says "I" and how often he says "we." While fashion design is more of a team activity than often let on, many designers — even those who could be more accurately described as creative directors — would talk about their brand in the singular rather than plural. Green's tendency toward inclusion is not just a reflection of his open approach to leadership but explains his relationship with clothing, which is rooted in admiration of everyday uniforms.
The British-born designer's last show at London Fashion Week: Men's was a highlight among otherwise lackluster presentations in a Fall/Winter 2018 season more notable for absences than appearances. J.W. Anderson blended his menswear and womenswear shows together and Martine Rose took a season off. However Craig Green remained one of the key names on the season's schedule — having brought fans round to his particular blend of workwear. "It always starts from the same place" says Green, when asked about his influences. "It always references uniform, workwear and tradition… rather than say, one season we're doing the 1960s and next season we're doing something else."
One criticism leveled at Green earlier on in his career by press was that the designer was too consistent. But what excites press and what builds a brand are often two clashing ideas, as seen by the number of press darlings who've struggled to sell clothing, such as Agi & Sam who went from winning 2013's best emerging designer BFA award to going into liquidation in 2017.
"As a brand, we're trying to build our own signature silhouette, which is our classic worker jacket and our classic shape of uniform trouser," says Green. "In terms of the brand, it shows our focus in order to show the purest creative side of what the brand is. In addition to that we also have a strong desire to make accessible and wearable clothing."
This interest in a classic work-based silhouette has long fascinated Green, the son of a plumber and a nurse, whose everyday uniforms caught his eye. "I was surrounded by people who worked very hard and wore uniforms daily," he says. It's this, more so than anything involving fashion, that interested him. In an early interview during his time at Central St. Martins, he said he'd actually never bought a fashion magazine before joining the school and originally planned on becoming a portrait painter, saying "but somehow this ended up becoming fashion."
"There's a beauty to both uniform and religious wear."
This also became his graduate collection, inspired by the aforementioned workwear influences and its relationship with religious garments. "There's a beauty to both uniform and religious wear," he says. "I liked the idea that one is for a physical purpose or function and one is more for spiritual function." The collection immediately put Craig Green on the map as a designer to watch — both a blessing and a curse. Often young designers don't have the means to actually produce their collections. Early press can appear beneficial but often leaves them unable to turn buzz into sales without solid financial backing.
The Spring/Summer 2013 collection had the good fortune of coinciding with the launch of London Collections: Men. "Launching a brand at that time was such a great opportunity to show on a world stage, but from home," he says. Having worked at Walter Van Beirendonck and Henrik Vibskov as an intern, he'd seen how not being part of a well-attended dedicated menswear week affected brands. "They were showing on a completely different schedule to the rest of the menswear designers around the world and having to sell the collection two months before."
Green's first show under the MAN banner was his Fall/Winter 2013 show, which he did alongside Agi & Sam and Astrid Andersen. He completed two more seasons before breaking out with his Spring/Summer 2015 collection — notable for being his first foray into denim. "Denim has always felt like one of those fabrics that was akin to what we were doing already. We have done it a few times, but not in a traditional way." The designer had long been interested in it in a general sense: "There's always something really beautiful about denim. It wears over time, it becomes more beautiful as it ages and it's made to last. There's something permanent and beautiful about that."
The brand made denim for Spring/Summer 2015 and '16 but they stopped after that, noting that they have "been trying to work out how we would do a Craig Green denim range." For Green the issue was the fabric's sheer ubiquity. "Denim is something that every brand on every level explores," he said. "We've developed it over a few years. And this season, Spring/Summer 2018, felt like the right time and right way to introduce it in a wider sense."
The goal was to simply make denim in a Craig Green way rather than making a standard pair of jeans and slapping a logo on it. "It was more the feeling that we took our kind of classic signature silhouette and developed it in denim at the very beginning." He instead wanted his denim line to sit alongside his other line, the core collection — which consists of what are now his staples, such as the worker jacket, shirts and trousers.
These core pieces caught the eye of one Janty Yates, costume designer for Alien: Covenant. "She just turned up and knocked on the studio door" says Green. He was clearly amused that a costume designer for a Hollywood film would find herself in his then Hackney-based studio, close to a pawn shop and a Tennessee Fried Chicken fast food restaurant.
"She wanted to borrow pieces to show to Ridley Scott as they were working on the new Alien film." Green, a fan of the Alien franchise since his youth, obliged. "Apparently she'd sent pictures of the collection to Ridley [Scott] and thought it really fitted into the brief of how they would approach the new collection of costumes for the film." They used the Fall/Winter 2015 show as the starting point for the pieces in the film, which included the sleeper suits worn on the flight and the mercenary clothing when the group visit the planet.
"Obviously it's incredible that someone like Kendrick or Drake wear something that you've made."
The design qualities in Green's clothing have attracted a much wider following than just the fashion world, which would explain why Kendrick Lamar has made his pieces an integral part of the musician's DAMN tour.
"I didn't know it was happening until I saw it online", says Green, when asked about how Kendrick got in touch with him. "Obviously it's incredible that someone like Kendrick or Drake wear something that you've made; it's a very important thing and it's quite surreal when you think it's something you made in the studio a few months before." But even more pivotal for the designer was seeing how his pieces translated to the realm of performance. "When you see a catwalk photo or a model walking, you don't get that feeling of how deconstructed some of those pieces are. I think it's really important to see it in that way."
Green's opportunities to see his designs in new settings are only positioned to grow, as he has just been announced as a special guest designer for Pitti Uomo 94 in Florence — marking the first time he'll show outside of London. Despite this persistent success, though, Green remains in slight bemusement at his stature. "I would think it's weird that people think I'm a big name as well, because I still don't feel very big," says Green in one of the few instances where he uses "I" instead of "we."