UMBC Dominated in Unprecedented NCAA Tournament Upset, No Perfect Brackets Remain
The Retrievers historical win inspired some shout outs and doggo memes.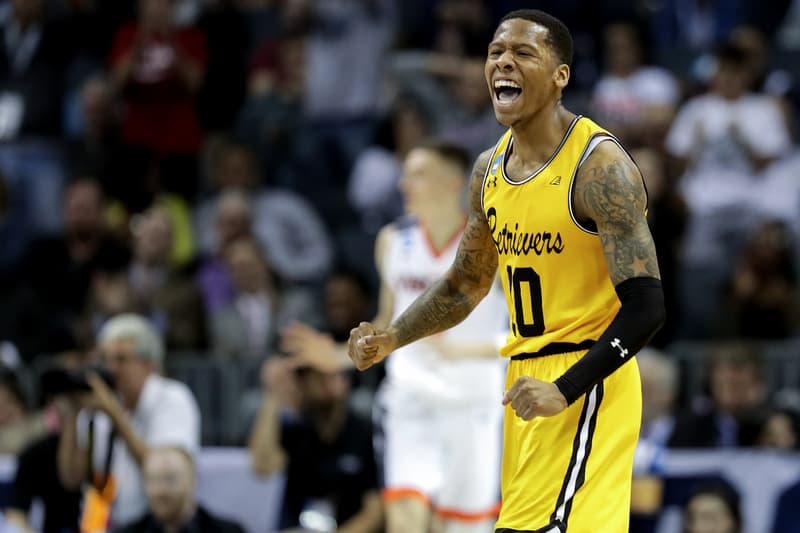 After day two of the NCAA Men's Basketball Tournament, no perfect bracket remains, and many more are likely better off ignored for the remainder of March Madness. And yet, the agony is oh-so worth it. Last night, no. 16 UMBC — the University of Maryland, Baltimore County Retrievers – completed the impossible, taking down the no. 1 overall seed, the University of Virginia Cavaliers, and seemingly rather effortlessly.
The Retrievers are the first no. 16 seed in 136 games to beat a no. 1 seed, and at 74-54, it wasn't even close. They dominated. "We got our butts whipped," Virginia Head Coach Tony Bennett even admitted after the game. Led by Jairus Lyles and his game-high 28 points, UMBC hit the boards all night, kept the pace up, moved the ball and shot 50% from three; the Retrievers simply outplayed the Cavaliers, who looked slow and out-of-sync, especially in the second half, where they were outscored 53-33.
The unprecedented win inspired some shout-outs from pro hoopers as well as some fun Golden Retriever memes. Check them out below, and catch UMBC again on Sunday against no. 9 Kansas State.
so the worst team in the tournament, beats the best team in the tournament…I LOVE MARCH!!

— Chandler Parsons (@ChandlerParsons) March 17, 2018
My young boy Jarius Lyles out here cooking!!! #feathery #onedematha

— Victor Oladipo (@VicOladipo) March 17, 2018
Jarius Lyles is looking like he next mid-major NBA star

— Ryan Hollins (@TheRyanHollins) March 17, 2018
2018 – Golden Year of the Dog

Coincidence? We think not. #MarchMadness pic.twitter.com/Na7yTBDD9w

— NCAA March Madness (@marchmadness) March 17, 2018
Live look at the UMBC Retrievers ripping up your bracket pic.twitter.com/KWENLaezd6

— Rodger Sherman (@rodger_sherman) March 17, 2018
— Tom Fornelli (@TomFornelli) March 17, 2018
When they didn't see you comin #UMBC #Virginia pic.twitter.com/5lA2VrfWcR

— Karen Howell (@karenehowell) March 17, 2018
A live look at UMBC: pic.twitter.com/XJIz6JSMb7

— SB Nation (@SBNation) March 17, 2018
I thought those UMBC uniforms looked familiar… pic.twitter.com/7ltZsj4RCd

— Bill Crawford (@dveBillCrawford) March 17, 2018
PUT SOME RESPECK ON IT! WE HAVE DEFEATED NO.1 OVERALL SEED VIRGINIA 74-54

— UMBC Athletics (@UMBCAthletics) March 17, 2018