Is H&M's Graffiti Scandal Apology Too Little Too Late?
The artist-led boycott has far-reaching implications for fashion and art.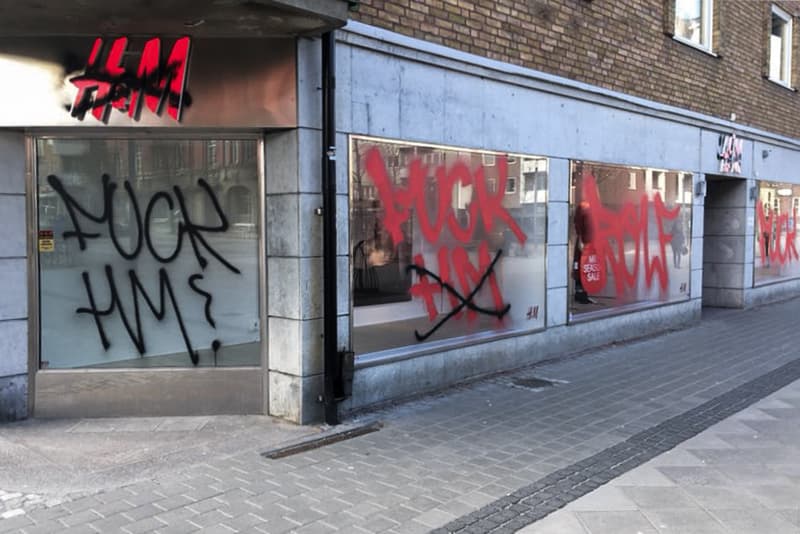 In the past year, H&M has been continuously rebuked for foul play, from allegedly copying designs from high-end labels such as Vetements, to sending the Internet ablaze over its "coolest monkey in the jungle" hoodie design. Now, the fast fashion giant has landed under fire for issuing a lawsuit against street artist Jason "REVOK" Williams.
The lawsuit was a response to a cease and desist letter sent by Williams requesting H&M remove an ad campaign featuring his street art. On the grounds that the art was considered a product of criminal conduct, the lawsuit shot back, "Mr. Williams has no copyright rights to assert."
While H&M's hoodie design may have been tacked up to gross oversight, this street art controversy is direct action on H&M's part and in fact, the most serious action a company can take: issuing a lawsuit. H&M's response has ignited leading artists, including KAWS, Daniel Arsham, STASH and legendary NYC-based graffiti collective TATS CRU, who have all denounced the lawsuit, identifying the move as a direct target on artist's rights.
The backlash erupted when acclaimed American curator, author and street art expert Roger Gastman shared a post on Instagram this past Wednesday relaying the global artist community sees H&M's lawsuit as "a threat to artist's rights." Unwittingly, H&M waged war and its legal action had far-reaching implications for the debate over the legality of street art.
"The problem [with this case] is the precedent it could set which would make lives more difficult for artists in the public domain."
H&M threatening Williams with criminal charges in the lawsuit could set a precedent for federal copyright law over graffiti, which remains unsettled. If Williams were convicted then works of graffiti or street art across the board could be utilized by corporations without permission from the artist who created it. "The problem [with this case] is the precedent it could set which would make lives more difficult for artists in the public domain," explains acclaimed street art photographer Daniel Weintraub known as Halopigg.
The terms used to describe street art — even within the movement — are blurred. "Some may say as soon as it's legal it's no longer graffiti. I like to use adjectives because art is hard to define. Legal graffiti, illegal street art, legal mural, unsanctioned installation," adds Weintraub.
At the core of this issue, though, is H&M's apparent lack of an attempt to understand the subculture and a lack of consideration for their actions. "Those who say graffiti isn't art are out of touch or misunderstand the art form and movement itself," Gastman tells HYPEBEAST. While some may describe the art form as vandalism, there's no denying the artistic merit of the medium. Works of graffiti continue to have a presence in places where most would consider it to be unfit, such as auction houses.
Speaking from his experience working in brand collaborations, Gastman asserts that corporations should respect the works of artists whether or not they are working with them. "Brands need to understand that not everything can be taken for corporate use and gain. Respect the artists. Work together with the artists instead of taking their original ideas," he adds.
As public discourse continues to shift, brands are under more intense — and justified — scrutiny. In the case of H&M's campaign, the street art itself was not directly sold on merchandise, but it was key to the aesthetic of their sales campaign. Without the street art in the background, the campaign shot would have stood as two-dimensional.
"If H&M would have asked me for permission to use my work, I would have said no."
Where H&M's lawsuit claim struck tone-deaf, was in appropriating the work for its aesthetic and failing to grasp what the work represents. "Graffiti writers understand the impermanence of their work on the streets. What is not accepted is it being taken for use in merchandising, sales and advertisement, being used as creative for campaigns without consent. The current laws need to adapt to the times," explains Gastman.
Indeed, Williams's initial letter requested to cease usage of the work and to amicably come to an agreement — not compensation or even credit. "If they [H&M] would have asked me for permission to use my work, I would have said no," Williams said in an exclusive statement to HYPEBEAST. Williams' refusal to have his work associated with the campaign, is tied to the spirit of street art — anti-establishment — and it's the same spirit that H&M aimed to appropriate and then denied credit for.
"H&M sees value in my art to help sell their products, but sees no value in me or my work," adds Williams. Recognizing the consequences of their actions, H&M came out with a statement on the lawsuit:  "We should have acted differently in our approach to this matter. It was never our intention to set a precedent concerning public art or to influence the debate on the legality of street art."
According to Williams's attorney Jeff Gluck, in a statement made to HYPEBEAST, H&M's counsel communicated they will in fact not be dismissing the lawsuit. Further, H&M's statement on the matter was made before any communication to Williams or his attorney. A spokesperson for H&M has responded to this allegation stating, "I can confirm 100% that we have dropped the suit against Williams. We are hopeful we can have a dialogue with the artist and his team in order to find a solution."
These alleged actions raise into question whether the company's primary concern is saving face or truly addressing the matter. Meanwhile, the "he said, she said" and murky communication points to internal challenges of operations within a major company like H&M.
"I'm not sure who is behind the scenes making these bad decisions for them, but I think this time they will realize how big of a mistake they have just made," says Williams. William's sentiments are widely echoed: who is making these decisions? "Someone sat in a boardroom and was like, 'No, we won't pay some designer to fake graffiti anymore. That's why we pay lawyers,'" adds Weintraub.
From an outsider's perspective, it's difficult to tell — but consumers and critics are not discerning whether the original decision came from a lawyer or H&M's recently appointed global leader for diversity and inclusion. What consumers are voicing, though, is that they are angry.
"Companies aren't ready for the purpose-driven transformation the market is demanding."
Whether or not a move like this will actually hurt the brand, depends on what the brand represents, explains Adam Padilla, co-founder of BrandFire, a branding agency with clients ranging from Coca-Cola to IKEA. "H&M seems to believe in 'affordable fashion for all,' not protecting the rights of the artist. Therefore it does not hurt their brand for them to take legal action against a lawsuit by a street artist," he says.
The overarching question, though, is if any brand can continue to sustain on an image that believes in "affordable fashion for all" while failing to make efforts to understand the communities it is affecting, and even appropriating. Aligning and listening to this scrutiny is not just a trend, it's a paradigm shift.
"Companies aren't ready for the purpose-driven transformation the market is demanding. Just like 15 years ago when they weren't ready for the digital wave and companies couldn't decide whether digital was marketing, IT or something else entirely," explains Drew Train, co-founder and president of OBERLAND, an agency dedicated to building brands with a higher purpose.
"Each time things like this happen, the damage for brands gets bigger because it's becoming more normalized for consumers to see their expenditures as value choices," adds Train. In this case, the movement against H&M is only gaining steam, as artists continue to call for a boycott of the brand and several H&M stores have become subject to tagging. In dealing with these recent developments, H&M faces another difficult decision: pursuing legal action or not.