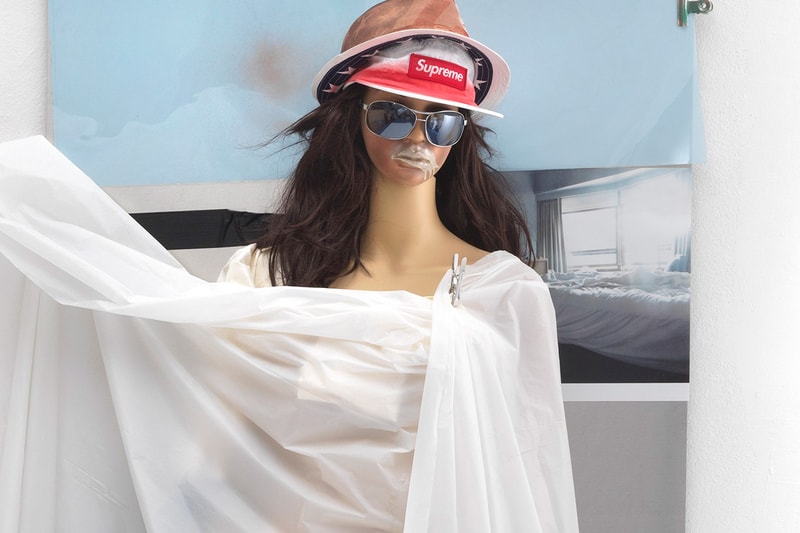 Best New Art: Isa Genzken, KAWS, George Condo & More
Including a Yayoi Kusama show of "Small Pumpkin Paintings."
---
Pop Art first gained prominence in the 1960's with the now iconic artists Roy Lichtenstein, Claes Oldenburg, James Rosenquist, as well as Andy Warhol pioneering the movement. The genre brought the world of cartoons, commercial advertising and other mass culture phenomena into the high art space. It continues to influence major contemporary artists today such as Takashi Murakami, KAWS, and even German conceptual artist Isa Genzken, who is known for turning mainstream fashion on its head with her unconventional mannequin installations.
Check out Pop Art-inspired works below alongside current and upcoming shows across the globe.
Isa Genzken's "Sky Energy" Solo Exhibit in NYC
David Zwirner in New York City recently launched a solo exhibition titled "Sky Energy" that features new works by contemporary German artist, Isa Genzken. The show, which is the artist's fourth with the gallery, is comprised of decorated mannequins, concrete sculptures, wall-mounted paintings and various renditions of her reoccurring Schauspieler (Actors) series. Collectively, Genzken is widely-recognized for her boundary-pushing installations that touch upon commercialism, pop culture, fashion and the media.
Visit David Zwirner's official website to learn more. "Sky Energy" is currently open to the public up until April 7.
David Zwirner
525 W 19th St.
New York, NY 10011
KAWS Announces New Solo Exhibitions in Tokyo & Hong Kong
KAWS is set to launch solo exhibitions at contemporary art gallery Perrotin's Tokyo and Hong Kong locations. The Brooklyn-based artist will showcase new paintings that reflect abstract pop art influences alongside visual reinterpretations of iconic pop culture figures. Conclusively, new sculptures that portray KAWS' signature cast of characters, such as Companion and Chum, will be on display at both locations.
Visit Perrotin's official website to learn more about the upcoming shows.
Perrotin Tokyo
Pyramid Building, 1st Floor
6-6-9 Roppongi, Minato-Ku
Tokyo, Japan
Perrotin Hong Kong
50 Connaught Rd Central, 17th Floor
Central, Hong Kong
George Condo Faces off with Pablo Picasso in Upcoming Sotheby's Hong Kong Exhibit
Sotheby's Gallery in Hong Kong will soon launch a new exhibit spotlighting "psychologically-charged" paintings by legendary artists George Condo and Pablo Picasso. Titled "Face-Off: Picasso/Condo," the exhibit will portray the similarities and differences between the two artists' signature portrait paintings that were produced in two different time periods with distinct styles and movements. All of the artworks will be auctioned with pricing details to be determined by the gallerist.
"Face-Off: Picasso/Condo" will be open to the public starting March 16 up until March 31. Visit Sotheby's Hong Kong's official website to learn more.
Sotheby's Hong Kong
5/F, One Pacific Place, 88 Queensway
Admiralty Hong Kong, Hong Kong
Yayoi Kusama's "Small Pumpkin Paintings" Show in London
The Omer Tiroche Gallery in London is currently hosting a show for the iconic Japanese artist Yayoi Kusama. Titled "Yayoi Kusama: Small Pumpkin Paintings," the exhibit features small-scale paintings portraying Kusama's signature pumpkin compositions mounted on the gallery's walls. The walls of the gallery also match the polka dot pattern of the works. "I was enchanted by their charming and winsome form. What appealed to me most was the pumpkin's generous unpretentiousness. That and its solid spiritual base." The exhibition is open now and is set to run until June 1.
Visit the Omer Tiroche Gallery's official website to learn more.
Omer Tiroche Gallery
21 Conduit Street
London
W1S 2XP
Willy Vanderperre's First-Ever Solo Show in Europe
Willy Vanderperre recently launched a new solo exhibit at London's 180 Strand simply titled "Prints, films, posters and mores." The renowned Belgian photographer is widely recognized for capturing high-profile campaigns for both Raf Simons and Calvin Klein's eponymous labels. All in all, the exhibit features a broad range of images culled from the photographer's extensive portfolio that dates back 30 years. The show is currently running up until March 17.
180 Strand
London
WC2R 1EA