Virgil Abloh Shares Work in Progress for Upcoming Takashi Murakami Co-Exhibition
Opening February 20.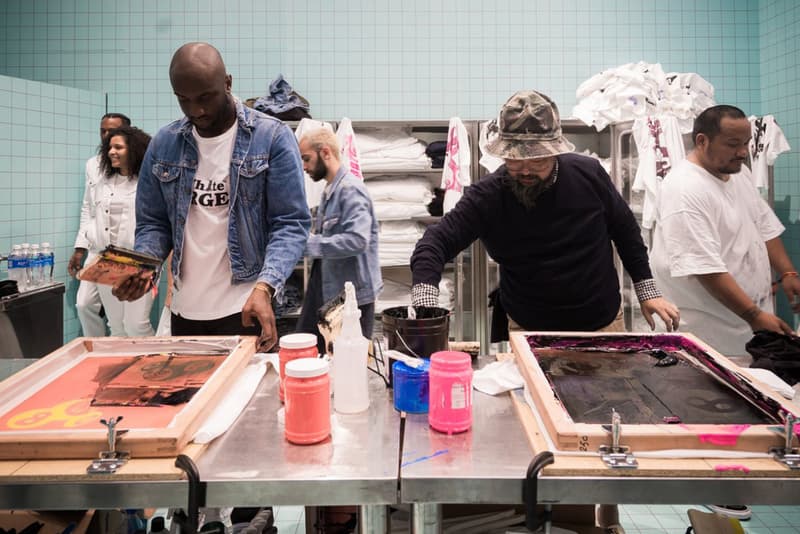 After teasing a series of handmade T-shirts, Virgil Abloh recently shared a work in progress for his upcoming Takashi Murakami co-exhibition.
Set to take place at Gagosian Gallery's Davies street London location, the collaborative exhibition will serve as a mashup of fashion and art. Drawing from the signature elements found in Virgil's Off-White™ label and Murakami's iconic art career, the launch of the exhibition will surely become a highly talked-about event.
In the work in progress clip posted on Virgil's Instagram, a large-scale Off-White™ square arrow emblazoned with Murakami graphics is seen being worked on. Utilizing screen printing, the two members of Murakami's artist team show off the streetwear technique that has served as a point of fusion for the upcoming art exhibition.
Check out the work in progress for Virgil Abloh and Takashi Murakami's Gagosian Gallery exhibition taking place February 20.
For more art news, make sure to check out our streetsnap of Takashi Murakami at his "The Octopus Eats Its Own Leg" exhibition in Vancouver.
Gagosian Gallery Davies Street
17-19 Davies Street
London, England