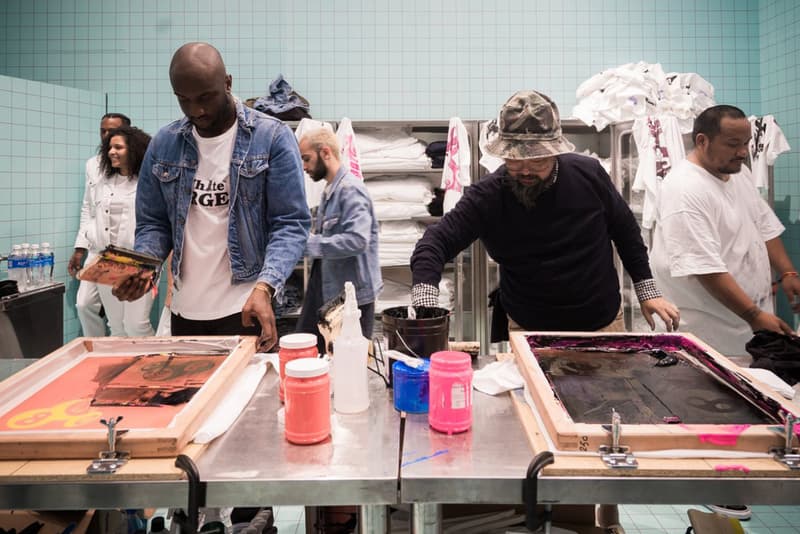 Best New Art: Takashi Murakami, Virgil Abloh, KAWS & More
Including an Ai Weiwei retrospective in Buenos Aires.
---
When fashion and art collide, it opens various avenues for untapped creativity. Take for instance Takashi Murakami and Virgil Abloh's unlikely partnership last year when the cohorts teamed up on a silkscreen activation. Their collaboration doesn't end there as the duo prepares for an upcoming show at a Gagosian gallery in London where Abloh will lend his fashion abilities to produce actual works of art. Collectively, each one helms a mentor role while the other is an apprentice, sharing their creative knowledge to elevate/blur the lines of fashion and art.
We've already seen numerous examples of fashion designers switching to art such as Helmut Lang, Kenzo Takada, and Karl Lagerfeld. However, there are very few examples of artists turning into legitimate fashion designers. Will Takashi soon announce his foray into the runway? We'll just have to wait and see.
Read on to learn more about the Gagosian exhibit alongside new artworks by KAWS, legendary Japanese illustrator Toshi Saeki and more.
Virgil Abloh & Takashi Murakami Co-Curate Upcoming Gagosian Exhibit
Virgil Abloh and Takashi Murakami are lending their curatorial talents to an upcoming exhibit at one of Gagosian's galleries in London. Fashion meets art in this impending showcase titled "Future History" that will ostensibly have collaborative paintings by the cohorts on display. The iconic Japanese artist initially teased the show on Instagram, sharing a work of art that features a collage portrait of William Shakespeare adorning a mask of Murakami's Mr. DOB character coupled with splotches of neon pink paint. Accompanying the exhibit are limited co-branded merchandise by the duo that will presumably be purveyed throughout the course of the show.
Official details are still pending, but stay tuned for updates and visit Gagosian's website for further information.
KAWS, George Condo & Jeff Koons Take Part in Sculpture Exhibit
Skarstedt Gallery in New York City recently wrangled a handful of acclaimed artists such as KAWS, George Condo, and Jeff Koons for a new sculpture exhibit. Titled "Approaching the Figure," the extensive presentation features Koons' Bear and Policeman piece from 1998, Fischl's Ten Breaths: Tumbling Woman II, and a never-before-seen, large-scale BFF bronze figure by KAWS. The exhibit is currently open to the public up until February 17. Visit Skarstedt Gallery's official website to learn more.
Skarstedt Gallery
20 E 79th St
New York, NY 10075
Ai Weiwei Launches Major Retrospective in Buenos Aires
The politically-charged sculptures of celebrated Chinese artist Ai Weiwei are currently the subject of a current exhibit at the Fundación PROA in Buenos Aires, Argentina. Titled "Inoculation," the monumental showcase highlights several iconic Ai Weiwei pieces including his massive "Forever Bicycles" piece, a sculpture made up of porcelain crabs titled "He Xie," as well as an artwork that is comprised of handmade porcelain seeds aptly named "Sunflower Seeds."
"Inoculation" is currently open to the public up until April 4. Visit Fundación Proa's website to learn more.
Fundación PROA
Av. Don Pedro de Mendoza 1929
CABA, Argentina C1169
Yoko Ono, Barbara Kruger & More Artists Create New York Covers
New York Magazine is celebrating its 50th anniversary this year by enlisting iconic artists to design unique covers through October. Several notable covers include Barbara Kruger's "PRUMP/TUTIN," Hank Willis Thomas' "ALL LI ES MATTER," Alex Katz's sketch of a man holding his smartphone, and Marilyn Minter's photograph that depicts a young man scribbling the words "HOME OF THE RESISTANCE" onto a foggy window. Collectively, the contemporary art covers pay homage to varying aspects of everyday New York City life and spotlight significant socio-political issues.
Visit New York's official website to view more covers alongside further information.
Toshi Saeki Creates New Erotic Art at Japan's Nanzuka Gallery
Legendary Japanese artist Toshi Saeki prepared new paintings, sketches, as well as large-scale murals for his largest solo show at NANZUKA gallery in Tokyo, Japan. Titled "Unnen," the illustrative artworks in the wide-ranging showcase blend horror, humor and eroticism influences. Conclusively, the artworks range from contemporary to archival works that were produced as early as the 1970s. "Unnen" is currently open to the public up until February 24. Visit NANZUKA's official website to learn more.
NANZUKA
2-17-3 Shibuya, Shibuya-Ku
Tokyo 150-0002
Japan