Tay Keith Believes "Look Alive" Success Could Squash the Memphis Hip-Hop Beef
And why Memphis needs more resources.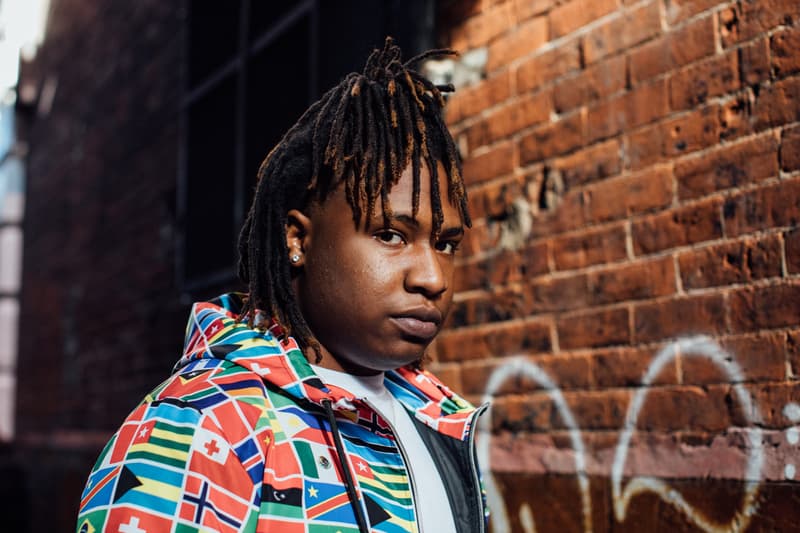 When Drake and BlocBoy JB released "Look Alive" last week, it was celebrated as another big win for Drizzy. For JB, the hit was an introduction to mainstream media. The song collected millions of views within 24 hours — the YouTube tally currently sits at over 8 million plays — and is on a solid trajectory to land on the Hot 100. Also coming out on top is the song's producer, Memphis-native Tay Keith.
The 21-year-old had a booming 2017, establishing himself as Bluff City's go-to producer. From Young Dolph and Moneybagg Yo to BlocBoy JB, Yo Gotti and Juicy J, Keith has played a hand in developing hits for Memphis's brightest artists. "Look Alive" not only added a huge win to Tay's resume but will also cement his place as one of the most sought-after producers this year.
The Middle Tennessee State University student started his career as a rapper but transitioned to making beats when he was a teenager. Through producing he began to link up with local talent all throughout Memphis, which — to anyone who knows the scene — is no easy task. The city has always been notoriously territorial, with different neighborhoods not associating with each other. These territories are filled with gangs and often play host to violence, which bleeds over to the music industry. Of note is the Black Youngsta and Young Dolph feud, which has turned violent multiple times. Dolph's was shot at twice, with the last incident reportedly being life-threatening. Treading lightly, Keith has worked with both camps and hopes to unite the city as he gains notoriety. "Look Alive" will help him reach his goal, while also pushing his name and sound to masses across the globe.
While in New York City, Keith stopped by HYPEBEAST to discuss how the song came together, his connections in Memphis and why the city's music scene needs more resources now more than ever.
HYPEBEAST: Tell me how "Look Alive" came together.
Tay Keith: It was crazy, I made the beat in like 30 minutes. Drake my homie, he reached out to me and hit me up and for him to do that, it was a major move for me. Like, "Damn, this really Drake hitting me up?" I sent him beats, he dropped on in, sent it to Bloc and they finished the song and knocked it out ASAP. For him to notice me it let me know that a lot of other people are noticing me. So it motivated me to grind harder.
When you made that beat, what did you use and what did you think of the beat initially?
I made it on FL, Fruity Loops 11 to be exact. I didn't think nothing of it. It had the kind of similar sound of the Memphis bounce to it, like old Three 6 Mafia but with that new 808 sound. I added the creepy piano sound, a kind of melodic new wave that I'm making. That sound is going to be a new wave for sure. I didn't think nothing of [the beat] but it opened up the doors for me to branch out with different sounds that I've been doing already.
When did you hear the finished recording? What was your reaction?
I got it right after they finished. I was like, "Damn this shit real." I couldn't believe it, this shit is crazy. I couldn't believe it was actually done. We had worked so hard developing this shit and for it to get to this point, it made me just really think about like damn, I actually made it.
"I was shocked, just watching this, it has my name in it."
It did like two million views in a day.
It's at 7 million now. In the first day, when it hit the first million, I was like damn but before you know it, it hit another million. I was shocked, just watching this, it has my name in it. I was like damn, its major exposure. It's more exposure than I even realize.
BlocBoy JB brings a different energy when he raps.
BlocBoy has always been a good rapper, people sleep on him and shit. I have seen the days when people were sleeping on him. With him to keep rapping and stick to his sound, it just shows me that you can make it in the industry just from being yourselves and sticking to what they believe in and not worrying about what everyone's else opinions are. JB stuck with the Memphis sound. He didn't just want to go with the flow that everyone else is doing. For him to keep his own character and stay the same, I got much respect for him.
You've been working with him since the beginning of his career right?
I made his first mixtape cover. He told me he wanted to drop a mixtape and I was like let's do it. But he didn't put it out until a year after I made the cover. [laughs] I used to always stay on him. He had to use my account to Spinrilla to get his tape on the front page. At that time, he didn't have enough followers. Now he's verified.
There's a new generation of talented artists in Memphis and you're producing for all of them. How did you link up with everybody?
Memphis got hella talent, it's just a lot of hate within the city that kind of holds us back. I went against that shit. I was making beats for everybody. I wasn't, "No, I won't fuck with you because of this" or "I won't mess with you because of him," I was like, "I'm on a level with everybody." It's just strictly about the music and getting us out here — breaking the boundary down for Memphis. I had linked up with MoneyBagg I want to say my Freshman year in college.
We had bumped into each other a couple times and just went on from there. As far as Blac Youngsta, I had linked up through him through…the first beat he rapped on [from me] was because of Key Glock. Me and Key Glock went to the same high school together at Hamilton High School. That's my homie for sure, he just dropped [our new record] "Russian Creme." As far as BlocBoy JB, he stayed on the next street over from me when I moved with my dad. We were always kicking it and shit, that's like family.
"Memphis got hella talent, it's just a lot of hate within the city that kind of holds us back."
Who are the artists in Memphis that aren't known but will be?
It's a couple of them, JC Gwalla, he finna come extra hard, he got the work ethic to be big one day and he got the support for me and BlocBoy because he's our homie from the hood too. He got a lot of potential and we actually about to shoot a video for our latest single we dropped, me, him and BlocBoy. Rico Dinero, Co Cash, he got potential, hella punchlines and bars. Most people are catching on to his shit now. Kenny Money, I fucks with him off the strength we've been doing this since high school. He got a nice buzz in Memphis.
What does it mean for you breaking out as a Memphis artist?
Really coming from Memphis and actually making it and getting in the industry, sort of, it is a blessing. It's a lot of people who done the things that I did or try to do the things that I did and did not succeed or have a long run. I just feel like I set it up, as far as my longevity, that came with me working with Memphis artists and now I'm just not branching off to other artists. I got most of these hits with Blac Youngsta, and Moneybagg Yo and JB and they are from Memphis so now that I've been branching off, more artists in the industry like Juicy J, Jeezy, just more artists in different cities. I feel like it's going to help me build more.
You mentioned earlier that Memphis has tons of talents but it's a lot of hate within the city, like a crab in a barrel mentality? How can that be fixed?
I'm going to fix it. I'm starting a label and signing people. I don't care where they from. I might sign him from this side and I might sign him from that side. I'm going to make the value of Memphis music scene go up. People are going to have to respect it.
It's a beautiful city with a rich history in music. Where do you see the new generation of Memphis rappers taking the city?
I feel like the first step is to get people to put more into Memphis. What I mean is, even if I start a label and put people on in Memphis, that's going to be a step, which bigger artists have done. But the next step is getting studios in Memphis and getting labels to get offices in Memphis and have shit like HYPEBEAST in Memphis. We got to have more resources, we're lacking resources. I know a lot of these companies don't feel safe coming to Memphis but I feel like when we get the ball rolling, that's going to be a major help in developing the city overall. We got so much talent and I hate that the city is so down like this. We got to get more resources when it comes to music.
What project or song you worked on that you're the most excited for?
A project, I got a whole tape with Juicy J. It's cool because it's from the old Memphis to the new Memphis, that's going to be one of my most anticipated move this year. Then I got a single with Tommie from Love and Hip-Hop and Blac Youngsta. Major respect to Blac Youngsta too. He really supported me when I was coming up, he really believed in me before all these major rappers started to.