HYPEBEAST Mix: DâM-Funk - 45 Glyde (An All 45"s Mix)
"No MP3 files were used. Instead, all original wax pressings were used for this mix."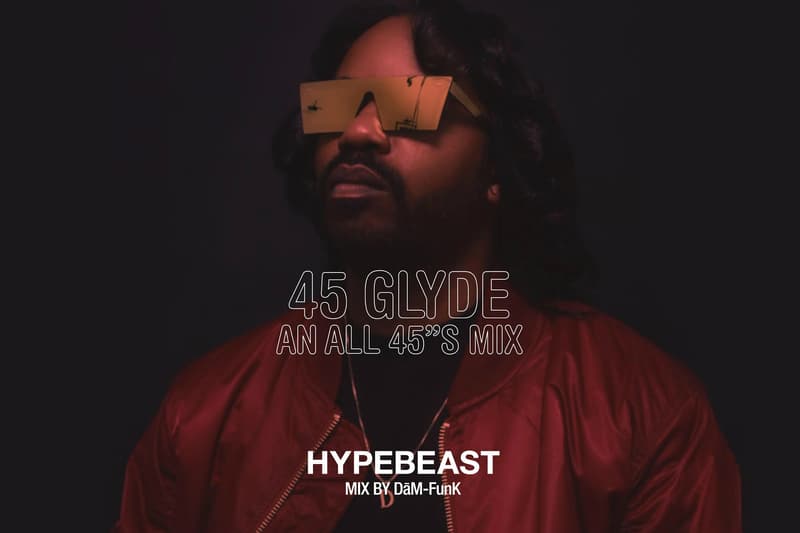 For our latest HYPEBEAST Mix series, we've linked up with the "The Ambassador of Boogie Funk" himself, DâM-Funk. He brings to us some extremely rare cuts stemming from his personal collection of vinyls that were masterfully arranged into a seamless 50-minute mix comprised of all 45" records.
"No MP3 files were used. Instead, all original wax pressings were used for this mix," he explains. In addition to the mix, we were fortunate enough to speak with the Stones Throw legend who shared some insight on his current inspirations (past and present), his new startup label, and even confessing his love for metal which he tell us: "I may squeeze an electric-metal project in under another pseudonym sometime before I finally sit on down for infinite margaritas & sunsets on a remote island somewhere. Ha! Ya' never know with me though."
Check out our DâM-Funk Q&A mix down below and tune into his new Glydezone radio show which airs every third Friday of the month at 1 p.m. PST on RedBullRadio.
You've mentioned in the past Prince was one of the most influential figures in your life, but are there any contemporary artists that have inspired you as well?

Yes he was. Other artists that have inspired me and my sound are Larry Heard aka Mr. Fingers, Todd Rundgren, Junie Morrison, Barry White, Paddy McAloon (of Prefab Sprout), SLAVE, One Way, P-Funk, ZAPP, Mtume, Kashif, Change, Leon Sylvers III (productions), Jimmy Jam & Terry Lewis (productions), Angela Winbush, and a host of other obscure artists.

Those are some legendary names, what about your thoughts on the new wave of artists coming out of Los Angeles?

Nice things happening. No one in particular but, the West is having a moment. Looking forward to the new Nipsey project, among being glad that the Funk sound is still being infused in many of the creations from this region at the moment.

Describe the perfect day for you.

A perfect day is enjoying a nice ride around town in my old school, with music of my choice, work completed if some is required, and a smooth cocktail to end it all. No drama within that "perfect day" is always the goal. Low stress glide.

What are you currently working on for 2018? Anyone you're looking to work with?

I'm currently working on my first full length project since 2015's Invite The Light triple LP set, which was quietly released on Stones Throw Records. Also, working on my monthly radio show, which airs every third Friday at 1 p.m. PST on RedBullRadio.com called Glydezone. In addition, I'm humbly building my own label outlet for my music & carefully selecting other artists via the same name — Glydezone Recordings.

Throughout your career, whenever your name comes up in music circles, people always speak highly of you. What are some foundational principles you stand by?

I appreciate that, sincerely. A few of my foundational principles are:

- Don't forget your original dreams.
- Know your worth.
- Treat people the way you'd appreciate being treated.

You're known for also being a big fan of metal, would you ever consider doing a metal album?

That's true indeed. I grew up on metal such as: Iron Maiden, Saxon, Queensrÿche, Motörhead, (early) Metallica, to mid-range metal such as KISS, (David Lee Roth era) Van Halen & Prog-Rock rimmed stylings of RUSH and even the guitar-virtuoso dimension of Allan Holdsworth. I wasn't scared to explore when I was growing up. I wasn't only into funk, house, disco, boogie, new-wave, hip-hop and electro. I wanted to make one (a metal project) earlier in my career but, ya' never know what's in store. I may squeeze an electric-metal project in under another pseudonym sometime before I finally sit on down for infinite margaritas & sunsets on a remote island somewhere. Ha! Ya' never know with me though.

Final words?

Try your best to think and stay positive out here. Peace and thanks for all of your support over the years. Take good care and keep the funk alive. It's not a fad, rather; it's a way of life.
Tracklist:
1. Tal Armstrong – You've Got So Much Feeling (In Your Love) • Love Records / 1986
2. SAI WHATT?? – Same Ole' Story • Stache Records / 1978
3. FAZE-O – True Love • She Records / 1977
4. True Design – When [sic]Your Down • Macdad Records / 1984
5. Garth – Special Part Of My Life • New Orleans Records Ltd / 19??
6. Carletta Sue – You Keep Holding Back On Love • String Records / 1985
7. Emotions – You're The One • Red Label Records / 1984
8. Lady Margaret & Perry Smith • Gemini Records / 1979
9. Kayla Hill – Emotion Calling (Instrumental) TCC Records / 1986
10. Craig T. Cooper – Love Dues (Instrumental) • Valley Vue Records / 1988
11. Satellite – You're The One I Love • High Altitude Records / 1984
12. Tavell – Later For Dancing • T.N.T. Soul Records / 1983
13. Roy Ayers – Programed For Love • Columbia Records / 1985
Join Our Discussions on Discord
The HYPEBEAST Discord Server is a community where conversations on cultural topics can be taken further.