Best New Tracks: Frank Ocean, King Krule, Q-Tip, Kendrick Lamar, Nipsey Hussle, and More
Get your weekend playlists ready with these.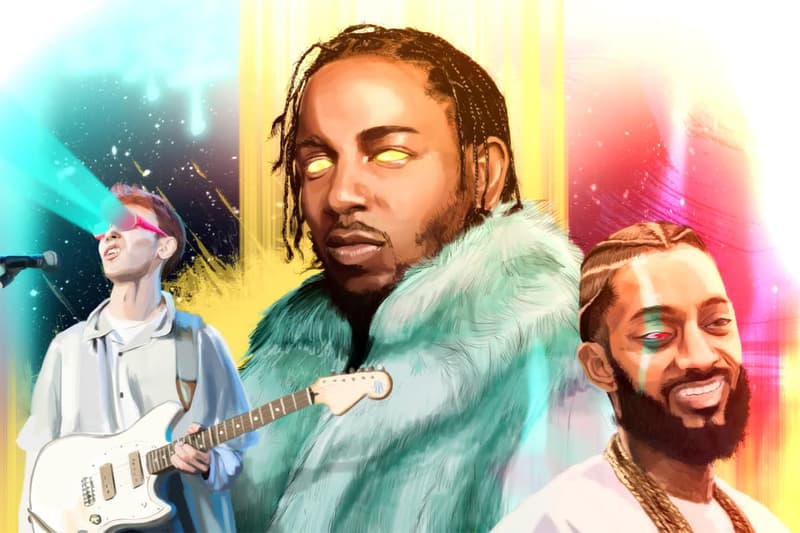 Before we get into this week's music roundup tracks, we wanted to highlight the uplifting gesture from Drake this week who donated a whopping $1 million USD to the people of Miami, which became the subject of his new music video for "God's Plan." The midway point of February also saw the return of Frank Ocean who dropped his first track of 2018 – a cover of Henry Mancini's 1961 classic, "Moon River." YG also dropped off his first track of 2018, and it was fierce one aimed directly at controversial Brooklyn rapper Tekashi69. On a lighter note, the long-rumored Travis Scott and Stevie Wonder collaboration might be happening after all when the two were spotted together this week, while Yasiin Bey (Mos Def) and Talib Kweli appear to be working on a sequel to their seminal debut album, Mos Def & Talib Kweli Are Black Star, which is nearing its 20-year anniversary (September 29).
Also trending in music this week was Lonzo Ball who released his debut mixtape, Born 2 Ball which surprisingly has been a hit amongst some fans, while Migos is still feeling some way about losing out at the Grammys, telling Billboard they were "cheated." And last, but not least, the ambassador of boogie funk himself, DâM-Funk blessed our HYPEBEAST Mix series with a rare 50-minute mix using all 45" vinyls from his personal collection.
Check out our picks of the week and let us know what you think in the comments section.
Frank Ocean "Moon River" (Cover)
Frank Ocean officially dropped his first track of 2018 this week – a cover of Henry Mancini's "Moon River," taken from the 1961 film, Breakfast at Tiffany's. The record was quietly uploaded to his Blonded YouTube channel on Valentine's Day and saw Ocean providing his own rendition of the classic that gained notoriety in the '60s after originally being performed by film & fashion icon Audrey Hepburn during the movie.
Q-Tip & Kendrick Lamar – "Want U 2 Want"
Q-Tip shared a previously unreleased single with Kendrick Lamar on this week's episode of "Abstract Radio" on Beats 1. Titled "Want U 2 Want," the classic NYC rap-esque number features Kendrick and Q-Tip exchanging bars about the various intricacies of wooing a woman. Mixed in are police siren sound effects, scratches, and an expected steady drum beat. This track was rumored to have been recorded back in 2013, but still a gem nonetheless.
King Krule & Mount Kimbie – "Turtle Neck Man"
Recording last year in September when King Krule was in the studio with Mount Kimbie while the band was finishing up their third studio effort, Love What Survives. The previously unreleased cut finds Archy taking lead with the spoken word-styled vocals over a looping soundscape of gentle synths. Just 90 seconds long, but it's a gem.
Tory Lanez, Young Thug & Zona Man – "Grandma House"
Chicago up-and-comer and Freebandz affiliate Zona Man released new his Bout Time project this week and included was "Grandma House," a hard-hitting squad cut featuring Tory Lanez and Young Thug. The catchy melodic number finds Zona rapping about his adolescent days when he used to trap out of his grandmother's house in order to make ends meet while Tory Lanez and Young Thug carry on the theme and exchange verses on their personal come-ups. Listen in below.
Danny L Harle & Clairo – "Blue Angel"
British music producer/songwriter Danny L Harle and bedroom pop sensation Clairo shared a new collaboration this week titled "Blue Angel." The song finds the Boston crooner exploring new musical boundaries beyond her signature bedroom pop. Translucent synths and charming melodies take precedence on this latest, stream below.
YG – "Suu Whoop"
YG dropped off his first official single of 2018 this week despite already appearing on five different records this year with Nipsey, Ty Dolla and 2 Chainz amongst others. Titled, "Suu Whoop," the song finds the Bompton rapper spewing some vindictive verses, some of which appear to be aimed at Brooklyn rapper Tekashi69. "I ain't with the pink-haired Blood shit (suu whoop)." Listen in below.
Onra – Nobody Has To Know (Album)
French DJ and producer Onra premiered his latest Nobody Has to Know album with HYPEBEAST this week and for those looking for an musical escape from the norm, this is for you. The 13-track effort is heavily inspired by late '80s and early '90s R&B and hip-hop, similar to a lot of his previous work. Stream below and read our Q&A with the producer where he talks about the inspirations behind the project and why he won't be continuing Chinoiseries.
Nipsey Hussle – Victory Lap (Album)
Neighborhood Nip's long-awaited album touched down this week much thanks to a successful partnership deal with Atlantic Records. 16-track project arrives following a four-year hiatus following the release of Mailbox Money – the album he was flipping for $100 USD a pop. Stream below.
Moneybagg Yo – Heartless 2 (Album)
Clocking in at an expansive 18 tracks, Moneybagg Yo's new album continues the momentum he's been building in recent years. The project features contributions from CMG boss Yo Gotti, Quavo, fast-rising rapper BlocBoy JB and Lil Baby. For production, Moneybagg Yo links up with Southside, Zaytoven and more. For those seeking no-frills, straightforward street-rap, this one's for you.
Yung Pinch – #4EVERHEARTBROKE3 (EP)
A name we'll likely be hearing more of from out west – Yung Pinch, the Los Angeles-based rapper whose undeniable buzz recently landed him some major placements with Dillon Francis and YG. This week, he unleashed a new Valentine's Day EP aptly titled #4EVERHEARTBROKE3 as part of his annual Cupid day releases. Listen in below.
Be sure to check out our previous music roundups for the best drops of weeks past.