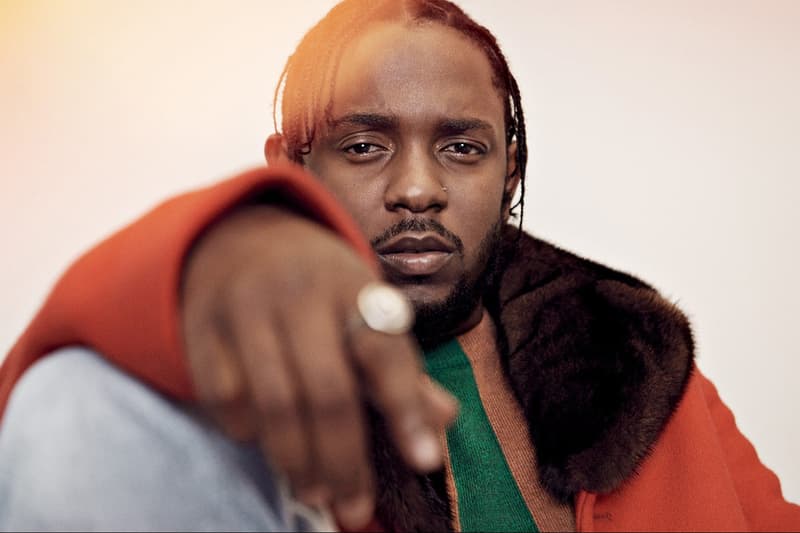 Best New Art: Kendrick Lamar Accused of Stealing Artwork, 5Pointz Artists Rewarded & More
Including a Jackson Pollock painting to auction for $18.2 million USD.
---
Copyrighting and patenting work has long presented an issue for artists. From forged Pablo Picasso masterpieces to bootlegged KAWS figures, there have been many cases of people plagiarizing the signature artwork of an acclaimed artist for their personal gain. Now, with the onset of the digital age, the task becomes all the more complicated as screen-grabbing, video-recording, and collaging often re-appropriates and remakes one artist's art into new art.
The latest art-related legal battle involves Kendrick Lamar accused of stealing an artist's work in his "All The Stars" music video featuring SZA. British-Liberian artist Lina Iris Viktor claims that she never gave the platinum rapper or his label Top Dawg Entertainment any permission to use visuals from her "Constellations" series. The battle over Viktor's artwork still ensues without any official comments from TDE. On the other hand, extensive legal drama surrounding the artwork emblazoned on the famed and former 5Pointz graffiti mecca has finally come to a close.
Read on to learn more about these art-related legal matters as well as upcoming shows and auctions.
Kendrick Lamar Accused of Stealing Artwork in "All the Stars" Video
This past February 6, Kendrick Lamar released his visually-stunning "All the Stars" music video featuring SZA for the Black Panther soundtrack album. Days following the unveiling, a British-Liberian artist by the name of Lina Iris Viktor alleged that her artwork was featured in the video without her permission. Abstract visuals ostensibly inspired by Viktor's "Constellations" series is observed at the 2:59 mark in the video above. "Why would they do this? It's an ethical issue, because what the whole film purports is that it's about black empowerment, African excellence — that's the whole concept of the story. And at the same time they're stealing from African artists," said Viktor to the New York Times.
According to Viktor's representatives, Marvel Studios reached out to the artist back in November as well as December 2016 about using her artwork in the video, but she declined. Viktor is now looking for a public apology and a license fee.
5Pointz Graffiti Artists Awared $6.7 Million USD After Destroyed Artworks
The seemingly endless legal battle surrounding the former 5Pointz graffiti mecca in Long Island City, New York has finally come to a close. Artists whose works were whitewashed by developer Jerry Wolkoff in November 2016 were awarded approximately $6.7 million USD for damages. A ruling by federal judge Federic Block stated that Wolkoff violated the Visual Artists Rights Act of 1990 which grants artists certain rights over pieces they don't own anymore.
"The court's decision is a victory not only for the artists in this case, but for artists all around the country," the artists' lawyer, Eric Baum, told Hyperallergic. "The rights of the aerosol artists have been completely vindicated. Aerosol art has been recognized as a fine art. The clear message is that art protected by federal law must be cherished and not destroyed. Anyone that violates the law will be held to account and punished for the destruction of the art."
Portraits of Barack and Michelle Obama Unveiled at National Portrait Gallery
Portraits of Barack and Michelle Obama were recently displayed at the Smithsonian's National Portrait Gallery. The artworks were created by acclaimed African American artists, Kehinde Wiley and Amy Sherald. Wiley portrays the former President sitting confidently in a chair with an all-over floral backdrop. Meanwhile, the former First Lady dons a lovely white gown embellished with abstract African motifs. This marks the first time both painters were granted a presidential portrait commission from the museum.
Visit the National Portrait Gallery's website to learn more.
National Portrait Gallery
8th St NW & F St NW
Washington, DC 20001
Jackson Pollock Painting to Auction for $18 Million USD at Christie's
Christie's is planning to sell a small Jackson Pollock drip painting at its upcoming London auction. The piece, which features Pollock's unruly splatter of multi-colored paints, has an estimated sale of approximately $18.2 million USD. The piece may not be as rare as other pieces, but the location of the auction is truly unordinary considering how critics claim that it would sell for a higher price in New York than London. The most expensive Pollock to ever be sold is the abstract expressionist's Number 17A painting priced at $203 million USD.
Visit Christie's website to learn more about the painting, the auction is slated for launch this February 28.
Erik Parker to Launch "New Mood" Exhibition at Mary Boone Gallery
Brooklyn-based artist Erik Parker is set to launch a new solo exhibition titled "New Mood" at the Mary Boone Gallery in New York City. The forthcoming showcase will put on a grand display of Parker's signature psychedelic paintings with some embellished on unconventional-shaped canvasses. A majority of the works feature distorted subjects embellished with an acid-induced montage of landscapes, abstract shapes, and drippy visuals are prevalent throughout the latest works.
"New Mood" will launch on March 3, visit Mary Boone Gallery's official website to learn more.
Mary Boone Gallery
541 W. 24th St.
New York, NY 10011