Floyd Mayweather Clobbers Japanese Kickboxer, Wins In First Round
The legendary boxer knocked Nasukawa down three times in two minutes.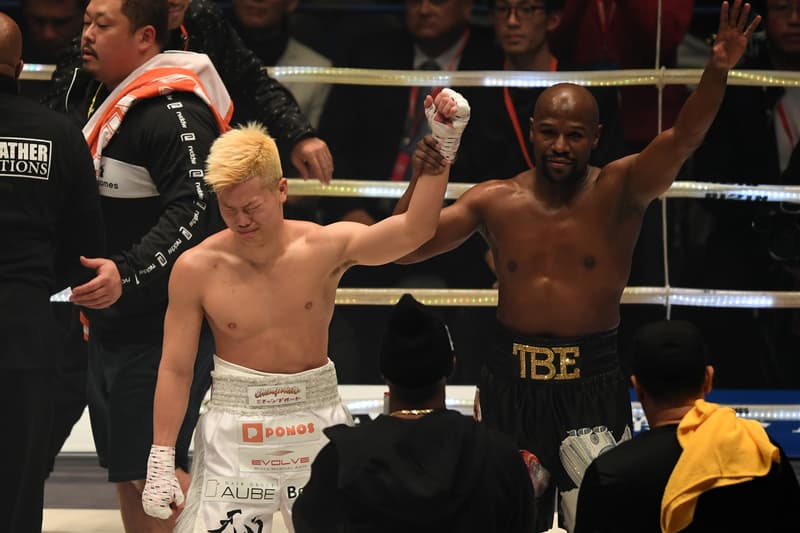 The fight many fans thought would never happen finally took place yesterday, as Floyd Mayweather knocked out his opponent Tenshin Nasukawa in the first round.
The exhibition boxing match, which took place in Tokyo, had a stipulation that made it illegal for kickboxer Nasukawa to utilize his skills during the fight. This gave Mayweather the clear advantage, as the retired boxer knocked his opponent down three times in two minutes, forcing Nasukawa's corner to throw in the towel. According to spectators, the boxer was never in danger and that he danced after the fight ended.
"It was all about entertainment. We had fun," Mayweather stated sometime before or after his dance. "Tokyo, you were amazing, but I'm still retired. We're both still undefeated. Tenshin is still a champion and a great fighter."
Later on Instagram, the retired 42-year-old boxer suggested he earned $9 million USD for the fight. He bragged that it only took him nine minutes to secure all of that money.
In related sports news, Jon Jones defeated Alexander Gustafsson and called out Daniel Cormier.
Floyd Mayweather def. Tenshin Nasakuwa in the first round. Mayweather knocked him down 3 times in 2 minutes and then Nasukawa's corner threw in the towel. Mayweather toyed with him throughout. Was never in danger and danced when the fight was over.

— Ariel Helwani (@arielhelwani) December 31, 2018
Floyd Mayweather makes $9 million in 139 seconds after easily defeating Tenshin Nasukawa with three knockdowns pic.twitter.com/wfyxtugfpU

— Bleacher Report (@BleacherReport) December 31, 2018
Floyd Mayweather the greatest businessman in the world, $9 million dollars for this #MayweatherNasukawa
pic.twitter.com/wyZKeTVlBF

— Benjamin Harris (@HarrisCBenjamin) December 31, 2018