Advent Calendar 2018: Official Winners List
Thanks to everyone who participated!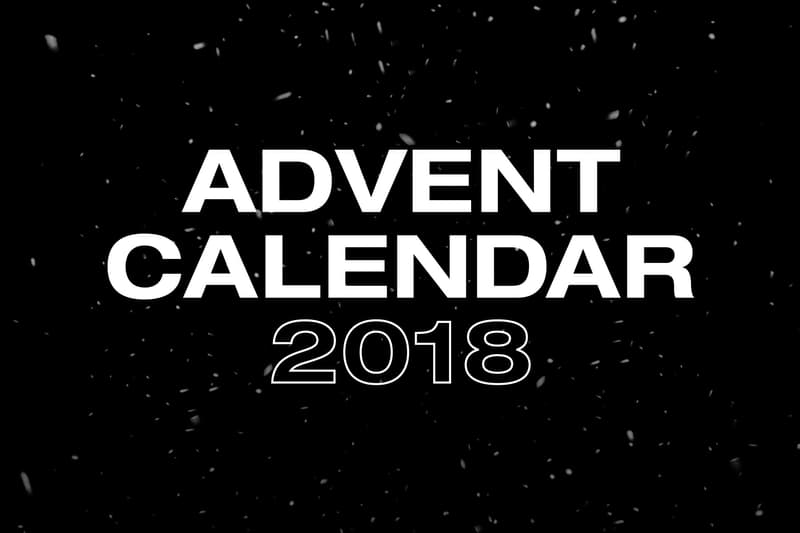 Thank you HYPEBEAST readers for entering our 2018 Advent Calendar event!
As a recap, for 25 days in December, we offered one item from each of the following category: Fashion, Footwear, Music, and Art. Highly coveted items such as Off-White™ collaborative sneakers and clothing, tech speakers and headphones/earphones by Skullcandy and aiaiai, priceless artwork by Takashi Murakami and Blondey McCoy, a genuine Fender guitar, autographed sneakers by the Dragon Ball Z Goku voice actor, $1000 USD gift card to HBX and so much more.
Below, you will find the complete list of winners from this year's Advent Calendar, sorted by category. Please keep an eye out on your DMs for further instructions. Thanks again!
HYPEBEAST Style Winners
Day 1: Off-White GORE-TEX® Anorak
Winner: @seel333
Day 2: Prada Dahlia Flame Printed Shirt
Winner: @itsdarkomusic
Day 3: Reese Cooper Reconstructed Vintage Military Coaches Jacket
Winner: @ale.ramz
Day 4: John Elliott x Blackmeans Leather Rider Jacket
Winner: @trevorfulenwider
Day 5: 1017 ALYX 9SM Chest Rig "Contrast"
Winner: @steveshinee
Day 6: Doublet "Chaos Embroidery" Tracksuit
Winner: @cbuckwilde
Day 7: Raf Simons x Eastpak Bags
Winner: @skyler_sawyer
Day 8: mastermind WORLD Hoodie
Winner: @weesnaw
Day 9: Maison Margiela Exclusive Bomber Jacket
Winner: @mr_jr
Day 10: Acne Studios x Fjällräven Expedition Down Jacket
Winner: @brianchvng
Day 11: Gilbert & George x JW Anderson Hoodie
Winner: @joshtkim
Day 12: 424 Red Painted Cropped Parka
Winner: @t_smallss
Day 13: Burberry Backpack in Rainbow Tie-Dye
Winner: @YOUNG4KEANE
Day 14: Calvin Klein Jeans Metallic Silver Puffer Jacket
Winner: @carolaguivel
Day 15: Gucci GG Supreme Tracksuit
Winner: @edmardossantos85
Day 16: Totokaelo x NEEDLES Ribbon Shirts
Winner: @brian_mily
Day 17: Vintage Tactical Military Vest
Winner: @g.reaper_
Day 18: SSENSE Exclusives Pack
Winner: @wooberr
Day 19: Napa by Martine Rose Corduroy Fleece Long Coat
Winner: @chief.myles
Day 20: Givenchy Logo Patch Belt Bag
Winner: @localsunsets
Day 21: Samuel Ross x Oakley Long Coat With Hooks
Winner: @pat.tvl
Day 22: BAPEX Type-3 Watch
Winner: @illmatickal
Day 23: $1,000 USD HBX Gift Card
Winner: @lz55
Day 24: READYMADE Gym Bag
Winner: @alyxbot
Day 25: Junya Watanabe x The North Face Backpack Jacket
Winner: @slee_73
HYPEBEAST Kicks Winners
Day 1: Off-White™ x Air Jordan 1 "White" Europe Exclusive
Winner: @danny_anderson_mn
Day 2: A$AP Rocky x Under Armour SRLo "Black"
Winner: @wreid17
Day 3: Sneakersnstuff x adidas Consortium FUTURECRAFT 4D
Winner: @globalcharles
Day 4: Nike Air Force 1 by Joshua Vides
Winner: @ellencrane
Day 5: Versace Chain Reaction
Winner: @chef_boyarzee
Day 6: Off-White™ x Nike Blazer Mid "Grim Reaper"
Winner: @reecharmander
Day 7: Parra x Nike Air Max 1
Winner: @axlerose10
Day 8: Air Jordan 3 "AWOK"
Winner: @megann_rebecca
Day 9: JW Anderson x Converse Chuck 70 "Toy"
Winner: @papisloras
Day 10: Off-White™ x Nike Air Max 97 "Black"
Winner: @ben.hur21 (Size Needed)
Day 11: Off-White™ x Nike Blazer Mid "All Hallows Eve"
Winner: @bb_img
Day 12: 'Dragon Ball Z' x adidas Originals Yung-1 "Frieza"
Winner: @ethannn_suh
Day 13: Levi's® x Air Jordan 4 "White" and Trucker Jacket
Winner: @hunter.blumer
Day 14: Autographed 'Dragon Ball Z' x adidas Originals ZX 500 RM "Goku"
Winner: @nick.iavarone
Day 15: Pharrell x adidas Originals Solar Hu Glide
Winner: @brandonndm
Day 16: Maison Margiela Fusion Low
Winner: @owen.reel
Day 17: Pharrell x adidas Originals NMD Hu "Solar"
Winner: @zachburger5
Day 18: Levi's® x Air Jordan 4 "Black" and Trucker Jacket
Winner: @miyoung292
Day 19: UNDERCOVER x Nike React Element 87 "Volt"
Winner: @max_c18rk
Day 20: Pharrell x adidas Originals NMD Hu & Tennis Hu V2 "BBC"
Winner: @alejandro_pinzon
Day 21: Off-White™ x Nike Air Presto "Black" & "White"
Winner: @skoveleski
Day 22: NASA x Vans Old Skool "Space Voyager"
Winner: @alex.woood
Day 23: ACRONYM® x Nike Air Presto Mid Three Pair Set
Winner: @lucky11
Day 24: Travis Scott x Nike Air Force 1 "Sail"
Winner: @thatrunninkid
Day 25: Sean Wotherspoon x Nike Air Max 1/97
Winner: @luizschiel
HYPEBEAST Art Winners
Day 1: Takashi Murakami x Virgil Abloh Artwork
Winner: @visualbeliefs
Day 2: Toy Qube Astro Boy NYC Sculpture
Winner: @chvckchoi
Day 3: Yayoi Kusama x MoMA Design Store 'Yellow Trees' Triptych Skate Decks
Winner: @pv.ny
Day 4: Hebru Brantley x Print Them All 'Boy On Rocket' Lithograph
Winner: @shellhathnofury
Day 5: Matt Gondek 'That's All Folks!' Woodblock Painting
Winner: @warvin01
Day 6: Yoon Hyup 'Sound of Friday 3' Original Painting
Winner: @alexandra.delano
Day 7: Moco Museum x ICY & SOT 'Color Rain' and 'Inexorable' Prints
Winner: @_reyjames
Day 8: James Jean 'Adrift' Artist Proof Print
Winner: @julietakurth
Day 9: Meguru Yamaguchi 'OUT OF BOUNDS NO.93' Painting
Winner: @raykunimoto
Day 10: Steven Harrington 'GOTCHA' Sculpture
Winner: @jessmyselfandi
Day 11: Blondey McCoy 'Beautiful, Chemical, Imbalance' Artwork
Winner: @jewish_juulers
Day 12: Jean-Michel Basquiat x Modernica Case Study Side Shell Eiffel Chair
Winner: @adolfogutierrez1
Day 13: Daniel Arsham 'CRACKED BEAR' Sculpture
Winner: @bxldny
Day 14: Virgil Abloh x IKEA 'STILL LOADING' Rug
Winner: @thatkidnamedrah
Day 15: Victor Solomon 'Moonshot VS. 004' Sculpture
Winner: @asap.gordo
Day 16: Adam Lister 'Air Jordan 1' Painting
Winner: @cristinacolumbus
Day 17: Peanuts x Andre Saraiva 'Mr. A Loves Snoopy' Prints
Winner: @jameskwho
Day 18: Adam Lucas Original Framed Drawing
Winner: @cyrus_the_vyrus
Day 19: KRINK Storage Box & K-60 Paint Marker Set
Winner: @warrior_eesh
Day 20: Compound x Ron English 'Police Grin' Sculptures
Winner: @quarterwater
Day 21: Dan Life 'Spider-Man Pop' Rotating Sculpture
Winner: @j_tiznado
Day 22: MADSTEEZ Original Oil on Canvas Painting
Winner: @jwolffstudios
Day 23: Unit London x Will Martyr 'FATHOMS' Print
Winner: @zachfrenchphotography
Day 24: Joshua Vides x Herschel Supply Collection
Winner: tame_ultimate
Day 25: Felipe Pantone x Configurable Art
Winner: @sonavor
HYPEBEAST Music Winners
Day 1: Scratch DJ Academy 6-Week Level 1 Course
Winner: @ajacruzz
Day 2: Lauryn Hill 'The Miseducation of Lauryn Hill' 12" Vinyl LP
Winner: @sir_neezy_
Day 3: Beastie Boys x Herschel Supply Collaboration Set
Winner: @cashkaito
Day 4: EAROS ONE Acoustic Filters
Winner: @aaronhollomon
Day 5: KITH x colette x Beats by Dre Beats Pill+ and Solo3 Wireless Headphones
Winner: @asapjesse
Day 6: FL Studio 20 Signature Bundle
Winner: @garyamnot
Day 7: Deviation x AIAIAI TMA-2 Modular Headphone System
Winner: @a.lexias
Day 8: Gorillaz x G-Shock: Limited Edition Watch
Winner: @nathanlam
Day 9: Five Passes to Any SOB's Concert
Winner: @kennethkyrell
Day 10: Fender American Professional Stratocaster – Sonic Gray
Winner: @r.rochee
Day 11: Boys Noize 12" Vinyl Track "Killer" Featuring Steven A. Clark
Winner: @saralcholliday
Day 12: 'Deadpool 2' / 'Castlevania' Vinyls
Winner: @drinkluisky
Day 13: 5 Passes to Any Elsewhere Live Performance
Winner: @cloudsuponthames
Day 14: Custom Made ColorWare Airpods
Winner: @tyeal
Day 15: Urbanears Lotsen Speaker
Winner: @_wayne_stevenson_
Day 16: Contact High: A Visual History of Hip-Hop
Winner: @derekmorley
Day 17: Skullcandy Crusher 360 Headphones
Winner: @trpyxsounds
Day 18: Diamond Supply Co. x Michael Jackson Skateboard Deck
Winner: @amzco1987
Day 19: SUBPAC M2X Wearable Audio Technology
Winner: @aluxzander
Day 20: 5 Passes to Any Baby's All Right Live Performance
Winner: @xavier.roberts
Day 21: Shoe Palace x Converse Chuck Taylor Hi and Boombox Package
Winner: @tubesockcam
Day 22: 'BRAINFEEDER X' 10th Anniversary Compilation
Winner: @colegriess
Day 23: The Weeknd's 5th Anniversary of 'Kiss Land' Collection
Winner: @hunterhilliard10
Day 24: Big Pun Portrait Photographed and Autographed by Jonathan Mannion
Winner: @dotshotit
Day 25: Slick Rick the Ruler Silkscreen Photographed and Autographed by Jonathan Mannion
Winner: @jeffstashbox