Best New Tracks: Andre 3000, N.E.R.D, Lil Pump, Dipset, A$AP Rocky & More
Fire tracks for your 2017 Thanksgiving playlists.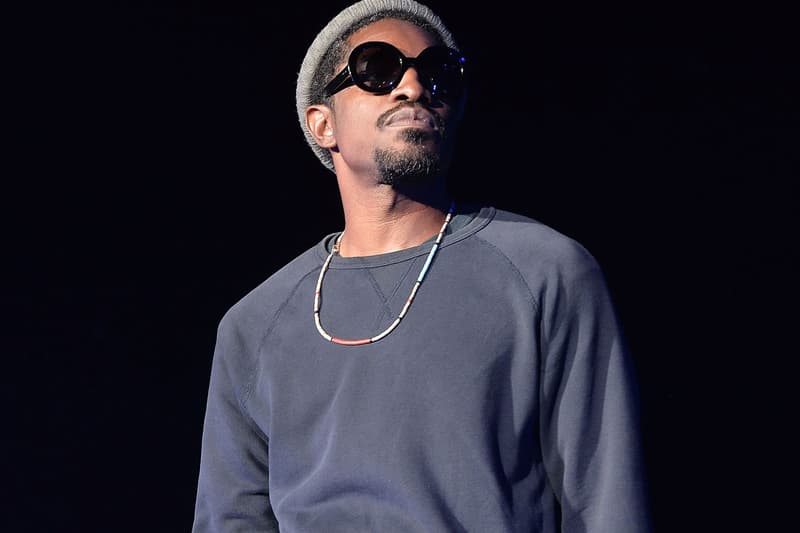 For this week's music roundup, we saw several unexpected full-length project releases from the likes of T-Pain, Jaden Smith and even Lil Uzi Vert who dropped off a deluxe version of Luv Is Rage 2 that included four unreleased bonus cuts. On the note of surprise albums this week, Kid Cudi also formally announced that his next album will be produced entirely by Kanye West.
Meanwhile, Drake also made music headlines this week when he threatened a fan in the crowd after he spotted the concertgoer inappropriately touching women. This week also saw the untimely passing of young rap phenom Lil Peep who was just 21 years old. On a brighter note, after years of not talking to each other, Dipset finally reunited on a new single this week that will serve as interlude to a full-length project in the coming weeks. Aside from that, their one-time boss JAY-Z made call-to-action this week after he penned a powerful new op-ed with The New York Times addressing Meek Mill and America's controversial criminal justice system. You can read about it now courtesy of The New York Times and check out our picks for this week down below and let us know what you think in the comment section.
N.E.R.D. & Andre 3000 – "Rollinem 7's"
N.E.R.D. debuted their first studio album since 2010's Nothing earlier this month, and to much surprise, it was loaded with guest contributions from some of the most respected superstars out there. Names like Kendrick Lamar, Gucci Mane, Rihanna, Future, M.I.A. and yes, Andre 3000 amongst others. Listen to their single with 3 Stacks down below courtesy of TheNeptunes.org.
Tom Misch – "Movie"
UK up-and-comer Tom Misch shared a low-key gem this week with the release of his new video-single for "Movie." The Joshua Osbourne-directed video, it's a gracious family affair that not only finds Misch's sister at the intro but also features astonishing footage of his grandparents from 1945. Meanwhile, the song will be included on his debut album, Geography slated for release in April 6, 2018.
Dipset – "Once Upon a Time"
After years of separation, the iconic Harlem-based rap crew reunited on a new track this week called, "Once Upon a Time." Produced by The Heatmakerz, the same legendary production crew responsible for a plethora of Dipset classics such as "Dipset Anthem," "Come Home With Me" and many more. The track also features just two of the original members for now — Cam'Ron and Jim Jones, who you'll find exchanging clever verses, including a reference to disgraced film executive Harvey Weinstein who apparently was slapped by Dame Dash back in the day according to the verses. Listen below.
Ye Ali – "All The Time"
Ye Ali's musical creativity continues to elevate following a breakout year that landed him on Chris Brown's acclaimed gold, soon-to-be-platinum-certified Heartbreak on a Full Moon album. This week, he teamed up with producer Yusei for a syrupy slow-wind number dedicated for all the prospects out there trying to get drafted for the 2018 cuffing season. Listen below.
Lil Yachty & Lil Pump – "Baby Daddy"
During a live Call of Duty WW2 session on Twitch this week, Lil Yachty unexpected premiered his new song with Lil Pump called "Baby Daddy." Produced by 30 Roc, the song will tentatively serve as the lead single off their upcoming joint project set to release in January or February next according to the Lil Boat rapper during his stream. Watch and listen below.
KWAYE – "Lost In My Boots"
The soulful crooner shared his latest single this week, following the release of his impressive Solar EP over the summer. The track finds the Zimbabwe-born artist divulge in his past relationship woes while sharing a lyrical ode to the African American experience. Press play to listen below.
Jaden Smith & A$AP Rocky – "Breakfast"
This week saw the official release of Jaden Smith's new studio album, SYRE and already a favorite amongst fans is his "Breakfast," his lead single with A$AP Rocky. Stream the track below and check out his new album now courtesy of Apple Music and Spotify.
Lil Uzi Vert – "20 Mins"
Lil Uzi Vert shared the deluxe edition of Luv Is Rage 2 earlier this week and inside the new version contained four bonus tracks: "Skir Skirr," "Loaded," "Diamonds All on My Wrist," and "20 Min." The latter of the three might end up charting when it's all said and done. Listen above.
Smooky Margielaa – "Not Right"
As with many others within the hip-hop community, Smooky Margielaa is back with a new track in support of Meek Mill. The Murda Beatz-produced cut finds the young AWGE rapper exuding bars with confidence all-while keeping his big homie Meek Mill in thoughts and prayers. Listen to Smooky's latest cut down below.
Be sure to check out our previous music roundups for the best drops of weeks past.