These Are the Must-See Movies and TV Shows Premiering in December
'Tis the season for some movies.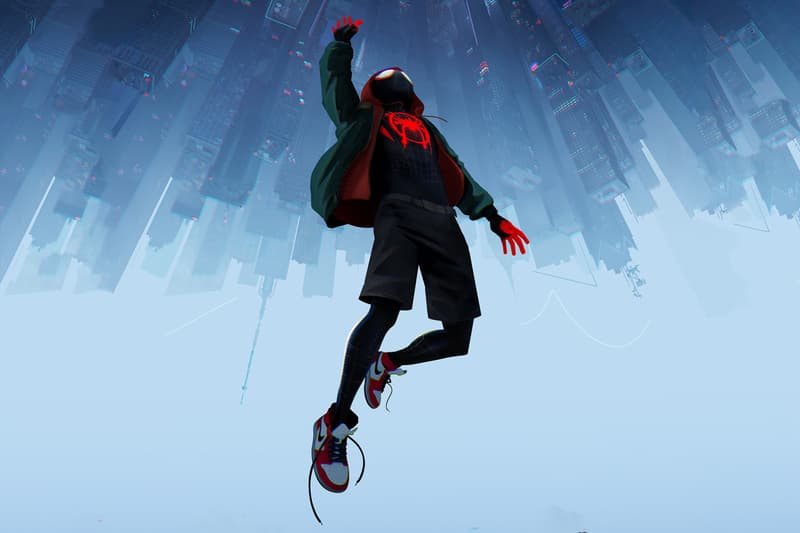 Welcome TV watchers and moviegoers to the final round-up of the year, where we get into the holiday spirit of gift-giving and wholesomeness. As such, there are a ton of Christmas and New Years-related movies and shows coming out this month, and some of them are serious heavy hitters due to the Oscars being around the corner.
On the movie side of things, we've of course got the first ever Spider-Man animated film, starring Miles Morales learning the ropes from a down and out Peter Parker. The animation is comic book-inspired and its charm is due in no small part to The LEGO Batman Movie. If your love for the holidays is a little more cynical, Deadpool is here with Fred Savage from The Wonder Years to bring in the jokes and surrealism with Once Upon a Deadpool, a PG-13 holiday retelling of Deadpool 2. However, if you're still feeling spooky from October, The House That Jack Built looks to be a cinematic horror movie game changer.
The TV side is light this month, however, Netflix has blessed its audience with Christmas specials of two of its original series, Neo Yokio and Chilling Adventures of Sabrina. Check out the list below, ranging from some of the must-see releases to the more under-the-radar films and TV shows to look forward to in December.
Films
Vox Lux (December 7)
Vox Lux showcases the life of a pop icon with a troubled past whose prominence is rapidly declining. The first half of the film sees teenaged Celeste (Natalie Portman) overcoming a school shooting and singing an original song alongside her sister about the tragedy, which inevitably turns her into a star. The second half features the character as she's developed into a dark, struggling singer preparing for her new album to reclaim her spotlight following the fallout of a scandal.
Why it's worth your time:  The film looks like it follows similar themes of celebrity and idolization as the cult classic anime film Perfect Blue did, albeit in a more Western context than the East's idol culture. It appears Portman is supposed to resemble an avant-garde artist like Lady Gaga, down to the outfits and live performances. The cinematography appears to follow suit in its camera work, capturing grandiose surreal visuals of the artist as she navigates the duality of her complex life.
Mowgli: Legend of the Jungle (December 7)
The live-action retelling of The Jungle Book is directed by Andy Serkis and tells a darker side to the story, focusing on Mowgli's struggle for acceptance in the jungle. After being raised by a pack of wolves, Mowgli is taken in by Bagheera and Baloo, although Shere Khan, the tiger, does not believe that he belongs in the jungle.
Why it's worth your time:  This is The Jungle Book movie Disney doesn't want you to know about. It had its name and theatrical release date changed so many times that eventually the powers that be settled with a distribution deal with Netflix. The stacked cast — Christian Bale, Benedict Cumberbatch, and Cate Blanchett — is a major reason to tune in, but most of all it's a great chance to watch a usually glorified Disney tale be told in truth for a change.
Once Upon a Deadpool (December 12)
Deadpool 2 is being repackaged as a PG-13 Christmas outing with The Merc With a Mouth attempting to recite the story of Deadpool to a forcefully bound Fred Savage from The Wonder Years. Although the film will largely feature recut footage from the original film, it has been confirmed that the cast and crew behind Deadpool 2 did briefly restart production to capture new scenes.
Why it's worth your time:  Apparently, Fox has been harassing Ryan Reynolds for a PG-13 cut of Deadpool, but Reynolds refused unless it could be done on his terms — this meant Savage being in the film was a must. Some of the ticket proceeds are even going towards a worthy cause; it's worth a few laughs and good karma to check out this overtly self-aware film once again in a new light.
Spider-Man: Into the Spider-Verse (December 14)
Into the Spider-Verse is a fresh CGI take on the Spider-Man universe centered around Miles Morales becoming New York's newest web-slinger and a convergence that causes Spider-Men from other dimensions to meet. From there, Miles meets a past-his-prime Parker from another realm and is taught the ways of the Spider before running into other Spider folks from other dimensions, like Spider-Gwen.
Why it's worth your time:  When Sony Pictures introduced the first trailer for the animated Spider-Man: Into the Spider-Verse, it was praised for its unique art style and focus on Miles Morales as Spidey. Its comic-inspired aesthetic isn't the only nod to the books, as it appears there will be plenty of easter eggs referencing the character's expansive lore throughout the year, paying homage to his legacy and the fans in kind.
The House That Jack Built (December 14)
The story follows Jack, a highly intelligent serial killer, over the course of 12 years, and depicts the murders that really develop his inner madman.
Why it's worth your time:  This looks freaking nuts — the controversial film even caused a walkout when it premiered at Cannes. The House That Jack Built appears to be a film focusing on the animalistic nature of a predator and its pray through the lens of a serial killer and its victims. There's said to be parallels drawn between this movie and the current political infrastructure of America today. The film features Matt Dillon as the deranged Jack and showcases Uma Thurman ripe off her statements towards Harvey Weinstein and a pair of assaults she experienced as a victim getting brutalized. The irony of it coming out in the wholesome month of December shouldn't be lost on the viewers either.
Roma (December 14)
A 1970s matriarch works for a middle-class family in Roma, Mexico to provide for her own children. Here we see the struggles of raising a family during political outcry from the city's citizens.
Why it's worth your time:  Director Alfonso Cuarón has stated he drew inspiration from his own life to bring this film into fruition and serves as a semi-autobiographical tale dedicated to the women who raised him. It also has a lot of Oscar buzz, as it's been called an art-house, poignant, neo-realist masterpiece.
Aquaman (December 21)
Aquaman (Jason Momoa) finds himself caught between a surface world that ravages the sea and the underwater Atlanteans who are ready to revolt. That duality is shown in the political tug of war going on between the royals of Atlantis who believe Arthur's brother Orm (Patrick Wilson) is better suited to be king than Arthur himself.
Why it's worth your time:  We feel like Warner Bros. has submitted to the thought their cinematic universe isn't where it should be, and has decided to mainly focus on making good films instead. Aquaman looks fun, and its James Wan-directed visuals help bolster that fun factor. Although all these trailers have released more footage than we would've liked, it undoubtedly looks like a good time, and it has enough eye candy, figuratively speaking, that even folks who don't care about superheroes are gonna be ask ticket holders for "permission to come aboard?"
Bumblebee (December 21)
Bumblebee is a direct spinoff prequel to the Transformers films from director Michael Bay that sees the titular Autobot meeting a Californian girl named Charlie (Hailee Steinfeld) before we subsequently learn he's being hunted by the government.
Why it's worth your time:  This looks like the closest homage to the Transformer aesthetic fans of the franchise have been waiting for, as opposed to the overly glossy and modern look seen in previous films. It also looks to be utilizing a "boy and his dog" theme that makes the film seem much more lighthearted and fun than its predecessors, which were overly focused on slow-motion scenes and explosions.
Vice (December 25)
Adam McKay's feature film about former Vice President Dick Cheney showcases a transformative Christian Bale acting out moments of Cheney's political career, down to the hilariously bizarre events such as him accidentally shooting his friend in the face with a quail gun. The film also stars Sam Rockwell as President George Bush, chopping down on wings while getting politically finessed by Chaney to run for president.
Why it's worth your time:  This film could've been done documentary style and been very informative. It could've been played out like Lincoln, with Bale giving a serious Daniel Day-Lewis-esque performance. But thanks to Adam McKay, and him solidifying himself as a director able to tell high-profile tales with a comedic edge, we got Vice. It looks so self-aware of how the public received some of these stories as they broke in real life. The bizarreness of Bush; the literal undying will of Chaney and his awful doings in the White House; they're serious offenses, for sure. But thank McKay for preserving the absolute humor some of these tales are seeped in.
A Christmas Story (December 24-25, TBS)
This beloved holiday film follows a boy named Ralphie, who spends most of his time dodging a bully and dreaming of his ideal Christmas gift, a "Red Ryder air rifle."
Why it's worth your time:  This TBS tradition has been around longer than some of our readers. It's a classic cautionary tale that will outlive us all, and one that grows on you throughout the years from childhood into adulthood thanks to the films dual perspective of the children and parents.
TV
Nightflyers (December 2, SYFY)
Set in 2093, the story follows a crew of interstellar explorers leaving a dying Earth and voyaging towards a mysterious spacecraft at the edge of the solar system, the host of some threatening entities.
Why it's worth your time:  George R.R. Martin is securing several novel adaptations as the hit HBO series Games of Thrones draws to a close, and this one looks to be the one as completely divorced from Westeros as possible. Having a Martin adaptation that focuses on his brilliant writing as opposed to his brilliant world-building (that fans have overly latched onto), this show has the potential to tell a great tale without being marred down by not being exactly like the world in its novels.
Neo Yokio: Pink Christmas (December 7, Netflix)
It's the holidays in New Manhattan and Kaz Kaan is still locked in a tight battle with his rival Archangelo to be the top bachelor in town.
Why it's worth your time:  A season two is still up in the air for this Jaden Smith series, so for fans of this bizarrely unique series, this can satiate your hunger for new episodes while it's being decided. Plus, we love that Netflix is doing the Christmas Special thing for some of its shows.
Chilling Adventures of Sabrina: A Midwinter's Tale (December 14, Netflix)
The holiday special is set during the Church of Night cult's celebration of the winter solstice. On the longest night of the year, witchy and warlock families gather around the Yule fire to sing pagan carols and tell ghost stories. But like all holidays, an unwelcome guest arrives.
Why it's worth your time: Chilling Adventures of Sabrina is a show that blew away our expectations. The show does not shy away from its occult-laced source material from the Archie Comics, and even references Riverdale in the series, solidifying a shared universe between the shows. Hopefully this special introduces characters from the show.
Twilight Zone Marathon (December 31, Syfy)
The Twilight Zone was the brainchild of Emmy Award-winner Rod Serling, an anthology series that focuses on horror, science-fiction, drama, comedy, and superstition alongside greater themes of contemporary societal issues.
Why it's worth your time:  It's no secret that we're fans of the Twilight Zone, and watching this marathon from New Year's Eve into New Years Day is as much a tradition to some as watching A Christmas Story. You can't go wrong with this genius show. As such, above is the classic TZ commercial promoting the marathon from way back, when Syfy was Sci-Fi.