Conor McGregor vs Khabib Nurmagomedov: 5 Essential Things to Know
Could the Irishman come unstuck on Saturday?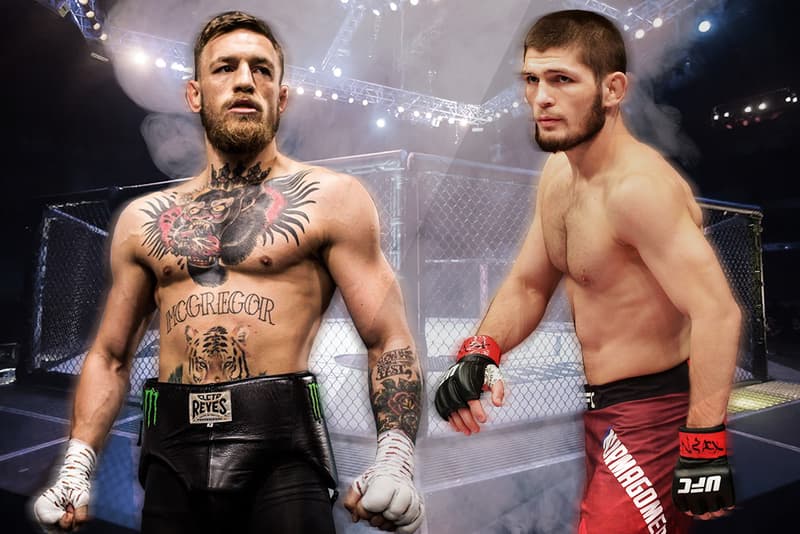 Conor McGregor is back. The biggest name in MMA by far, McGregor has managed to do what no other MMA star has managed and become bigger than the UFC organisation. After nearly two years outside of a cage — and one boxing mega-mismatch — he's back to fight unbeaten lightweight champion Khabib Nurmagomedov on October 6.
But while McGregor has long passed into the realm of household name, Nurmagomedov is an unknown entity outside of MMA fans. But those who are in the know are aware that this fight is no picnic for McGregor, who fights an unbeaten man who is world-class proficient at McGregor's most lacking element of his game. So, if you're planning on watching this comeback, here's some things you should look out for.
McGregor Is Bigger Than the UFC
While the Irishman hasn't fought since his record-breaking win over Eddie Alvarez in November 2016, he's remained in MMA headlines — mostly for the wrong reasons. The most infamous was his attack on a bus that Nurmagomedov was in, throwing a dolly through a window and injuring two other fighters.
The attack led to the cancellation of both Ray Borg and Michael Chiesa's respective fights due to injuries sustained from the shattered glass, while Artem Lobov's fight was cancelled because of his involvement. McGregor has suffered no consequences from this attack, that would have resulted in any other UFC fighter being kicked out of the organization.
But this isn't any other fighter. McGregor has headlined four out of the top five most profitable UFC PPVs. So what should be proof of why you shouldn't be in the organization has instead turned into promotional material. And, while McGregor is playing ball now, should he win and decide to take on another boxing match or another , the division could be held in limbo like it was during his first hiatus.
A Classic MMA Matchup
While the growth of MMA has led to more fighters being all-round athletes, McGregor vs Nurmagomedov is a classic matchup of striker vs wrestler. McGregor is known for his masterful striking skills, while Nurmagomedov is widely seen as the best pure wrestler in the division due to his mastery of Sambo.
While there's been endless predictions, they all come down to this — can McGregor land a powerful enough punch before Nurmagomedov drags him into a relentless wrestling bout? It's a question that no one has a clear answer to yet, which is why the fight is predicted to break UFC's PPV record.
Nurmagomedov Is Possibly McGregor's Worst Match-Up
Styles make fights is an old adage in the world of combat sports and it's true here. Nurmagomedov is a pure wrestler and it's been well documented that wrestling is McGregor's weakest link. The champion from Dagestan, Russia is unbeaten during his professional career — a rare feat in MMA — and has gone 10-0 in the UFC.
He's also faced strikers before, such as Edson Barboza, who had an 87% takedown defense record before that fight. And while, Barboza did manage to avoid a few takedowns, when Nurmagomedov did get him down, his top control allowed him to remain on top for lengthy periods of time.
It's an aspect of his game that will be key, according to fighters who'd faced him before. Darrell Horcer, speaking to ESPN, said "If he gets his hands on Conor, it's game over. Conor's wrestling defense is not that great, and even if you have great wrestling defense, Khabib's Sambo is a different world."
But that's not to say Nurmagomedov hasn't had trouble in fights — his title-winning effort against Al Iaquinta was seen as a lackluster effort to observers. But he seems to have a concrete gameplan against skilled strikers that's worked seamlessly so far. And, on top of that, he's wrestled bears in his youth.
McGregor Has Never Defended a UFC Title
Another common fight adage is you're not the champ until you defend the title. And that's something McGregor has never done for either of his belts. While both his wins were undoubtedly spectacular, there remains an asterix over his record due to his lack of title defenses.
His win over Aldo was instead followed by a fight against Nate Diaz while his Alvarez win was then followed by a hiatus and then a boxing match. It's a record that would've received more scrutiny if he wasn't the biggest star in the sport and, if he loses on Saturday, is likely to be put under the microscope.
It's a True 50/50 Fight
There's solid reasons on both sides to make a case for this fight. While we've established that Nurmagomedov is a fighter to be feared because of how his style could easily negate McGregor's, the same could be said the other way around.
While Nurmagomedov is a pressure fighter, McGregor can fight off the back foot easily and has laser accuracy on his strikes, meaning he could very well catch the wrestler while he's attempting a takedown. On the flipside of that argument, the Russian is renowned for his strong chin and ability to keep his head off the center-line when shooting, meaning he could bypass McGregor's strikes and implement his gameplan. So we're back to a deadlock as to who's gameplan will win out.
The common thread amongst fighters predicting the fight is that most are having a very difficult time picking a winner — and that's a surefire sign of a fight that could go either way. Which is why, in turn, it's such a highly anticipated matchup and why you should be turning in on Saturday night to see who wins.