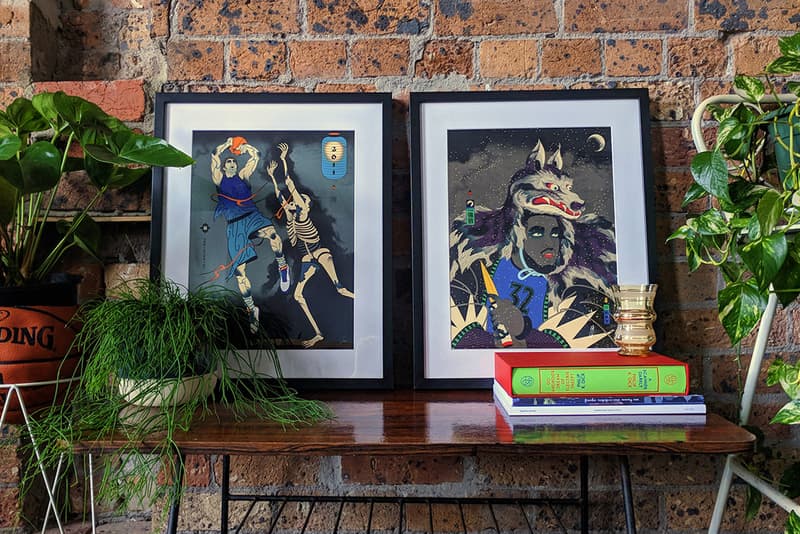 Best Art Drops: Andrew Archer's 'Edo Ball Season 3' Illustrations, RETNA Prints & More
Including wearable artwork by Kenny Scharf and his daughter, Malia.
---
Every week we spotlight the best art drops by celebrated artists, galleries, museums and contemporary art platforms across the globe. Highlighted items typically include original artworks, prints, collectible figures, collaborative merchandise and more.
For our latest installment: Melbourne-based artist Andrew Archer launched his new series of basketball illustrations entitled Edo Ball Season 3, RETNA teamed up with Print Them All on new lithographs on stone, OG SLICK is giving away one of his LA Hands Vinyl Goldfinger sculptures, Atlanta-based artist Greg Mike dropped new prints, and Kenny Scharf is set to roll out wearable art, "Scharftees," with his daughter Malia.
Learn more about the art releases below and let us know your favorites. Elsewhere in art, Akira creator MR. OTOMO sat down for an exclusive interview with HYPEBEAST to discuss the anime, Kanye West, and his Supreme collaboration.
Andrew Archer Launches Edo Ball Season 3 Illustrations
Release Date: Available now on Andrew Archer's website
Release Price: $55-$65 AUD (approx. $38-$46 USD)
Australian artist Andrew Archer returns with the brand new third installment Edo Ball series. A batch of 10 new prints conveys the artist's passions for basketball and traditional Japanese art. One of the notable pieces is The Mask, spotlighting Kyrie Irving as "Samurai Kyrie" who "is an assassin on the court." In regards to the series, "each artwork in the new season has an expanded story behind it and draws inspiration from Japanese mythology, players' nicknames and basketball pop culture and lore," said Archer.
RETNA & Print Them All to Release Lithographs on Stone
Release Date: October 26 on Print Them All's website
Release Price: TBC
Renowned LA-born artist RETNA is set to launch limited edition lithographs on stone entitled Ludovico & Ludavico. The editions are set to release this Friday, October 26, exclusively on Print Them All's website. Each artwork features RETNA's signature typography and letterforms spawned from his prolific graffiti background.
Greg Mike Unleashes Bright Idea Prints on Wood
Release Date: Available now on Prints on Wood's website
Release Price: $100 USD
Celebrated visual artist Greg Mike just dropped a new print dubbed Bright Idea. Sized at 4 x 14 in. (35.56cm x 35.56cm), the artwork features the Atlanta creative's trademark Larry LOUDMOUF character in a wild and color-packed composition. Tom from Tom & Jerry is also observed in the piece. Each piece arrives hand-signed and numbered by Greg Mike. A white custom frame option is also available for $35 USD.
OG Slick Raffles LA Hands Vinyl Goldfinger Sculpture
Release Date: October 31
Release Price: $5 per raffle ticket
OG Slick is currently raffling one of his sought-after LA Hands Vinyl Goldfinger collectible sculptures. The 10-inch artwork is only available on location at Big Dick's Hardware in Los Angeles, costing you $5 USD per ticket and cash only. The winner of the raffle will be announced on Halloween, October 31. Head over to OG Slick's Instagram account to learn more.
Kenny & Malia Scharf Present New Scharftees Wearable Artwork
Release Date: October 25 at Allouche Gallery in NYC
Release Price: TBC
Legendary contemporary artist Kenny Scharf joins forces with his daughter, Malia Scharf, to create a new wearable artwork label entitled Scharftees. The inaugural range includes hand-screened T-shirts, sweatshirts, and hand painted denim jackets. This exclusive collection will be available at a retail pop-up for the first time at Allouche Gallery in NYC. The event will be open to the public on Thursday, October 25, from 6:00-9:00 pm EST for a soft opening, and on Friday, October 26 and Saturday, October 27 from 10:30-7:00 pm EST.