Migos Cover 'Rolling Stone,' Talk Investments, Movie Star Aspirations & 'Culture II'
The Atlanta trio grace the magazine's first issue for 2018.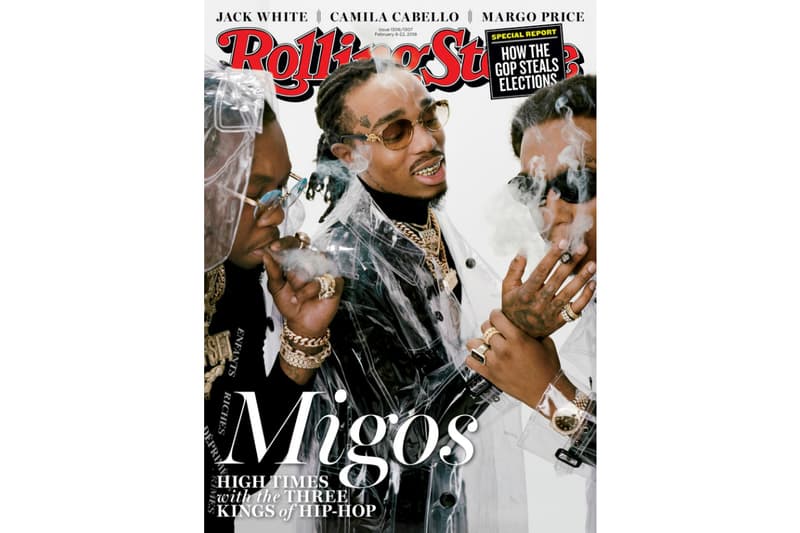 Rolling Stone has unveiled its first cover for 2018 and it's graced by none other than the beloved Atlanta trio, Migos. The story, which was penned by veteran rap journalist Touré, follows the "Stir Fry" rappers during their Culture II recording sessions back in December. During the discussion, the group touched on a number of topics including Offset's marriage to Cardi B, generational wealth, rap beefs, and aspirations of becoming a movie star, both as an actor and director.
We've highlighted some of the excerpts from the story while the full interview can be seen now on Rolling Stone's website.
Offset on finances and attaining generational wealth.

"I want to have generational money, I got three kids, bro. I need all my kids to be educated and wealthy" while adding, "I don't want to be one of those rappers who had it but right now they be on a TV show to keep them going, I would rather be out the scene, getting my money on Bitcoin."

"I bought five houses in Atlanta and I flipped them. Tripled my money. Made, like, $170,000."

Offset on his marriage to Cardi B:

"She is real solid, came from where I came from, did what I did. She's herself, man. I seen her develop from the trenches all the way up, and I like how she did it. I respect her grind as a woman. She came to the game with some gangsta shit. I like that. I fuck with her. That's my baby."

Quavo on their beef with Joe Budden:

"I ain't never had no beef with Joe Budden! I always just been, 'Fuck him.' It's no disrespect when I say, 'Fuck him.' It's not like, 'Fuck him when I see him, let's fuck him up.' It's like a 'Fuck him, I'm not bothering him, he ain't bothering me' type of fuck. It's no beef. He's just a man with bullshit opinions to piss the artists off. And on top of that, he used to be an artist, so he knows what to say to piss us off."

Quavo on his aspirations of becoming a movie star:

"I want to sit down, actually, with Ellen on the couch, sit down with Jimmy Kimmel on the couch, sit down with Fallon or something. Really do the things that these real, real major stars doing. I want to be part of everything. In high school, I played three sports, and in the industry I'm trying to play three sports as well."
Last night, Migos also unveiled the producer credits for Culture II, which were nothing less than staggering. The album drops on January 26.