Freddie Gibbs is Crushing the Competition
Gangster Gibbs is one of the game's most versatile lyricists, and he's on a warpath to the top.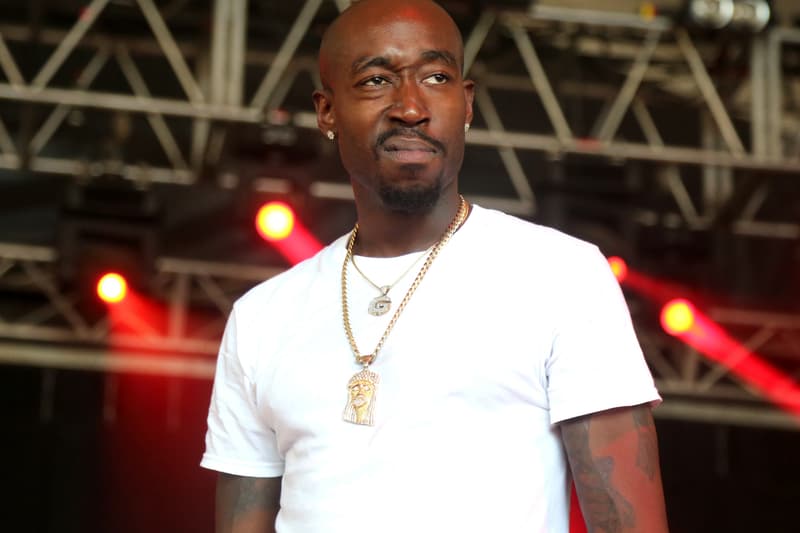 On his 2009 breakout project The Miseducation of Freddie Gibbs, Gary, Indiana's Freddie Gibbs provided a glimpse at the rapper he is today. He rapped over a Souls of Mischief classic, paid tribute to Pimp C, repped his 'hood, spit an audio manual on how to make proper murder music and robbery rap, and rapped alongside Devin the Dude in a little over half-an-hour of music. With just one drop, he exposed his potential to become one of his craft's most versatile, talented and sinister lyricists. He could out-rap your rapper's favorite rapper, but he'd probably live out his own version of 50 Cent's "How to Rob" if need be. Think Z-Ro, but with a midwest background.
In the seven years since, Freddie Gibbs has become one of the few emcees who has gone above and beyond simply reaching his potential. Thanks to a sharp, seasoned business acumen and a rabid fanbase, he's become one of the rap game's greatest underground kings this side of Tech N9ne and Curren$y. He linked up with Madlib for a classic record and put all rappers pandering to Golden Era nostalgia and committed to reviving boom-bap to shame. He's cooked up murderous, thundering street-rap anthems and utitlized Auto-Tune in a way that would probably earn Future's nod of approval. He linked up with A$AP Ferg and Young Thug for a left-field banger. In less than a decade's time, Freddie Gibbs has become the textbook definition of an incredible, well-rounded rapper.
No other project best expresses Freddie Gibbs' abilities as a rap-game chameleon than his most recent, Shadow of a Doubt. Released this past November, it's an expansive, complete body of work that features every single part of the multi-faceted gangster-rap machine that is Freddie Gibbs. Directly following that LP's release, we linked up with Gangsta Gibbs to speak on 'Shadow of a Doubt,' the career he's built for himself, what he's plotting now and more.
Many outlets and critics are calling Shadow of A Doubt one of your most well-rounded and balanced — if not the most well-rounded and balanced — release of your career. Did you intend for the project to come across like that? Did you create it with the intention of making it a balanced, well-rounded release?
Yeah, definitely. I was coming off that Pinata shit and a lot of people were curious to see what I was going to do next. I had a point to prove when it came to being versatile — a lot of people put me in a box. That's the main reason I had to flex and use a bunch of different styles.
There's definitely a heavier focus on melodies in your music now. Which rappers influence you and motivate you to be a more melodic rapper and experiment with more melodies in your music?
Pimp C. I think he was the best when it came to infusing melodies into the music. A lot of the things he did back then are becoming present now in the music game. He's in my top five when it comes to rapper. I don't think that he gets the credit that he deserves, especially with the melodies he implements. Just for the love of the older songs that he took from and sampled and things of that nature, it made me go back as a man and a musician and study those things. He was always giving me a history lesson when he made his music.
When it comes to Shadow of a Doubt, what do you view as your most personal records?
"Insecurities" and "Forever and a Day." On "Forever and a Day," I was trying to do a record where I could squeeze as much of a life story in from top to bottom. That was just one of those records. It was hard to do that in three minutes, but I just wanted to get a lot of shit out that I was going through at the time and reflect at the same time. "Insecurities" was the one where I just let it all hang out. With that record, I wanted to show people I wasn't afraid to let certain things show.
In the nearly two-year period since Pinata has arrived, you life has changed. You've become a father, your music changed a bit, your career has gone in a different direction. What do you feel are some of the biggest changes you've made in the past couple of years as a person?
I've just been learning. I've become a better businessman, and that has helped me streamline my business a little more. As a person, when you have a child, you definitely should change. If you can't find something about yourself to change, you're going in circles, you're chasing your own tail. I definitely can't be the same guy I was at 19, I'm somebody's father now.
Are we looking at a gentler, calmer Freddie Gibbs?
Sometimes — I definitely say that. But, I'm a Gemini, so that other side could come out quick.
From Pinata to your breakout mixtape to BFK, which project do you feel is your best and that you're most proud of?
Probably SOD. I think I get with every project, and the moment I stop doing that that's when you have to stop. This was the most difficult to record — I was coming off 'Pinata' and a lot of people were putting me in a box. I felt like I had to do something to win people back over. Every time I drop I feel like a new artist. I feel like I have the veteran experience, but every time I drop, it's exciting like I'm a new artist dropping because people don't know what aim I'm going to hit them from.
After Shadow of a Doubt, what's next when it comes to music?
I'm definitely going to start working on another project — I'm already working on another project. I'm in the studio every night. You just know when it's time to come back — I wasn't even going to drop SOD this year. I just felt like the game kind of needed it, I needed to throw my two cents into the game. I wanted to show people the ideas and things that I implemented into the game and kind of innovated and a lot of people are running with now. I wanted to show people my work and prove it even more, and not just have that 'Pinata' thing to stand off. I didn't want to ride off that for years, I wanted to keep going and show my true sound.
Could you see yourself going back to the 'Pinata' sound anytime soon?
Nah, not right now. Not at all. But, like I said, the music is so versatile I can't say I couldn't record some of that stuff, but that's just not the direction I'm going into now.
So you would rather just start from scratch every project?
Yeah, pretty much. That's the best way to go, that's what I do. You wipe the slate clean, and start a new chapter every time.
When it comes to the rap game, are there still things you want to accomplish? Any big collaborations you want to work on?
That's the beauty of this business: you can never really put a ceiling on yourself, there's always something new and innovative to do. I just want to stay on the pace I'm on and keep growing. I'm blessed to be in the position I'm in and keep growing, especially without a major and any backing of that nature. I think I'm in a great position, I think this rap game has turned me into an executive, into a boss. I just want to keep elevating. You never know, I could do something with Adele or something in the next few years (laughs). It's a long shot, but the music industry is so exciting and sporadic you never know what could happen.
Would you see yourself as one of the best independent businessmen in rap right now?
Definitely. When it comes to a rap standpoint, I'm definitely one of the best. Especially from a street standpoint.
On Shadow of a Doubt, you paid your respect to the old Atlanta guard with the Gucci Mane feature and you put the spotlight on up-and-comers like ManManSavage. You also worked with Young Thug at the beginning of his rise. Does the Atlanta sound have a significant impact on you as an artist?
Definitely. The same way New York impacted rap in the 80's and 90's, Atlanta is definitely impacting the whole rap game. They definitely changed the sound and added to it and you can't deny that whatsoever. You can be one of these old guys and be mad at it or you can run with the wave. The game is forever changing and evolving, so do you want to stay in the league or do you want to get out of it? I love a lot of things going down in Atlanta right now — they're the pinnacle of the sound right now.
Do you feel like Atlanta is having the same effect now that New York and the west had back in the 90's?
Definitely. Some people would beg to differ, but I would say so. They're definitely having that effect on music today.
That Mike Dean track towards the end of Shadow of a Doubt really tested your flow and abilities as a rapper and ended up being one of your more ambitious tracks in recent years. Are you pretty open to working on similar, more left-field beats in the future?
Yeah, especially when I'm working with Mike. He's a legend and genius, so I know he wouldn't take me in a direction I don't need to go. I'm open to it — the whole thing with Madlib was an experiment and it turned outwell because I know how to rap. I feel like, when you got the skill and know how to rap, you can go in on anything.
Has working with Mike Dean teach you anything about rapping and the game in general?
Guys like him help me sharpen my flow up and he made me be a little bit more loose. I can relax a whole lot when I'm working with Mike Dean. It's easy to work with him, he just simplifies the game.
As far as 2016 is concerned, where do you see your career as a rapper and business going?
Just continuous growth. I don't want to be just one of the top independent rappers, I want to be one of the top rappers period. As long as I keep growing and touring and growing on this ESGN fanbase, it'll be crazy. I toured with Tech N9ne last year and I figured if he could do all that with the music he's pushing, then I can do that with the music I'm pushing. I want to build an independent machine on that level or past it. With my peers, I don't really want to work with these guys — I want to crush them, I want to crush the competition. I'm really trying to build the ESGN brand and build a well-oiled machine. I'm just really trying to crush the competition right now.